Third in three generations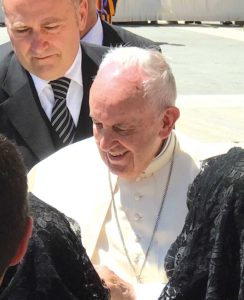 BODA de Oro is Spanish for Golden Wedding Anniversary. It is a landmark event in a married couple's life worthy of a meaningful celebration. To have a marriage last 50 years or more is in a class of achievement all by itself — more so these days. Marriage, as a sacred institution and a pact between a man and a woman, is in grave danger relentlessly assaulted by the twisted values of popular culture. But for the time being, a milestone such as this deserves some mention.
The Adeva-Galano couple's golden wedding anniversary celebration would be the third of three consecutive generations to experience a Boda de Oro, on Olga Adeva's side of the union.
On June 29, 2018, 50 years ago to the day when Olga L. Adeva and Ricardo I, Galano exchanged "I Do's" in 1968,the couple renewed their marital vows at the Villa Maria Cristina Brando Chapel on the outskirts of Rome in Italy.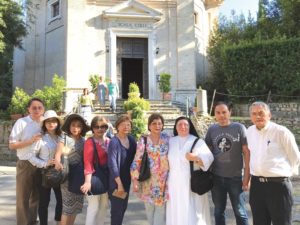 Two of their 3 sons were there, Ricardo "Tek" Galano and his wife, Rochelle and son, Raymond for the landmark event in their family life. All five who live in the Philippines flew in to Rome and synchronized their arrival to meet up with four guests, 3 of Olga's sisters and a brother–in-law, all from the US: husband and wife, Emil and Rhodora Posey from Alabama , Evelyn A. Jovellana and Monette A. Maglaya from Glendale, California. Of course, they were there not only for the wedding renewal rite but also for some shopping and touristy blitzkrieg side trips to Padre Pio, San Antonio de Padova (Padua), Pompeii, Lanciano, the Amalfi Coast and the usual stops: the Vatican, Venezia (Venice) and Firenze (Florence) hot spots in Italy. For 7 of the group, there was the added small taste of Eastern Europe such as Krakow, Auschwitz and Wadowice in Poland  via Frankfurt and Budapest in Hungary via Slovakia.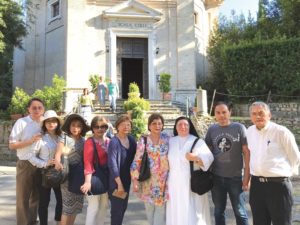 Fifty-seven years ago on December 09, 1961, the Adeva clan had the "Boda de Oro in Mindoro" — their first taste of such an event not realizing then how rare it was. Many still remember when, as young tykes living in Manila, they sailed by boat from Batangas pier to Oriental Mindoro to celebrate their grandparents, Vicente Adeva and Aniceta Fortunato's  50th wedding renewal rites in the tiny, rustic town of Naujan.
Thirty-three years later on May 07, 1994, the eldest son of Vicente and Aniceta and Olga's parents, Manuel Adeva and his wife, Natividad Laguio, celebrated their own grand golden wedding anniversary with all of their 8 children, their spouses and many grandchildren in attendance at Glendale, California's Holy Family Church. They were joined by180 friends and family at the church rites and at the reception held at the Red Lion in Glendale, now the Hilton. It was a surprise event pulled off by stealth planning for the prior two years by their children as a gift to their parents who had met and married during World War II and had to forego many niceties at the time including a formal wedding rite.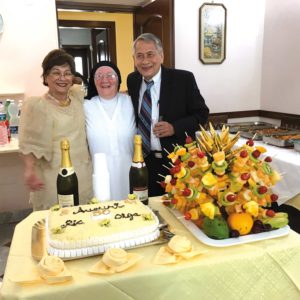 That was nearly a quarter century ago. This time around, it was an altogether different tack for the third set of Boda celebrants. Ric and Olga wanted something simple, leaner yet memorable. The heat was on and they prayed over it fervently.
Faced with the prospect of spending an awful amount of time and logistics for months to pull off a traditional renewal of vows, Ricardo came across a friend who suggested staying at the villa during their trip to Italy in 2015. They checked it out, liked what they saw at the villa run by nuns and the idea to hold it there was born.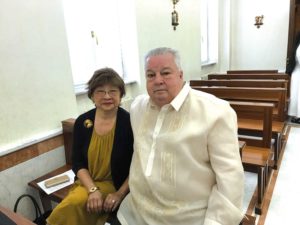 The friend who suggested the place was a woman who had experienced a miracle  of healing in her life due to the documented intercession of a saint of modern times, then undergoing the rigid process of canonization. The newly minted saint was the foundress of a religious order, Saint Maria Cristina Brando.
The kind nuns of the villa headed by Mother Superior, Sor Pia, pulled out all the stops to make the day truly blessed. They arranged every detail of both the mass and the reception with quiet, efficiency:  singing as the choir during the renewal rite, cooking delicious Italian entrees, inviting the Argentinian priest, Father Dom Federico who officiated the mass and with Sor Pia's direct hotline with the Vatican, Ric and Olga received a document signed by Pope Francis memorializing their golden day. Sor Pia even secured ringside seats for a Papal audience and brought the group to little known miraculous sites in Rome. Sor Pia, in her generosity, even dug up from her vault of sacred possessions, many precious gifts that she bestowed on the couple and their guests. All of the nuns put out the welcome mat for the party of 9 making them feel right at home with daily holy mass spoken in Italian right at the villa. Sister Irene and Sister Emma were often the point persons and acted as interpreters.
Just like in the past two previous generations decades ago, Ric and Olga's Boda de Oro  in Rome turned out to be a day as golden and happy as it was divine. It remains to be seen whether any of the current fourth generation of millenials can pull off a redux a quarter century down the line. Here's hoping and praying. A common denominator in all three sets of golden couples is a deep and abiding faith in God and in each other.
They say that when everything falls into place, the phenomenon is called Serendipity. The truth is—it is simply a loving God at work in people's lives.