I am pretty sure everybody's got their summer trip planned (some even saved up the whole year for an awesome vacation),  and some prefer to hit the road to enjoy the view on the way. To welcome the summer season, I rounded up a few road trip destinations you should definitely check out.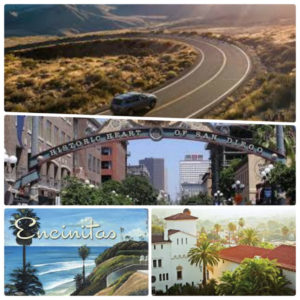 Orange County
 Known for its well-heeled residents and high prices but is a favorite summer spot, is Orange County. If you want to take a break from the busy Santa Monica pier, stroll down the string of less crowded beaches in Orange County and get some serious R&R. The beaches (and the waves) are definitely the main draw. The Pelican Hill is a great place if you are planning a family trip, but if you are thinking more of a romantic sunset by the beach, the Montage Laguna Beach is a great choice. It offers an excellent spa, impeccable grounds, and beautiful rooms with breathtaking views.
Just a quick tip: if you take the Santa Ana Freeway you would likely get there faster but if you've got some time to spare, Cabrillo Highway is the most scenic. Along the way you'll see gorgeous beaches and rolling hills.
Encinitas
Summer is here, and the waves are calling! Voted as the no. 3 surf spot town in the U.S. by Surfer Magazine, Encinitas is looking so darn good this time of the year. There's a good spot to drop your surfboard called, Cardiff Reef. But it's not all water sports. Bikers can cycle through the Batiquitos Lagoon Foundation while golfers can hit Encinitas Ranch, and gamblers (or horse-lovers) can spend the day at Del Mar racetrack — just a short 10-minute drive away.
Santa Barbara
Want to escape the fast life but don't want to fly? Drive about two hours from LA and be transported to "Mediterranean-esque" town with Mission-style buildings, pretty storefronts, art galleries, and quaint restaurants along the tree-lined streets. One of the most popular activities is shopping along State Street and at Paseo Nuevo, which boasts some of the best stores in the region.
San Diego
Balboa Park, Salk Institute, the old footbridges – these are just a few of the spots you can check out when you drive to San Diego this summer. I love that San Diego is not that far from LA and also not as different (in a good way). It's like a more conservative version of Los Angeles.
There's a wide range of things to do and places to go — from beaches to restaurants and bars San Diego has all of them. You can watch the hang gliders over the La Jolla cliffs, check out some old ships, or eat Mexican food. You can also visit one of America's most haunted houses.
Big Bear
When it's one hundred degrees in LA, head out – rather, drive – two hours out of LA and find yourself cooling down at Big Bear. It's known for snow, But in the summer, outdoor activities such as hiking, fishing, or hanging out under a pine tree with a picnic basket will make your trip up worthwhile.  They say the food's good too. Try their chicken pot pie and brown sugar glazed bacon, and wash it down at Nottingham's Tavern afterwards. This is life!
While L.A. has so much to offer when it comes to top-notch restaurants, museums, wonderful beaches and a lively nightlife scene, it's nice to pack your bags and try a drive-to-town adventure sometimes. So for those who are in town visiting or just want to get away from the business – that is LA – try these amazing road trip destinations that are just a short drive away.
***
Monet Lu is a Marikina-born, award-winning celebrity beauty stylist with his own chain of Monet Salon salons across Southern California and Las Vegas, Nevada. Ultimately, Monet is known as an all-around artiste who produces sold-out fashion and awards shows as well as unforgettable marketing campaigns. Monet is also the founder of the revolutionary all-natural beauty products such as Enlighten, your solution to discoloration . To contact Monet, please visit www.monetsalon.com or email him at monetsalon@aol.com