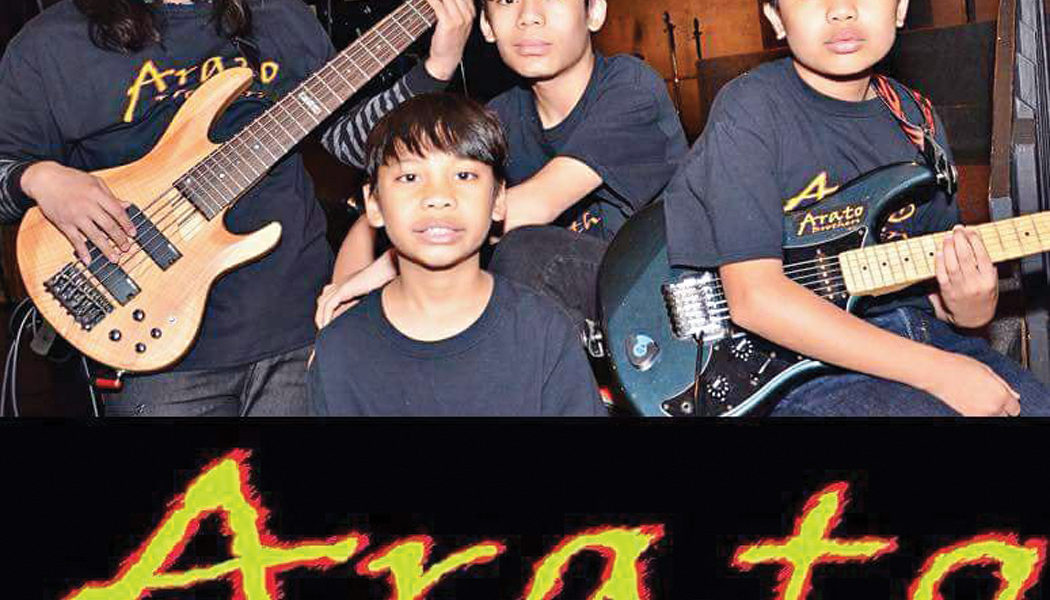 Getting into music together among siblings is one noteworthy bonding option any parent could unmistakably choose for their kids. Aside from being a safer preference in lieu of sports or other out-of-school activity, common interest in music draws brothers closer and knitted.
A band composed of siblings isn't a new thing since even before there were already Brian, Dennis, and Carl Wilson of the famed Beach Boys; there were also Marlon, Tito, Michael, Jermaine, Randy, and Jackie Jackson of the legendary Jackson 5; then Barry, Robin, and Maurice Gibbs of The Bee Gees:; John and Tom Fogerty of the celebrated Credence Clearwater Revival; Don and Phil Everly of the renowned Everly Brothers; Kevin, Joe, and Nick Jonas of the famous Jonas Brothers; John and Jordan Knight of the eminent boy band New Kids On The Block; Alan, Wayne, Merill, and Jay Osmond of the notable Osmond Brothers; Nick and Drew Lachey of the prominent 98 Degrees; and a lot more.
The magnetic appeal of music's universality is undeniably strong especially among brothers whose inclination to such inspires their peers and even young hopefuls. But it cannot be denied that despite the closeness there could exist some kind of rivalry and insecurity due to their being competitive in many aspects: in vocal capability, instrumental adeptness, on stage appeal, and superb press relation. And because of these aspects many sibling band members either went solo or chose to quit resulted to the fall of the group.
Hereabout was born a fast-rising sibling band that slowly carved its name and effortlessly stamped its impressive mark in the annals of the local entertainment arena – composed of Jun Gabriel, Jay Rafael, and Sean Nathaniel and are collectively known as the Arato Brothers.
If other sibling bands invited an extended member like Neal Manapat (drummer) of The Band of Brothers and Kiel Calonzo (bass/vocals) of Take The Stage, The Arato Brothers requested Kenan Salazar (bass) to join them to complete the instrumental set-up.
Small framed but innately loaded with powerful musical aptitude, these young boys may look innocent and greenhorn in terms of life's byzantine situations but their immense inclination to music indubitably chronicles a primary journey from boyhood to teenage years and how they perceive  the world from a youthful point of view through their distinct brand of music. 
Born to Rosendo "JR" Arato and Estrelita Ayson-Arato, both from Magalang, Pampanga, the Arato Brothers unambiguously acquired their fondness of music from their parents: the former  plays the acoustic guitar like a virtuoso while the latter could readily render karaoke pieces like a pro.
Everything took off from studying classical piano while in Pennsylvania but the boys shifted to pop when they were enrolled at School of Rock after they moved to Cherry Hill (south of New Jersey). During graduation, JR recorded the recital on video and posted it on social media. In September of 2014, a fundraising event in the area (to benefit damaged places and displaced victims brought about by the horrendous typhoon that hit the Visayas) serendipitously gave the brothers their first public exposure. Needless to say  their innate talent was instantaneously appreciated and that opened doors for exceptionally mounting offers and invitations.
JR started to remodel their basement into a mini recording and rehearsal studio to provide a decent place for his sons' passion. As a supporter and purveyor he tries to impact the formative years of his three sons via a different parenting style, a smartly dissimilar disciplinary method all his own.  
"Notwithstanding my effort in exerting a specifically masculine influence as the role model at home, I provide them with utmost support in every endeavor they are leaning to and instill in them the importance of sibling comradeship, solidarity, and respect," JR said with distinct tone of smugness.
Aside from the fundamental virtues of tenacity, integrity, faithfulness, and perseverance that JR has inculcated in them,  mom Estrelita never fails to share her guiding thoughts to her boys, implicating a totally personal disciplinary technique different from what her husband instigates and implies.
Nurturing a child's passion for singing and playing various instruments take a lot of patience and perseverance not to mention unconditional support. Merely providing their kids with basic musical needs isn't sufficient. As concerned parents they keenly follow their children's lead and guide their passion with viable drive to excel at it. And at times when enthusiasm dwindles and curiosity diminishes they give their kids encouragement and reassurance to reestablish the weakening passion.
The mounting tension on musical child genius becomes enormous especially when pressured but turns out interesting when the child, himself, is enthusiastic, focused, and driven.
Definitely, it isn't easy to raise music prodigies like the Arato Brothers. These young guys had displayed remarkable talents in music deemed to make them competitive with skilled adult musicians and the significant output they produced need hands-on supervision.
Speaking of child prodigies, Wolfgang Amadeus Mozart, the classical composer from Salzburg, Austria, (christened Johannes Chrysostomus Wolfgangus Theophilus Mozart) could pick up tunes on the piano at the age of 3 and begun composing at age 5. It won't be far for these talented Cherry Hill-based young musicians to follow suit and gradually shape their own fame in the industry.
As if playing complicated instruments and singing diverse genre weren't enough to prove their fast-rising supremacy in the field, these fledgling musicians has extraordinarily composed quite a number of originals: "Aim High," "Long Gone," Super Power Surprise," "Chance To Say Sorry," "Beacon of Construction," "When Lightning Strikes," "High Noon," "Farawayland," "Exodus," "Red Revolution," "Majestic," and "E.F. Song."
And if you think those were all to their passion, think again… for these boys even collaborated with their teacher Mr. LeProsti in writing and composing the following original ditties: "Sky's Not The Limit," "Red Leopard," "Strobe," and "Find It Within."
Talent and proficiency beget awards and recognition and the brothers deservingly got hem: "Best Young Live Band in NY" from OZA Awards (2017) and 2018 Rock Churches Award for "Best Fil-Am Band, NY."
If the barometer to gauge the popularity of a band is through relentless visibility on stage and major event performances, easily then Arato Brothers has achieved such level. Having performed, guested, and featured in over fifty major Fil-Am community events (in just 4 years of performing professionally) made them the current toast of the local entertainment scene. Consider their remarkable performances : "Rebuild" (a charity event for Typhoon Yolanda victims), "Unplugged" (School of Rock), Sinulog Festival (Brooklyn, NY / 2015), Philippine Independence Day Parade & Festival (Candem, NJ / 2015), FECGP Grand ball (Philadelphia, 2015). PDOC Parade & Festival (Passaic, NJ (2015, 2016, 2017), PAFCOM Parade & Festival (Jersey City, NJ 2016), FAFI Festival (Overpeck Ridgefield, NJ 2015, 206, 2017), Fiesta in America (Secaucus, NJ 2016, 2017), Philippine Day (Eagle Rock, Poconos, Pennsylvania 2016), Fe De Los Reyes' "Fentastic," CAM Santacruzan Street Fair (2017, 2018), and many more.
If there are three most applauded songs in their repertoire, the  brothers were unanimous in their choices: Chuck Berry's "Johnny Be Good," The Beatles' "A Hard Day's Night", and Eddie Van Halen's "Jump.".
A fact sheet of the members of Arato Brothers will give us a more vivid insight of who and what they really are.
Jun Gabriel Ayson Arato
Birthday: January 2, 2004
Birthplace: Magalang, Pampanga
Zodiac Sign: Capricorn
Education: 8th Grade
School: Rosa International Middle School (485 Browning Lane, Cherry Hill, NJ)
Instrument: Keyboards / Vocals
Other interest: Sports / Running
Future Dream: To be a prominent composer of musical background for movies & videos
Jay Rafael Ayson Arato
Birthday: December 28, 2004
Birthplace: Magalang, Pampanga
Zodiac Sign: Capricorn
Education: 7th Grade
School: Henry C. Beck Middle School (950 Cropwell Rd., Cherry Hill, NJ)
Instrument: Guitar / vocals
Other interest: Sketching
Future dream: To be a performing artist
Sean Nathaniel Ayson Arato
Birthday: December 15, 2006
Birthplace: Fox Chase, Philadelphia
Zodiac Sign: Sagittarius
Education: 5th Grade
School: Joseph D. Sharp Elementary School (300 Old Orchard Rd., Cherry Hill, NJ)
Instrument: Drums / vocals
Other interest: Biking / video games
Future dream: To be a music teacher
Kenan Salazar (extended member)
Birthday: April 21, 2001
Birthplace: Binondo, Manila
Zodiac Sign: Taurus
Parents: Sherwin Salazar / Eunice Co
Education: 11th Grade
School: Girard Academic Music Program (2136 W. Ritner St., Philadelphia, PA)
Instrument: Bass guitar
Other interest: Martial arts / karate
Future dream: To have a solo career in music
Achievement: Composed, produced, and released  a refreshingly sounding album (with 3
Cuts: Summer Kiss, Pearl, and Droplets) / leader of his own band, Earth 7.
There seems no stopping these kids in producing worth-listening music pieces…and just imagine they're still very young with lots of opportunities in store for them. With barely 4 years neatly stashed under their sleeves… and with the way their stars are leading them along the right track, it is safe to predict that Arato Brothers are unmistakably on their path to stardom.
For comments and suggestions, please email to: gemini0646@yahoo.com