(Reading Time:
5
minutes)
PERHAPS one of the best rewards that I get from recognizing distinguished individuals in the Filipino-American community is getting to know them and their success stories. Today I'd like to share the story of one of my favorite Queens.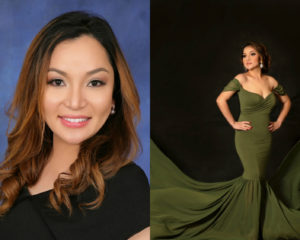 Meet Edielyn Quijano-Pagdanganan. From being awarded as Outstanding General Practitioner to being crowned as The Beautiful Life 2018 "Queen of the World," and now venturing into Aesthetics entrepreneurship, Edielyn has (finally!) opened up to the Fil-Am community. I have the pleasure of sharing her story as she tells us how becoming 'her best version' paved the way for her to step out of her comfort zone and spread her wings.
"Opportunities like these are so rare so I just grab them when they come," Edielyn says as I commended her for being very active at different Filipino-American social events. It was just recently that she started coming out of her shell.
Edielyn was born and raised in the Philippines. She is the eldest in their family of four. 
"I moved to the United States after finishing my Nursing degree in Manila. I graduated with Academic excellence and was a consistent Dean's Lister and scholar at St Jude College of Nursing. My first job is at the Queen of the Valley hospital. Then I moved to San Gabriel Medical Center. After three years of working at an acute hospital in California as a registered nurse, I decided to go back to school. I finished my masters in Nursing, then completed my family nurse practitioner course at the University of Phoenix and graduated with honors."
"I think my introduction to the 'world' started when I received an award which is the Trademark Women Distinction 2018 Honors edition. It is recognized all over the U.S. I was featured in the Asian Journal because of that. Then Joey, my friend who is a makeup artist and is active in Filipino-American events, introduced me to you. Of course, it was totally out of my comfort zone. I mean I am really the shy type, to tell you honestly, but I cannot pass up the opportunity that was given to me. So I went for it. I was The Beautiful Life Queen and next thing I know I am in front of so many people and months later I was on the cover of MISS Magazine! I can't believe it!" 
Edielyn works at Baldwin Park Medical Clinic as a full-time provider and part owner specializing in Family practice and Pediatrics. She also works part-time at MD Medical Clinic/ Urgent Care and provides inpatient care at San Gabriel Hospital and Medical Center and Garfield Medical Center. She is happily married and has two beautiful kids. She says being an "instant celebrity" somehow exposes her to the world outside the confines of her clinic.
"It was fun and overwhelming at the same time. I am also blessed to have a good mentor, supervising physician and a trustworthy business partner in Dr. Terry Lee."
Lee, who has been in the medical service for 25 years and has quite a number of achievements, co-owns Baldwin Park Medical Clinic. They have been serving the Baldwin Park Community for 7 years.
"Our patients were so excited when they saw me on the cover of The Beautiful Life souvenir magazine. They took all the copies!  Most of them came up to me to ask if it was really me on the cover."
"My daughter Kylee, she's so proud of me! I think she idolizes me. She even brought the souvenir magazine to school and showed it to her classmates. She said, 'Oh, look! My mom is not a doctor anymore. She's a queen now!' So one of the moms (from her school) actually texted me and said, 'I saw your magazine. I didn't know you are a beauty queen! And it's so touching because she read my bio where I mentioned her and her brother as my inspiration. She told her teachers, 'See? That's me and my brother. My mom was talking about us!'" 
So what is it like to be in Edielyn shoes? She shared: "I wake up really early. I have a 6-year-old who needs to be in school by 7:30 a.m., so I drop him off at West Covina. I also take my daughter to school. Between 8:30-9 a.m., I find time to go to the gym. That's my pick-me-upper! By 9 a.m., I am at the clinic. My clinic hours are from 9 a.m. to 6 p.m. Sometimes when I have Urgent Care patients, I work until 7:30 p.m. Then I pick up my son, cook dinner and help my daughter with her homework. I think I only get to squeeze in some personal time by 12 or 1 in the morning."
Having been able to do a lot means she has a strong support system, a great partner (in crime!) and a number one supporter. She says all these are what her husband is to her. Edielyn is married to Ryan Pagdanganan who is also a nurse. They've been married for eight years. They have two beautiful kids, Kylee (6) and Kean (2).
"My husband and I have been classmates since college. We were going out for a whole but I had to break up with him when my petition to the U.S. was finalized. I was 18 and I wanted to focus on working and getting situated in America. After a few years, he followed me. He worked in a company cruise, and he never stopped calling me. He was very patient. That's why my dad likes him. I was already working as a registered nurse at that time and I went back to school to take my masters…A year after my graduation, we got married."
Aside from her medical work, Edielyn is also a licensed aesthetician, a dream she pursued just recently. "I've always wanted to become an aesthetician.  In fact, my patients often ask me if I know how to do Botox and fillers. After giving it some thought, I decided I should also pursue that dream. So last December, I started training to get my license then early this year, we started offering anti-aging, botox, Xeomin, fillers and chemical peel services to our clinic," she said. 
It is quite a revelation for Edielyn that she has come this far – years after deciding to build a life here in the U.S. She has always been too cloistered and would not be bothered with social happenings in the Fil-Am scene. Now that she decided it's her time to go out into the world and open herself up to possibilities, the pay-off is slowly coming her way. I guess there is life outside her small world and she is making the most of it!
"First of all, I think it's very important to have a social life. And when you do, you have to be open to possibilities. I think it starts when you change your mindset. If you don't believe that you can do more and be more, then you wouldn't know what's out there. The experience in itself is very rewarding… You get to meet people and you gain connections. Most of all, you'll be surprised at the opportunities that come your way when you step out of your comfort zone. I say, in order to become 'the best version of yourself,' you need to dream BIG, and believe that dreams do come true."
To Edielyn: Cheers to new possibilities! Thank you for opening yourself to the social world of the Fil-Am community. I assure you, my dear, the best is yet to come!
***
Monet Lu is a Marikina-born, award-winning celebrity beauty stylist with his own chain of Monet Salon salons across Southern California and Las Vegas, Nevada. Ultimately, Monet is known as an all-around artiste who produces sold-out fashion and awards shows as well as unforgettable marketing campaigns. Monet is also the founder of the revolutionary all-natural beauty products such as Enlighten, your solution to discoloration . To contact Monet, please visit www.monetsalon.com or email him at monetsalon@aol.com