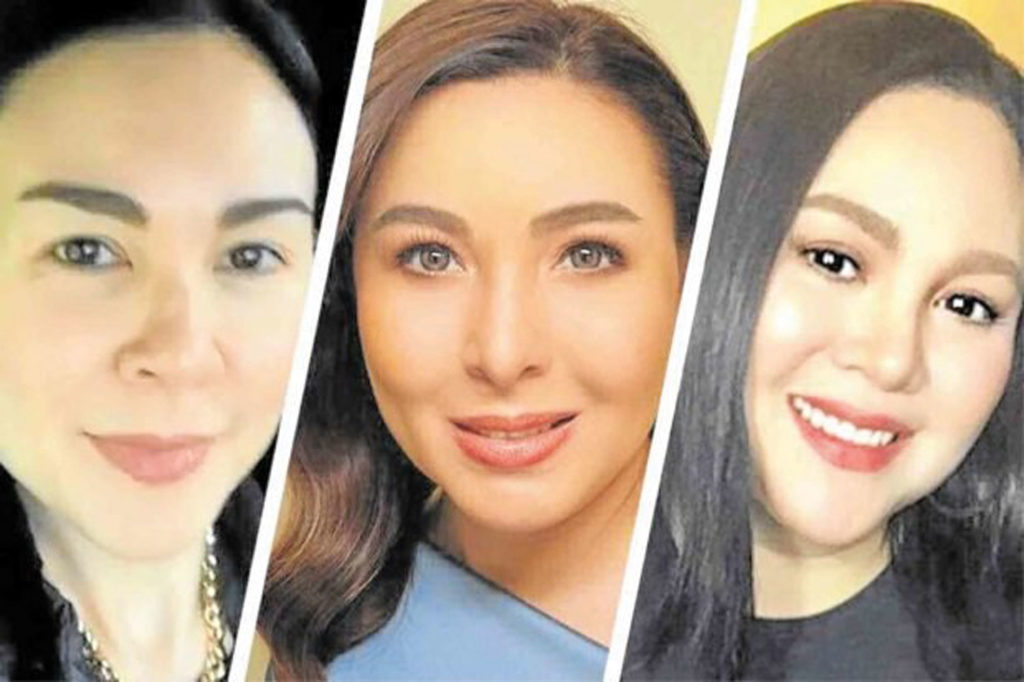 THEY say, "you can't choose your family," and nobody knows this better than Gretchen, Marjorie and Claudine aka 'The Barretto sisters.' 
Their recent public spat at the wake of their family patriarch, Miguel Alvir Barretto, is the latest and most controversial family feud at the moment.
According to Rappler, "Gretchen, who has long been estranged from most of her family members, attended the wake of their father on October 16. President Rodrigo Duterte, who was at the wake, reportedly asked Gretchen to shake hands with her sister Marjorie. Marjorie refused to do so – and the sisters soon took their battle online, where each of them threatened the other with their versions of the truth."
The media was quick to get different sides of the story. Starting with Marjorie's tell-all interview with Karen Davila where she exposed a bit more than expected; followed by Noli De Castro's interview with Atong Ang who denied being in a relationship with either of the Baretto sisters including – and especially – their niece, Nicole, who, according to her and Marjorie, was Atong Ang's girlfriend for five years. 
The revelations and expose just keep coming and the chance of these three sisters reconciling is becoming vague – even close to impossible. And this is what saddens me the most.
I've known Gretchen since she was in her 20s. Back then, life was simpler with just her being in the limelight. Things got complicated when they all grew up, made careers in show business, got involved, and got married to fellow celebrities, had children – or 'a child with a married politician,' and the list goes on. 
Shocking but not at all surprising, considering the history of their feud. And it's all over the news. I can't stop shaking my head as I read how their relationships were strained one incident after another. 
Rappler wrote that their earliest reported rifts began in 2004 which involves Gretchen, Marjorie, and the latter's then-husband Dennis Padilla. According to reports, Marjorie didn't like the fact that Gretchen helped Willie Revillame – Dennis' former co-host in Masayang Tanghali Bayan (MTB) – when Gretchen's partner Tonyboy Cojuangco, hired him to work in the latter's network company.
In 2006, it was Gretchen and Claudine's relationship that started tainting when Gretchen didn't show up at Claudine's wedding with former husband Raymart Santiago. Gretchen and Claudine reconciled the following year after running into each other at S&R at The Fort, according to Pep. Gretchen also reconciled with Marjorie, who at that time ended her marriage with Dennis.
Unfortunately, that reconciliation was short-lived as Gretchen and Claudine were "fighting again" and were not "on speaking terms," which was the reason their supposed teleserye together was canceled. Claudine reportedly moved to the rival station at the time. Five years later, they are back to being "bffs" with Claudine saying in an interview, "Now there's not a day that we don't talk – if we can't meet – at least two times a day. I totally see her beauty now. Oh, how much she's changed! That day at our mom's condo, I felt she humbled herself, and humbled me as a result." 
But in 2013, their knottiest fight (next to this "funeral brawl") involving more people in their clan, happened when Gretchen and Marjorie teamed up on Instagram to respond to an anonymous basher of Marjorie's daughter Julia, who was just then starting out as a Star Magic talent. Later that same year, their mother, Inday Barretto, wrote a scathing open letter to Gretchen published on Philippine Star's FunFare, bringing the feud between the sisters out in the open. The issue escalated so that the other Barretto siblings, Jayjay and Gia, chimed in. Jayjay defended Gretchen, while Gia sided with their mom.
In 2015, all was well between Claudine and Marjorie as she was spotted in Julia's debut and was photographed with her estranged sister. By the start of 2019, Claudine was back in Gretchen's arms again – literally – as a video on social media showed their long and warm embrace when she surprised Gretchen on her birthday. 
Presently, it's Claudine and Gretchen versus Marjorie. And just a few days ago, it seems like it's Gretchen versus Ruffa and (hopefully not) Annabelle – because nobody wants to mess with Annabelle Rama, if you know what I mean. This started when Ruffa Gutierrez commented on Julia Baretto's Instagram post, and La Greta took this the wrong way commenting that Ruffa is a meddler. 
Every way I look this, doesn't end well. I mean, first of all, nobody wants to fight on social media, let alone on in public.  And most of all, nobody enjoys having their whole life exposed. It's publicity at its worst. But what saddens me the most is that the Barrettos are family. And no matter how many stories of them fighting and reconciling and fighting again surface, no tale can erase the fact that they all come from the same bloodline and once upon a time, they loved one another.
I am really hoping that this feud is over sooner rather than later. And I hope they start with one thing: forgiveness. All of these fights stem from their unwillingness to forgive and move on. I think if they can do that for starters, it would help them all heal – and hopefully bring back what they have lost, which is their respect for one another. 
To the Barretto sisters, it is my hope that one day the story that I'll be hearing about you would a tale of love and forgiveness – one that happens to the best of sisters such as yourselves. I am not losing hope and I hope you won't too.
***
Monet Lu is a Marikina-born, award-winning celebrity beauty stylist with his own chain of Monet Salon salons across Southern California and Las Vegas, Nevada. Ultimately, Monet is known as an all-around artiste who produces sold-out fashion and awards shows as well as unforgettable marketing campaigns. Monet is also the founder of the revolutionary all-natural beauty products such as Enlighten, your solution to discoloration . To contact Monet, please visit www.monetsalon.com or email him at [email protected]