(Reading Time:
4
minutes)
SUMMONED by invitation from the cultural office of the Philippine Consulate, out of ink-the news world trooped to the Community Hall to witness the launching of PNP Global Community Relations (PCR), headed by PC Supt. Rhodel Sermonia.
Townhall meetings at the Philippine Consulate is where elbows, perfume, conversation invaded even the cramped space of one's chair. The meeting last Friday, September 21, was more like a convergence of the relatively tame media, who constantly complain in silence that they are treated with benign neglect. So they're pinning their hopes on the new cultural officers that seemed fair and congenial.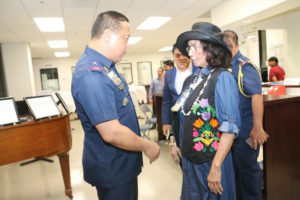 The ubiquitous Filipino-American community is bound by their strength in numbers, locked with dedication to their respected endeavor. They represent and affect collective thoughts and ideas into victory of any partnership.
We have various reasons to like Consul General Adelio Cruz. He is a good man, whose exemplary support for the Fil-Am community under his jurisdiction is unwavering. That, plus he faithfully defends our interests, without blinkered insularity. He is just and  expedient, and applies tact and humor while remaining polished and elegant — true diplomat in any form of conduct.  In the news world, he has finally captured the media — or have we captured him?
Nobody escapes the phenomena of crime, and at the center is a brotherhood of hard men who fight for justice and peace. Cops are there to quell threats to peace and public safety – plus to control and reduce criminality in spite of their meager pay, which comes from the national budget.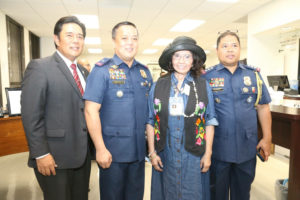 Gunned down cops are also sadly overlooked.  People think, "You took the job, it's part of the job to get killed." Cops take the jab to protect people and help them, and as they go out there, they could get shot, stabbed, beaten.  Nobody takes a degrading salary just to die. 
You watch them with attention with their pigeon breast thrust, as they stand straight. They are tasked to clean up the world's garbage, where including the family, the church and the school had failed:  The drug menace.
PC Supt. Rhodel Sermonia is a handsome man in a vigorous and wholesome way. With deep brown eyes that missed nobody, he rests his case with a cultivated elegance and earthiness of a modern mistah. A product of a system in which manhood is tightly defined and continuously challenged.
And for the greatly avoided question, we asked, "What is actually the project 'tokhang'?"
It has been derided by media wits, synonymous with salvage, propaganda in an overall ridicule if not malice that could not fail to hurt!
"It embodies a big spectrum..," he said.
"Tokhang conveys katok (knock) at pakiusap (appeal) in the native tongue. It is a Visayan term of endearment.  Katok (knock), pagbabago (change) at pakiusap (appeal) towards a drug-free Philippines. It is more of a recovery and wellness program spearheaded by President Rodrigo Duterte."
It has garnered public support by former drug addicts. Then came the men in blue, and in a collective voice, launched the Global Community Relations.  It seemed so grandiose  transcending boundaries, fostering understanding and cooperation among overseas Filipinos, global stockholders, and international civil society organizations.
Sermonia, as Director of the Community Relations Group (PCRG), did not enter nor advance at the Community Hall, he progressed with a  sangfroid, so deliberate and disturbing.  As the night progressed, he became a provocative target of questions, and even echoed some queries that he cannot answer. He did not bluster, cajole or preach. He is a charmer quick of speech, rapid of movement and became the youngest general of his genre.
The PCRG is a source of constant conjecture, appraisal and admiration.  He seemed unconquerable. He takes credit and responsibility for this trusted men.
Wondering where all the surrenderees will be housed? The administration has the most  ambitious program for reformed addicts, which is now all over the archipelago:  Plan Pagbabago, Simula ng Pagbabago, Harong Pagdaon, Sagip Bukoo, Ifugao Reflections Center and community-based programs on rehabilitation.
His cops will meet the challenge with patience and professionalism, as well as being helpful, courteous and looking their best. 
We watched the men in blue, with hopes that they puncture the myths, biases and untended assumptions.
On the query of what makes a good cop or a bad cop? Sermonia and Col. Noble had it in this capsule: They balance fairness with courage, how to treat people with patience and compassion because police work requires enthusiasm persistence and courtesy.  They will need breadth and view, connections skills, philosophic perspective slammed with wisdom.
To say that's a tall order, would be an understatement.
E-mail Mylah at moonlightingmdl@aol.com