[Editor's Note: A version of this column was previously published in June 2012] 
Bryce National Park in Southern Utah is known for its red rock spires and amphitheaters of columns. It is described by the Paiute Indians as "bad men turned into rock by coyotes." The true story of this place began 60 million years ago.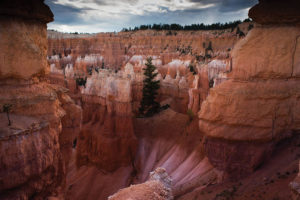 Oh! Ranger described it as "famous for its unique geology of red rock spires and horseshoe-shaped amphitheaters, located on Utah Route 63, south of Utah Route 12 (a National Scenic Byway)."  
The history of Bryce Canyon began at the end of the Cretaceous period. The Claron Formation has been deposited, uplifted and eroded by ice, snowmelt, thunderstorms and the roots of plants and trees.  As billions of tons of ground rock moved out of Bryce Canyon and into the Colorado River, amphitheaters of colorful temples, pillars, domes and spires were left standing.
The park ranger (whom I spoke with) reported 3,300 visitors on June 21, 2012, and the Hoodoos (the park's newsletter) reported 1.3 million visitors a year.
Two decades ago, we visited Bryce Canyon National Park.  On the way, we stopped to buy a bucket of fried chicken.  All patrons glanced at my son and I.  It was as if their eyes measured us from top to bottom, and their penetrating glares revealed their aghast feelings, as if conveying: "who are you to come to our place?" or simply, "who are they?" 
Our young son (who was about nine that time) quickly got inside the car and told my husband, Enrique, to head back to Los Angeles. He felt that this state is inhospitable to folks like us, unlike California.   
Fast forward to 2012 — everyone we met was so friendly.  
At camp, a father struck up a conversation with my husband. He narrated that he once lived in Northridge, and now lives in Carlsbad. 
Hazel, a graduate of environmental science, grew up in West Hills, Pennsylvania. She loves the adventure of being outdoors at Bryce, while volunteering with interdenominational services at Bryce Canyon on Sundays. She is part of the Christian ministries, working with 40 national parks and deploying volunteers like her to serve at the lodge restaurant.
At a pizza place where we ate, a world map is on the wall, with stick pins clustered on different continents: Europe, North America, Australia, Japan, and 20 folks from the Philippines. Another server asked me where I am from. She said she wants to go to Boracay because she saw pictures shared by J1 foreign exchange students from the Philippines and she fell in love with the place.
That afternoon, we took a scenic drive from Rainbow Point, ending up in Bryce Point.  At Bryce, the vista spanning 100 miles was awesome.  I held my husband's hands and thanked him for driving us both to this magnificent place.  The route he took got us through many scenic viewpoints: Rainbow Point to Black Birch Canyon, to Ponderosa Canyon, to Agua Canyon, to Natural Bridge, to Far View Point, Swamp Canyon and finally, Bryce Point.  
But first, a trip to the visitor's center, where we watched an orientation film. It becomes a guide as to what viewpoints to cover and which viewpoints were promising for photographs.
At sunrise, around 6:15 a.m., we went to Bryce Point.  Here, the columns and spires appeared lighted from the inside, as if candles were hidden behind them, yet it was the sun reflecting on the red rock, giving a warm glow to the red rock columns.  
It contrasted with the deep green forest of bristlecone pines and the bleached white soil in some areas.  While walking the trails, I heard different languages spoken: Japanese, Chinese, Spanish, French, German and East Indian language.  
My husband described what he saw at the viewpoint: a father pushing the wheelchair of his young daughter, who was holding a camera and was being kept alive by a cacophony of life support machines.  
My husband and I held each other, as we felt gratitude for what we have and said a prayer for the sacredness of duties that both these parents have, to give their child the best of experiences, for how many days she has on earth. 
That is how we feel — gratitude that we are able to travel and be outdoors with Mother Nature, that we are able to walk, to put one foot ahead of another, and to keep heading for the trails.  
The last trail we took, Queen's Garden, was advertised as an easy 1.6 mile-roundtrip walk. 
But it was hardly easy. The mountain air zaps out the oxygen, leaving you with just 70 percent. The scorching heat of the sun is at 98 degrees Fahrenheit and two pints of water are not enough.  
As I walked uphill, I took cover in every shade of a tree I could find.  I saw figures which resembled a teddy bear, the Santo Nino, Miss Piggy, and Queen Victoria. 
My husband, Enrique, held my hand at the last few yards and at the end of the trail, he went ahead. On the way back to meet me, he offered me a cold pint of bottled water, which I drank halfway in seconds, to revive my wilting body's energy.  One drawback of heat is some bodies lose energy quickly, draining electrolytes.
Water not only sculpts the red rock columns, it also restores a body to its normal capacity and cements a love bond between a couple.  
On the trail, I offered to take a picture of a young Asian couple. As I took a shot, I asked if they were married. The guy said yes, but the woman was not smiling.  
I imagine she wilted in the heat, just like me.  "Smile, like you are in love for the very first time. See that guy over there, I have been married to him 33 years," I said.
The young husband smiled and said: "We will keep doing the trails then." The wife managed a smile.  
The murmur of the winds, the sweet tweeting sounds of brown stellar jays, the sounds of flute played by the Paiute Indians (one resort guide hushed us to stop and to listen, but I could not hear), with car sounds traveling on the highway, interrupted by the happy voices of tired cyclists, announcing hot showers (that includes moi), and the bliss of doing laundry at the general store (after wearing dusty clothes and smelly socks from hiking the trails), all seemed at peace, so serene and perfect with Mother Nature!
I sat under the shade of the bristlecone pine trees with such bliss —  a whole forest in front of me. I noticed the sweetness of the tweeting birds was matched by the rapport of a man with a squirrel, which posed long enough to have the animal's photos taken. Happy Summer vacation to all of you!
"Mother Nature is at its best with no makeup, just lighting!  All you need to do is discover it," said Enrique.
[Author's note: The stares I referred to in this article happened two decades ago, yet somehow, these remnant bigoted practices have been revived, renewed and resurrected virulently under this Republican president's administration, in June 2018, and at its worst form, separation of young children, as young as toddlers, from their parents. More on this at the next issue.]
* * *
Prosy Abarquez-Delacruz, J.D. writes a weekly column for Asian Journal, called "Rhizomes." She has been writing for AJ Press for 10 years. She also contributes to Balikbayan Magazine. Her training and experiences are in science, food technology, law and community volunteerism for 4 decades. She holds a B.S. degree from the University of the Philippines, a law degree from Whittier College School of Law in California and a certificate on 21st Century Leadership from Harvard's Kennedy School of Government. She has been a participant in NVM Writing Workshops taught by Prof. Peter Bacho for 4 years and Prof. Russell Leong. She has travelled to France, Holland, Belgium, Japan, Costa Rica, Mexico and over 22 national parks in the US, in her pursuit of love for nature and the arts.