IF I could name a few people who I look up to in terms of how they live their lives, I'd probably include this couple I have known for 10 years. 
They have been very supportive of my marketing campaigns and I always have the pleasure of recognizing them as one of the most notable Filipino-Americans here in the U.S. It is an honor to feature them in my column this weekend and I hope you'd be inspired by their story the same way they have inspired me for years.
In this column, we meet another "power couple," who have been together for more than four decades. They treat each other as partner 'for better or for worse,' in business and in pleasure.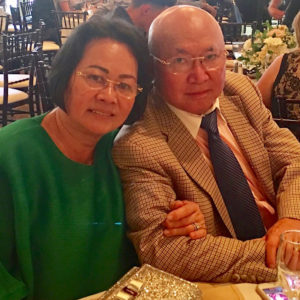 Meet Pete and Baby Cruz.
"We have known Monet Lu for over 10 years.  We are grateful for the friendship and support that Monet and his staff at Reflections Salon have given us through the years," Baby Cruz said when I asked them if they still remember how we met. 
Pete and Baby Cruz have been active supporters of Filipino-American organizations, advocacies and businesses here in Southern California. They have been great examples of a blissful marriage and fruitful business. The couple has known each other since they were in 2nd grade.  What started out as a childhood friendship, blossomed with them falling in love.  They were married on May 5th, 1974.
"We've committed our eternal love for each other through marriage," Baby continued. "Between the two of us, Pete is more extrovert adventurous while I am more conservative.  Both of us are generous and romantic. Throughout our 44 years of marriage, we have experienced many joys, successes, and challenges.  In 1987, we immigrated to the United States with our five children, Peter Jr., Pia, Peter III, Peter IV, and Peter V.  We wanted to ensure that our children had an opportunity to live a good life and fulfill the American dream." 
In their 44 years of marriage, I asked them what has been their most challenging moment, to which they replied: "The greatest challenge in our marriage is to always remember to say "I love you" to each other, particularly during moments when we get busy or when we have disagreements.  With God, we are continuously striving to keep our marriage strong and be a couple that our grandchildren and children can be proud of."
Pete and Baby Cruz own a financial service company, Cruz Financial Services, Inc. The company started in 1993. With Pete as the president, the couple seems to be inseparable both as partners in the home and in business.  
"We do income tax, bookkeeping, setting up corporations, payrolls, and quarterly taxes for small businesses.  We are so blessed that the business continues to be successful.  We are grateful for our all of our clients who come back to us year after year," Baby said. 
They are very proud grandparents to their three grandchildren: Sean (14), Sophia (11) and Michael (8).  
With a strong partnership, both in business and at home, there is nothing that could tear down the bond that they have.  "Our principles as a couple are sanctification in our daily work, fulfillment of Christian's ordinary duties, and to turn all the circumstances and events of our life into occasions of loving God."
To my dear friends Pete and Baby, I am amazed by your teamwork and your partnership. I wish you all the best in your marriage and your business.
Monet Lu is a Marikina-born, award-winning celebrity beauty stylist with his own chain of Monet Salon salons across Southern California and Las Vegas, Nevada. Ultimately, Monet is known as an all-around artiste who produces sold-out fashion and awards shows as well as unforgettable marketing campaigns. Monet is also the founder of the revolutionary all-natural beauty products such as Enlighten, your solution to discoloration . To contact Monet, please visit www.monetsalon.com or email him at monetsalon@aol.com