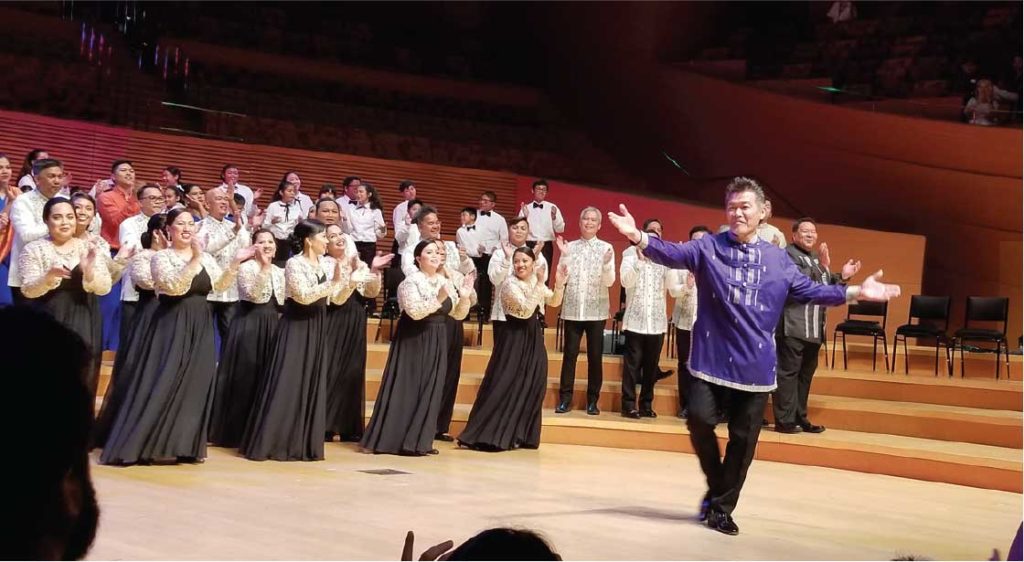 Part I of II
"I AM with you wherever you are. I am with you forevermore. There is no other love more than my love for you. I am with you my one and only love. You are with me wherever I am. You are with me forevermore. You're always in my mind wherever I am. You are with me forevermore. You're always in my mind wherever I am. You are with me my one and only love. Through all the hardships and all the good times. I am with you eternally. My love for you will never change. I am with you. I am with you." – Mon David's translated lyrics to "Abe Mu Ku," 2001.
Mon David was invited as one of the featured guest singers of the Philippine Chamber Singers-LA (PCS-LA)' Walt Disney Hall concert on Friday, August 17,  alongside Kit Navarro, Edward Granadosin and Pete Avendaño's Immaculate Heart of Mary Children's Choir and Precious Blood School's Children's Chorus, a 50-member group.
Prominent in attendance that evening were Philippine Consul General Adelio Angelito Cruz and generous donors of PCS-LA, Grace Mercado-Ouano, John S. Mina and Ted Benito.
It was an enchanting evening to hear the music of your childhood being sung in a venue with great acoustics. Usually, the best sounds emerged from the 10th row, as in the LA Legal Philharmonic's concert this writer attended recently. But we were privileged with seats in the third row, where the sounds had uneven dynamics.
Yet, even with the seeming absence of the prominently hanging ceiling microphone in a prior concert, it could not diminish the impact of passion, the fullest depths of the emotional experience from musicality at its masterful best, and the superior performances of PCS-LA onstage. Everything was magical, soulful, gentle and warm!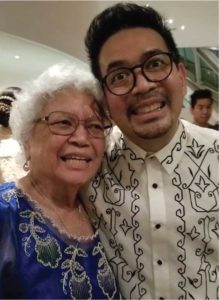 Could it be the context of Asian Americans' collective excitement, who came out to see director Jon M. Chu's adaptation of Kevin Kwan's best-selling novel, "Crazy Rich Asians," with a blockbuster week total of $35 million?
"How does one express what it means to go from being and feeling completely invisible, insignificant, left out and white-washed to all of a sudden being fully seen and fully human, on the big screen, in bright, bold and beautiful colors?" Soji Kashiwagi wrote on August 19.
'Soul of the Concert' – Mon David
David has nothing else to prove, having been a three-decade major musical artist in the Philippines, then, joined and won the 2006 London International Jazz Competition. He has since been performing in US stages like the Ford Amphitheater, LACMA, Vibrato Jazz Grill, Little Tokyo, Josephine's, Catalina Jazz Bar, and has eight albums to his credit. He has also graced the Tokyo-Manila Jazz festival, performing with notable jazz artists like Charito Vergara in Japan and Manila.
He got the "2017 Jazz Living Legend" from the LA City Council headed by Councilmember Herb Wesson. David believes that "our humanity connects us to one another regardless of national origin, creed and political affiliations and the arts, music and jazz can help achieve that deep and true human connection."
When David walked onstage that evening at Disney Hall, a first for him to perform at this venue, he looked handsome in an Eric Pineda original barong of purple and white, a mandarin collar, and with a microphone in his hand. We braced ourselves to enjoy every facet of his performance. We knew how meticulous he is about sound dynamics and expressing his feelings. We simply knew it would be masterful!
He was the "soul of this concert," Cynthia Bonta whispered to me. She traveled from Alameda to Los Angeles, eager to listen to the songs of her childhood, all originally composed by Filipinos, adding "I would not miss this for anything."
Enrique Dela Cruz described it as "an inspired performance for Mon David who has mastered the legato, the long, sustained notes."
Chris Oshima, a native-born American, felt the warmth and gentleness, listening to David's song, a language foreign to her.
"Abe Mu Ku," an original composition of Mon David in Kapampangan, has been translated into seven dialects by Prof. Edru Abraham of the University of the Philippines's Kontra-Gapi Ensemble. Some of those dialects are Ibanag, Hiligaynon and Cebuano.
In Pampanga, "Abe Mu Ku" is frequently sung at various occasions because of its universal language and message of love.
David composed it in 2001, fresh from grieving the death of his loving father, Crisanto David, who sang often with his wife, Alejandra Canlas, David's mother. He stopped by the North Expressway's shoulder in the Philippines, as the sounds came to him nonstop, on the way to visit his grieving mother. He wrote the notes down and hummed it as he wanted to document the harmonic notes as they were flowing through. Verse A was composed. Much later, a verse B (the bridge), until a full song emerged, with A, A, B, A.
When David sings, he always dedicates them to all his loved ones: his father, his wife Ann and his family, now, a growing brood of grandchildren, soon to be four, with twins Nico and Leo.
"Nararamdaman ko iyon, marubdob ang dating (I feel the lyrics, the intensity of my love for them pierces through)," he said.
That evening, he sang the Ibanag verse translation, in addition to Kapampangan, done by Prof. Edru Abraham. Some folks thought it was Japanese.
When David prepares for his performances, he is quite particular to address all aspects of the performance: harmony, feelings, sound dynamics and lyrics.
"When you sing for one person, it should be the same level of quality as singing for 2,000 person capacity Disney Hall," he said. Twenty of his family member came, as did over 2,000 people from the Filipino-American community and their friends.
Matching this masterful performance of David was Gelo Francisco's generosity in spirit, who with PCS-LA, generously commissioned a new choral arrangement from Robert Delgado, for "Abe Mu Ku" to not just be masterfully sung by the passionate vocal chords and heart of Mon David, but even more so by the masterful choral voices of the PCS-LA. How soulful, gentle, warm, and inspired indeed!
The last mainstage, similar to Disney Hall, was Ford Amphitheater, a concert produced by Ted Benito in 2011, when David memorably sang with his children, Nicole David Yalong, a mother of twins, and Carlo David (a recent winner of A Song of Praise Festival in April 2018), a first for the family on a U.S. mainstage back then.
Alto Ana Burog in repartee with soprano Kit Navarro
"I don't want to lose you. My world will shatter. But what can I do? You don't want me anymore. Who am I to hold you back? Even if you go away, the memory of our love will stay. This song reminds me that I won't forget you. Better you the only one in my world. My heart, my life.  Your kiss, I so miss! Why did you leave me? I am hurting, baby. When I see you, I feel jealous, oh baby, when you are with someone else. Because you are the only [one] in my universe. My heart, my life." – "HALIK," originally sung by Aegis, arranged by Monet Silvestre, now performed by Ana Burog.
Facebook posts populated with comments: "A Star is Born" in Ana Burog in repartee with Ma. Cristina "Kit" Navarro. Another post showed OJ, a guy about to bite Burog's cheek, with her comment: "It is a kiss, not a bite." All were delighted to see Burog give it her all that night and queued up to have photos with her. We could not squeeze in.
"How did you do it?" I asked.
"Tita, if you go onstage at Disney Hall and look around, it is intimidating to see the people, the lights, and all the microphones. I simply imagined I was singing in a karaoke bar."
Capping "HALIK," Ma. Cristina Navarro sang as if her voice traveled up and down the scales, on a run even, in leaps and thrills, in coloratura style. Burog was unfazed and challenged Navarro.
Mind you, Navarro is Burog's idol. With humor and wit, Burog declared in Tagalog and asked who is the sponsor of these handsome barongs worn onstage (designs in black and on white barongs), as if finding her creative edge on Navarro. After Navarro's impressive coloratura, Burog moved her hands, as if to say, "make room for me." The amused crowd roared in laughter, and waited on what Burog could do. She too had her coloratura, but in her abbreviated alto voice.
The repartee lasted two rounds, with soprano Navarro and alto Burog, displaying their prowess.
Navarro is a professional soprano, who has been part of Andrea Bocelli's Christmas concerts in California, the West Coast tour of the "Lord of the Rings" with the Munich Symphony Orchestra and has graced international stages, singing in operas in Switzerland, the U.S., the Philippines and Austria. She was handpicked to perform for Ryan Cayabyab's Sept. 1, 2018s concert at the University of the Philippines. Orange County Register describes her as "the gifted soprano, whose effortless production and lustrous, satiny tone were angelic."
Yet, with humility and with grace, Navarro made room for Burog to claim the stage as her own and that night, a star was born during the latter's rendition of "HALIK" (kiss), "which was originally performed at 2016 Regine Velasquez-Alcasid's concert by the Filipino-American choirs which included PCS-LA. Soloists Ana Burog and Ma. Cristina Navarro bring fresh interpretation, humor and wit to the song," Emmanuel Miranda wrote in the program notes.
When the lyrics "Pagka't ikaw ang tanging laman ng aking mundo, ng aking puso, ng aking buhay (Because you are the only one in my universe, my heart, my life)" were sung,  the crowd stood up and applauded.
Bravo, bravo, bravo, giving "HALIK," the only standing ovation that might have lasted longer, but for two more songs, "HANGGANG SA MULI" and "HIBANG SA AWIT" waiting to be sung at the program's end at 10:30 p.m.
PCS-LA's comprehensive program and quality musicianship
PCS-LA's members are: Sopranos (Kit Buhion, Anne Jeanette Dwight, Marivic Francisco, Anna Hurn, Maria Christina Navarro and Charmaine Normandia); Altos (Kim Bautista, Ana Burog, Judith Guerrero, Melissa Eugenio Gutierrez, Jennifer Morelos, Apple Nestle Nazareno and Lisa Ulanday; Tenors (Noel Anzures, Aristotle Canlapan, Hero Emolaga, Gerry Francisco, Oscar Pantaleon, Jr. and Louie Ulanday; and Bass (Novem Cabios, Dale Francisco, Gelo Francisco, Emmanuel Miranda, Medard Obida, Dino Padallan and Dennis Quiambao.
Francisco is the artistic director of PCS-LA, having developed the musical program content, with the group's input, into 22 songs in various categories of Kundiman, Novelty and Modern Classics; Contemporary Avant-Garde, Great Filipino Songs and Maski Pops.
PCS-LA commissioned new arrangements of this Original Pilipino Music from Ryan Cayabyab, Robert Delgado, Ruben Federizon, John Pamintuan and Monet Silvestre.
That night, Gelo assumed multiple roles: bamboo drumming, conductor for several songs, soloist, part of Madz Alumni Men, and part of the PCS-LA's choral group. He upheld the very high gold standard for the performance of PCS-LA.
One particular song received our riveted attention. It was Ruben Federizon's composed "TINIG NG LUPA." Soprano Marivic Francisco soared in her rendition, as her family members Gelo Francisco (her husband) and Joaquim Francisco (her college-bound son on his gap year), who both pounded on their kalatong (a percussion instrument made of bamboo).
In the program notes, Miranda wrote, "Federizon derived his inspiration 35 years ago when he saw the Visayas' mudslide burying an entire barrio. It affected him so much to see dead bodies in the mud. He reiterates, 'We just have to love our Mother Earth.' It represents an avant-garde work in three movements scored for mixed chorus a cappella and utilizes the kalatong, bamboo tubes struck by two bamboo sticks. It employs the technique of onomatopoeia – the voices mimic the haunting, earthly sounds of the underworld (the dead) as they struggle to free themselves from the abysss (mud)."
That evening, PCS-LA emerged to be bright stars onstage at Disney Hall, breaking down all barriers, to sing and express themselves with superior musicality.
Part II of this series will be on commissioned Great Filipino Love Songs, Anak, Maski Pops, Madz Men Alumni Singers and Pete Avendaño's Children's Choirs with Immaculate Heart of Mary School and Precious Blood School.