Through the years, the Beautiful Life Celebration has been recognizing individuals, youth, organizations, and couples who have shaped and influenced their communities in extraordinary ways. Now that the organization is celebrating its 30th anniversary, I'd like to this opportunity to share with my readers how these four amazing people — who were awarded at the event in 2017 —  have lived beautiful lives and inspire a lot of people in the process.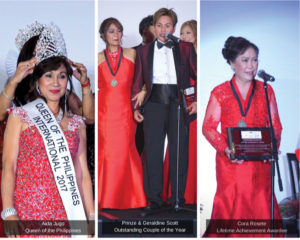 Aida Jugo, Queen of the Philippines – International
As an Assistant Vice President and Manager of Investigations (Unit for Money/ Wire Transfer Department) for Union Bank, Aida ensures that a customer's money is safe from the hands of scammers and hackers.
A good day for Aida is when she recovers funds out of erroneous transactions or when she is helping out a victim of a hacked account.
Aida has been working with Union Bank for 25 years and this is her first – and only – job in the U.S. She began her career as a young employee processing loans and worked her way up to her current position.
Growing up in La Union and Pangasinan, she felt like being in paradise, surrounded by rice fields and vegetable farms, fish ponds and free-roaming animals in acres and acres of land. Aida moved to Manila for college at the Philippine College of Commerce, with a double major in advertising and marketing.
After graduating, her adventurous spirit brought her to the United States so she could experience a new life in the "land of opportunities."
"A Beautiful Life is doing the things you enjoy the most. Life is beautiful when you are surrounded by a loving family, good friends and when you are accomplishing your dreams…" she said.
Mrs. Corazon Rosete, Lifetime Achievement Awardee
Cora is a retired registered nurse after 46 years of service in Kaiser Permanente. She started as a head nurse at a community hospital in Hollywood.
"That was my first job when I arrive in the US in 1968. After that, I transferred to Kaiser in 1970 where they trained me to be to be a critical nurse for three months: one month for intensive care (ICU), another for critical care (CCU) then one month in open heart unit. They asked me to choose my specialty and I wanted to choose open heart unit at the time but due to [the] shortage of successful open heart cases, they couldn't train for that specialty. Instead, they transferred me to the coronary or intensive care unit which is a combination of critical care patient, respiratory, medical and surgical."
Cora loves being a nurse because of the continuous learning and stable income it allows her to provide for her family back in the Philippines. But most of all, it is the privilege of acting and caring for your patients like a primary doctor would.
"I feel like a doctor! ICU nurses are trained to do their best when there's a 'code blue' in the event that the doctor is not around, it is our job to try and save the patient the best way possible, the best way we can," she said.
She mused, "A beautiful life is having a job that gives you the capability to give back. Also, a beautiful life is being blessed with a wonderful husband. God gave me a husband who loved me dearly."
Prinze and Geraldine Scott, Outstanding Couple of the Year
Prinze is a registered respiratory care practitioner for 10 years and Geraldine is an office manager of a hospice agency and the owner of TLC Services. Geraldine also produces Filipino shows and concerts.
The couple first met at Geraldine's sister's house on Christmas Day in 2002. Since then Prinze never left Geraldine's side.
Geraldine and Prinze have been together for 15 years. They first got married back in 2008 when gay marriage was legalized in California. In September 2013, they renewed their vows at CBS Studios in Los Angeles.
"I love helping people especially when they thank me personally for saving their lives or their families' lives," Prinze said.
Prinze and Geraldine hope to have their own respiratory and hospice agency someday.
***
Monet Lu is a Marikina-born, award-winning celebrity beauty stylist with his own chain of Monet Salon salons across Southern California and Las Vegas, Nevada. Ultimately, Monet is known as an all-around artiste who produces sold-out fashion and awards shows as well as unforgettable marketing campaigns. Monet is also the founder of the revolutionary all-natural beauty products such as Enlighten, your solution to discoloration . To contact Monet, please visit www.monetsalon.com or email him at monetsalon@aol.com