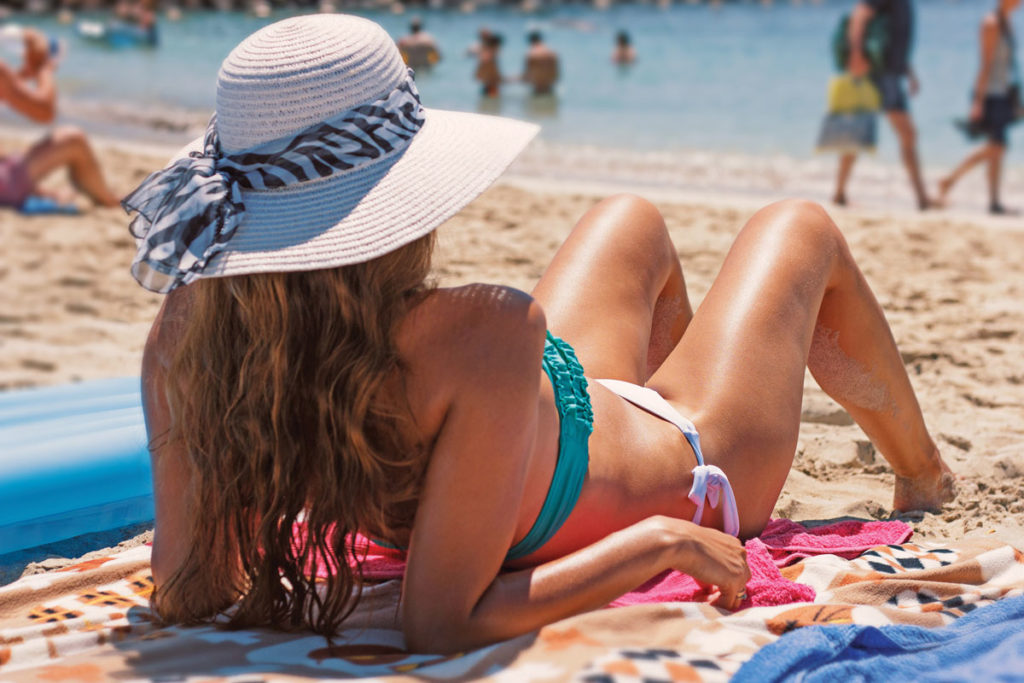 Summer is here! Everybody's heading to the beach and we all know the 'scenery' during beach season, don't we? Now, don't you go bailing on some summer fun just because you don't feel confident wearing a swimsuit.
Besides, after your hashtag #balikalindog project failed (for the nth time this year), this is the best moment to get your groove back again and achieve your ultimate 'summer bod' goals! I've rounded up six 'realistically-achievable' ways to help you start:
• If you don't have time to work out, make time
I know this is easier said than done but you have to start if you want to have a bikini body this summer. My tip is to try working out in the morning to get your metabolism revved up for the rest of the day. Commit to a workout routine that you're comfortable with and stick to it! Once you've built the habit, perform exercises that use more than one muscle group such as squats, pushups, rows, and lunges in a circuit to make your workouts most efficient. Again: make time for exercise, no excuses!
• Manage your appetite for unhealthy foods by using an app
This is one of the many benefits of modern technology, and I am not just talking about diosa (goddess)-transforming filters that you use when posting your selfies or Snapshot that make you look cuter when you're a bunny or a fairy. You can now make use of your brand new iphone7 to download a mobile app that keeps your diet on track. A recent study in the journal Obesity found that dieters who track their progress using mobile apps drop more pounds than those who keep paper logs. The Weight Watchers mobile app (free with membership) also lets you download recipes, including faves from spokeswoman Jennifer Hudson.
• Replace unlimited-rice with more green and leafy food options
I know "rice is life" but you're going to have to make the compromise if you want to rock that tank top. Start by cutting back on processed, starchy carbohydrates such as bagels, cookies, breads, pastas, and crackers. Most of these foods are loaded with extra sodium and preservatives that can contribute to water retention and bloating. Instead, opt for more fresh fruits and veggies, as well as lean protein to keep you satisfied.
• Lay low on the alcohol
It's always a good idea to reduce your alcohol intake, especially during summer. Not only is it advisable (for a better and sober you), you will also reduce your total calorie intake and set yourself up for a better night's sleep to energize you for your workout the next day (note: read tip no. 1 repeatedly). If you're used to having a glass of wine or pint of beer every night, try cutting back to two or three nights a week. When you do indulge, always sandwich your drink with a glass of water before and after to avoid alcohol's dehydrating effects.
• Keep yourself hydrated – with H2O
Since we are on the subject of drinking, I might as well remind you that while drinking too much alcohol is a no-no, drinking more water is a yes-yes-yes! The best way to rid yourself of excess water weight is to flush your body with water.  Skimping on water can reduce the effectiveness of your workouts because even mild dehydration can affect your performance and fat-burning potential. You should drink at least half your body weight in ounces each day (e.g., a 150-pound woman should drink 75 oz. or the equivalent of about four and a half 16.9 oz. bottled waters a day).
• Get more snooze time.
Research says that sleep deprivation is one of the major causes of obesity. That in mind, you should reconsider the time you put into putting yourself to sleep – the longer the better. Getting a good night's sleep is an important part of shedding those extra pounds, so be sure you are getting 7-9 hours of sleep.
Summer is such an exciting season. And with such a high-energy season, comes (an even) higher demand to make sure our bodies are summer-ready and in tip-top shape. I hope these six steps would help flaunt your body confidently in front of your friends and family. It's never too late to get fit and fab!
***
Monet Lu is a Marikina-born, award-winning celebrity beauty stylist with his own chain of Monet Salon salons across Southern California and Las Vegas, Nevada. Ultimately, Monet is known as an all-around artiste who produces sold-out fashion and awards shows as well as unforgettable marketing campaigns. Monet is also the founder of the revolutionary all-natural beauty products such as Enlighten, your solution to discoloration . To contact Monet, please visit www.monetsalon.com or email him at monetsalon@aol.com