[Disclosure: This writer is not related to the play's director.]
"A nation's culture resides in the hearts and in the soul of its people." – Mahatma Gandhi
"Congratulations to my sistah Alison Delacruz, who directed the world premiere of AS WE BABBLE ON. Trying not to sound too much like a proud sibling, but the show was absolutely wonderful. The writing was incredible—fast-paced, funny, touching, poignant. Writer [Playwright] Nathan Ramos really has captured a "moment" in our culture. The staging was inventive and fun and capitalizes on our obsession with social media. Loved seeing characters of mixed race and the duality we feel. All of this executed with pure aplomb by a great cast. If we were only all that good looking! Well art does imitate life, right?" – Jim Herr posted on his timeline on Facebook.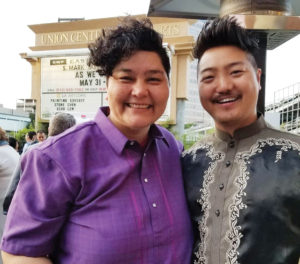 Some may presume this is Alison De La Cruz's first directorial debut, but I remember her one-woman show, which she took to different community venues: "My solo show 'SUNGKA' included the Spam song [which] premiered at California State University in October 1999. It was presented by JACCC's Fresh Tracks in 2000 at the David Henry Hwang Theatre. I then toured it to Bindlestiff Studio in SF in 2000 and around the country, mostly West Coast, through 2004."
 In "SUNGKA," a one-woman show, she was the playwright, the actor and the director.
 I recently saw "Bloodletting" (Kirk Douglas Theatre) and "Soft Power," a Musical (Ahmanson Theatre). Both plays were awesome in all aspects of direction, playwrights' works, cast, sets, and dialogues. This standard of quality is of course expected in larger houses, supported by an adequate production crew.  
Would it be unfair to compare EWP's "AS WE BABBLE ON," which partnered with the LGBT Center and seen by 240 folks, on opening night? Perhaps not, particularly when with the audience, you hear laughter at key parts of the play, few times with no volume restraint, and all were babbling about "how good it was," after.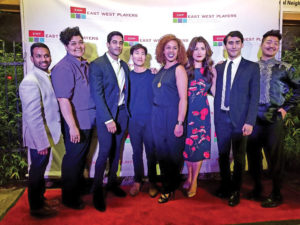 Broadway World's Gil Kaan wrote on June 7: "the top-notch production values from East West Players shows always match, if not surpass the production expertise of larger houses."
He was complimentary of Tesshi Nakagawa's set design, which is "a utilitarian double decker set connected by spiral staircase with the basic furniture pieces of tables and chairs," including the timely synchronization of projected images of "brick walls, framed artwork, phone screens, comic book sayings of superheroes" on stacked panels by Sheiva Khalily, projection designer.
A similar stage design was done for "Cabaret," staged at Pomona College and directed by Giovanni Ortega. It made for an easy flow from one scene to the next, to simply look up or down or sideways.
 The scenes moved quickly, with minimized interruptions that you sense a seamless flow; the director, the playwright, and production crew achieved their obra maestra, an oeuvre, and deemed a valuable addition to the body of work staged by East West Players for their 52nd season. 
Particularly effective was the exchanges between Laura (played by Jaime Schwarz) and Benji (played by Will Choi) and the intense identity dialogues between Benji and his ex-boyfriend, Vish (played by Sachin Bhatt). It was not just a delivery of lines, but were expressive and evoked feelings from us, the audience.
 De La Cruz described her artistic process in fleshing out the five characters: "I utilized my various experiences in devised or ensemble theatre and Shakespearian adaptation to help us navigate through this play with a very specific 'Gaysian & Millennial' dialect. We spent time building as an ensemble exploring who these people really are, what do they want, where are they going, where do they think they are going – and what kind of journey each of their characters is on in this play.  
 "I realized early on that this was a piece that had technology and comic book implications but had to be grounded in the comedy of life that comes out of complex people dealing with situations. I certainly looked for a cast that had comedic experience, timing and sensibilities, but I was also looking for actors who could be real people. Once we started rehearsal, I was clear with the actors that we needed to not try and play the funny, but find the humanity and arc of these characters and let Nathan's words and the situations they are in to be what they are – funny." 
I had a quick moment before the play to ask Ramos, the playwright about his intentions, to which he said, "I wanted to write something about how young people talk, how they go on dates, how they live lives joyfully as millennials, how they deal with frustrations, where race is a negative factor, but also how they triumphed over those obstacles." 
This is his first work as a playwright and won the EWP's 2042: See Change Playwrighting Competition. "He is currently working on Disney's Club Mickey Mouse and whose works have amassed millions of views on Tosh.O., Buzzfeed, RyanSeacrest.com, Reddit and other platforms," according to his bio.
Ted I. Benito, producer of "The Romance of Magno Rubio" at the Ford Amphitheater, "Dogeaters" at Kirk Douglas Theatre was equally complimentary, but with unfulfilled expectation: "Playwright Nathan Ramos' AS WE BABBLE ON has some very snappy repartee, some very memorable characters and reflects (if not magnifies) some of this generation's most pertinent issues (like technological advancement over personal growth, social media as a revenge catalyst, money/class/power vs. the have nots/wanna be's, self-identity and self-empowerment and the intricacies of love (and in this, love-making). I think I would have enjoyed the production more so if there was a cohesiveness amongst the terrific ensemble in terms of energy and if there was just a tad bit more direction to heighten the tension in a few scenes.  But the staging was brilliant and made use of today's technology as part of the storylines. What a way to end East West Players' 52nd year!"
In an email exchange with De La Cruz, I asked about her artistic process and how she managed to flesh out the complexities of her characters, two strong female characters (Sheila – played by Jiavani Linayao), (Laura – played by Jaime Schwarz) and three males (Benji –Will Choi), (Vish – played by Sachin Bhatt) and (Orson – played by Bobby Foley).
 "I'm glad that it translated – I prepped everyone that this play had some steamy scenes and that it was all going to come from them. We built a lot of trust in the rehearsal process and I approach working with actors from a very collaborative and organic way. I trust that they are smart human beings who have a set of life experiences that can inform the work. And once we get in the room, we explore their work of creating and filling out the parts of these characters that they haven't experienced. (Haha, like the sexiness with books).
 "We also paced ourselves and layered in the more intimate moments with physical contact after we have had some time in the rehearsal room and on stage. Of course, as soon as I got the script, I saw that we had this layered scene, which I named 'Trisexta' and helped everyone understand that that was going to be one of our huge ensemble moments with so many things happening at once. We also talked about the fact that 'Trisexta' is a great scene because audiences can choose to focus on whichever part of the scene that they are most into, fascinated or turned on by, so it meant each of the tandem scenes needed to have its own authentic arc and pace that blended in with the others. All of this work then informed the other intimate moments between characters' relationships which then manifested in all these physical ways on stage."
 In one scene, Sheila, played so adeptly by Jiavani Linayao, whose limber body made for such hilarious scenes when she made love to the bread dough, using yoga techniques. It was a clever portrayal, but also was quite credible to the audience that kept on laughing with suggestive manipulations.
As any good play with fine artistic sensibilities, the message inherent in it is what we aspire to: an understanding of why folks feel marginalized, how difficult it must be for a person with brown skin Indian features who is unfairly profiled as a "would-be terrorist," when he is the most handsome and well-contoured actor in the cast, with a loving and supportive disposition or how difficult it is for an ultra-rich person to have real, true friends and the real-life struggles of survival of a writer and an entrepreneur. 
 De La Cruz had this to say: "Yes, a lot of the scenes involved people in Benji's life (the comic writer) and the people he is closest too. Benji is struggling to figure out what his next life step is now that he has quit his job at Dynamic Comics. Laura, his sister, says to Vish that she was sorry that "Benji was doing the struggle Olympics with him." I wanted to highlight how Nathan's play helps us to unpack the ways people of different identities might deal with different and challenging experiences while still "rowing in the same boat" as Sheila says to Benji. Laura also calls him out on parsing things out in a genetic vacuum when he compares his experiences as a Korean American gay man vs. her as his Korean half white sister.  Vish also challenges Benji to consider how his pouting about being called a doctor may not be as bad as Vish's experience of being targeted as a South Asian man and the constant 9/11 references and racial slurs that he endures. I think that I was especially mindful of Sheila as a Pinay/Black entrepreneur who is sex positive and making choices about herself and her business when facing a racist Cookie Bakery. There are so many times when mixed, queer, immigrant or people of intersection are asked to simplify ourselves down to 1 thing. We are never 1 thing, and as a mixed queer Pinay with multiple pronouns, I have spent a lifetime of creating my own vocabulary and space to help define myself for myself, while pushing back on others telling me what they think I am. I was so excited to direct a play where it wasn't about naming an identity but articulating the tensions, humor and hopes of those of us who are intersectional and living lives of multiplicity."
 Is multiplicity equivalent to living complex lives and allowing different textures to surface in our lifetimes or is multiplicity, a function of a soul untethered? Or simply, an evolution of a nation's culture and its people? That, my readers, you will have to answer as you watch this play, now playing until June 24 at East West Players' David Henry Hwang Theater. 
* * *
Prosy Abarquez-Delacruz, J.D. writes a weekly column for Asian Journal, called "Rhizomes." She has been writing for AJ Press for 10 years. She also contributes to Balikbayan Magazine. Her training and experiences are in science, food technology, law and community volunteerism for 4 decades. She holds a B.S. degree from the University of the Philippines, a law degree from Whittier College School of Law in California and a certificate on 21st Century Leadership from Harvard's Kennedy School of Government. She has been a participant in NVM Writing Workshops taught by Prof. Peter Bacho for 4 years and Prof. Russell Leong. She has travelled to France, Holland, Belgium, Japan, Costa Rica, Mexico and over 22 national parks in the US, in her pursuit of love for nature and the arts.