"Cooking is like the fruit of a great love: a strong and slightly egotistical love on the part of the men, altruistic and sensitive on the part of the women. Be it one or the other, it is always present, demanding its share of gratitude and recognition. Isn't this natural? Technique can improve, just as experience can be acquired. Nothing can replace this last quality, not even talent, though talent must not be neglected for it is undoubtedly, in large measure, the source of genius." – Raymond Oliver, 1969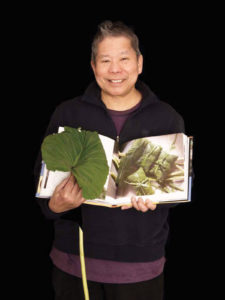 "Kaya pa ba?" (Do you still have capacity?) Chef Romy Dorotan (the Chef) in his white chef's uniform, sporting a smile from ear to ear, came to our table in the backyard multiple times. First, to acknowledge us as if long lost family members. He walked briskly to our table, unfazed by a full house of customers, whom he serves as he alternates to go to the kitchen and even rearranges one pot back to the wood shelf, to be planted with more succulents for the summer.
 "Oh, nandiyan pala kayo." (I see you are here.) "Nag-order na kayo?" (Have you ordered?) Ever the enthusiastic foodie that I am, I enumerated the appetizers and salads we ordered and a single entrée: peach, radicchio kimchi; eggplant kulawo with mangoes and a few slices of ampalaya with coconut milk; Amy's eggroll; watermelon with radicchio, mango and lettuce; and chicken adobo with vinegar, turmeric and coconut milk. When our friend the night before, we shared the stage with the Chef, at the book launch hosted by the Philippine Consulate Office in New York. Romy Dorotan was one of the 31 book subjects of "Even the Rainbow Has a Body."
Conrad, a recent NY-college graduate offered to decode the metaphor embedded in the title, "Your book is evocative. You know the rainbow is ephemeral. It seems to tell us that you are elevating these subjects as worthy of being sources of awe and inspiration."
I smiled, nodded my head. "Yes, if you look at the history of Chef Romy Dorotan, he introduced the Filipino cuisine to the American mainstream palate, here in NY, elevating it perhaps."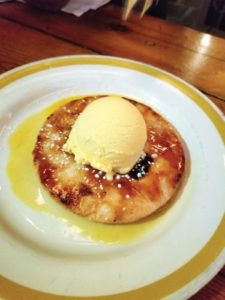 Chef Romy stopped me in the use of "elevate." I paused, open to being corrected in public. He did it gently, almost apologetic, then, explained that he, too, was corrected by his wife, Amy Besa, a founding owner of Purple Yam-Malate in the Philippines. He explained: "Our Filipino cuisine does not need elevation. It is us who need to elevate ourselves to the beauty of our cuisine, to embrace it. Imagine our community spends hundreds and hundreds of dollars to pay for American, Japanese, French, Italian dinners, but our cuisine is equally as good."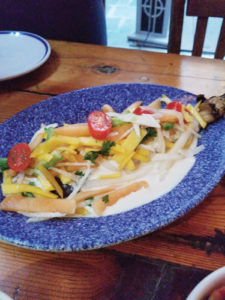 "Long before purple yam was popularized in the American palate in 2017-2018, Cendrillon SoHo (its precursor) was the hangout of foodies in New York. Martha Stewart even invited Chef Romy Dorotan to her television show to cook our Filipino cuisine, adobo. Did you know that one of her favorites was fresh lumpia crepes made with purple ube and green pandan wrappers? And one day, my cousins and I drove from Washington, D.C. to see a play in SoHo, Miracle in Rwanda. We went to lunch at Cendrillon and after the play; we asked each other, where for dinner. The unanimous answer of 7 of us, Cendrillon, so we ate our memorable meals of bibingka, black rice squid paella, kare-kare and more," I added.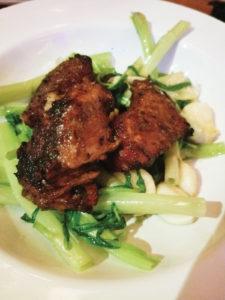 As if a computer had unraveled the ingredients of the entrees, I rattled off and shared them with the audience, and occasionally looked at the Chef for confirmation. Imagine, I made mistakes in the name of the cultural officer yet I remembered the ingredients of that delicious bibingka that our blind-lawyer friend, Ollie insisted he must "take home" to his mom in DC.
Think of how memorable your meals were that you desire to do a take-out for that special person in your life, to convey your love for her? Ollie did this even before we could finish our dinner.
After the Chef said that, my mind quickly ticked off the six-course Italian dinner we had at Bestia in LA or the eight-course Japanese dinner at Aburiya Raku in West Hollywood for special anniversaries and birthdays, evoking the anticipation, the exceptional delight and a full sense of satisfaction.
I left myself open, to be delighted at Purple Yam Brooklyn (PYB).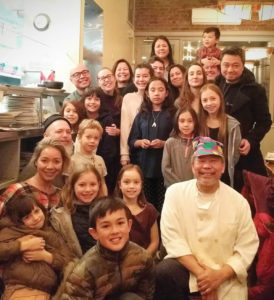 Opening our palate gifts at PYB
It was a continuous symphony of entrees that were laid at our table. The first group were the appetizers: two types of kimchi, potato and tocino pizza, eggplant kulawo served on a royal blue and white platter, suggesting to us how royally special this dish was. We were delighted by the eggplant kulawo, I almost ordered a second plate, but held back, and even my husband, Enrique Delacruz, who is not a foodie, raved about it.
Momar Visaya, the Asian Journal's editor-in-chief arrived from another assignment, as this was NY's Filipino Restaurant Week. He ordered cua pao pulled pork, kare-kare, and his favorite amongst the dessert array that he tasted the night before, ube tikoy with champoy ice-cream, with a special request of mangosteen ice cream.
The next group of entrees came with chicken adobo cooked with turmeric, vinegar and coconut milk, oxtail kare-kare and Amy's eggroll. I had carefully spooned the last of the adobo gravy on my rice, savoring every drop. I am now salivating as I write this, hoping to duplicate it in my kitchen.
Chef came, and asked, "Kaya pa ba?" We all declined. But, ever the curious foodie, I asked what the entrée would be. He said, "soft shell crab with watercress and heirloom rice."
"Oh, okay, we said, we have room." He served it personally and then watched the look in our eyes as we all gasped at this dramatic offering was on a crispy nori taco. It had a palapa crust and was served with rhubarb and horseradish sauce. This was another star of the night, perhaps to merit the most beautiful and tasty offering for the night.
Another star of the evening was the array of desserts – calamansi meringue tart with rhubarb served with guava sorbet, ube tikoy with champoy ice cream, mango tart with mango ice cream and a dish of multiple scoops of homemade siniguelas and mangosteen. As a teaser, another adobo dish was served, made with vinegar, miso and served on a bed of crunchy kangkong. Oh my, another star of the night. That would make it a 17-course dinner, including mulberry vinegar, guava strips and green mango with a quail egg. I am not sure what to say at this point.
Did the eggplant kulawo steal our hearty palate the first time, as if one falls in love the first time? Or was it the adobo in miso or the ube tikoy with champoy ice cream? Or the soft shell crab so delectable and royally presented?
Endearing hospitality of Purple Yam's owners, whether in Brooklyn or in Malate
Chef Amy Besa, who attended the Manila book launch of "Even the Rainbow Has a Body" in May 2017, invited my friends and me for lunch, her treat. She shared how we must incorporate our indigenous crops; our lesser-known fruits and vegetables or we may lose them forever, unless there is a demand for the farmers to grow them. 
At Malate, during another dinner I hosted with friends, the heirloom red rice from Benguet with vegetables was laid out with pride as the lechon, and we all said, "Please pass the rice," as we all helped ourselves to more.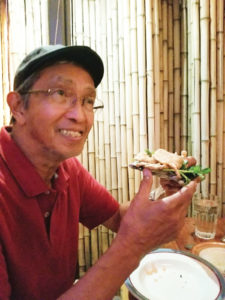 PY-Malate had the chicken adobo in turmeric as well, with a unique twist of pancit Malate served with the white noodles formed as a squid, with strips of squid and shrimps. The star of the lunch that day was the halo-halo, made with preserved fruits and homemade ice-cream, leche flan, and ube halaya. Nothing beats this Malate-based halo-halo.
You get a trip back to the earlier centuries of life with the original wood furniture handed down by Amy's ancestors, a gift to us now, as part of this restaurant. With each meal, she honors our indigenous farmers and delights our discerning taste buds.
Both PY-Brooklyn and PY-Malate are special places for the artistic souls, gourmet foodies and those who want nutrient-dense, low fat, organic and balanced flavors with appeals to our vibrant senses and sensibilities. As we closed the restaurant down at 11 p.m., we stopped to appreciate a unique sculpture, made by another cook/artist, Perry, all from animal bones and parts.
Here in this restaurant, the guests/clients are treated royally, as each ingredient of each entrée. The Chef's talent of combining unlikely ingredients, calamansi with rhubarb, nori as a taco shell, coconut milk and cream into adobo and eggplant is pure genius, as if schooled in the art of food science, and when combined with his decades of cooking a fusion of American, French, and Filipino cuisine, it is simply magic.
Purple Yam Malate and Purple Yam Brooklyn continue to evolve, and both age as if fine wine to be savored, as it grows more nuanced in their flavors and combinations of textures and colors. My husband, a non-foodie, shared his own version of the meal experience and wanted me to specifically write it the way it unfolds in his logical mind, prompting the Chef to say, "Sabi Ni Ike," (Ike Said). We all laughed and slowly walked to our Q subway for the night, and with more selfies with the Chef and by the "woke," 24/7 Times Square.
My profound thanks to Enrique Delacruz, Momar Visaya, and the Chef who made this an unforgettable gastronomic heaven for me. I told them both, "I am ready to go to heaven." "Not yet," they said.
* * *
Prosy Abarquez-Delacruz, J.D. writes a weekly column for Asian Journal, called "Rhizomes." She has been writing for AJ Press for 10 years. She also contributes to Balikbayan Magazine. Her training and experiences are in science, food technology, law and community volunteerism for 4 decades. She holds a B.S. degree from the University of the Philippines, a law degree from Whittier College School of Law in California and a certificate on 21st Century Leadership from Harvard's Kennedy School of Government. She has been a participant in NVM Writing Workshops taught by Prof. Peter Bacho for 4 years and Prof. Russell Leong. She has travelled to France, Holland, Belgium, Japan, Costa Rica, Mexico and over 22 national parks in the US, in her pursuit of love for nature and the arts.