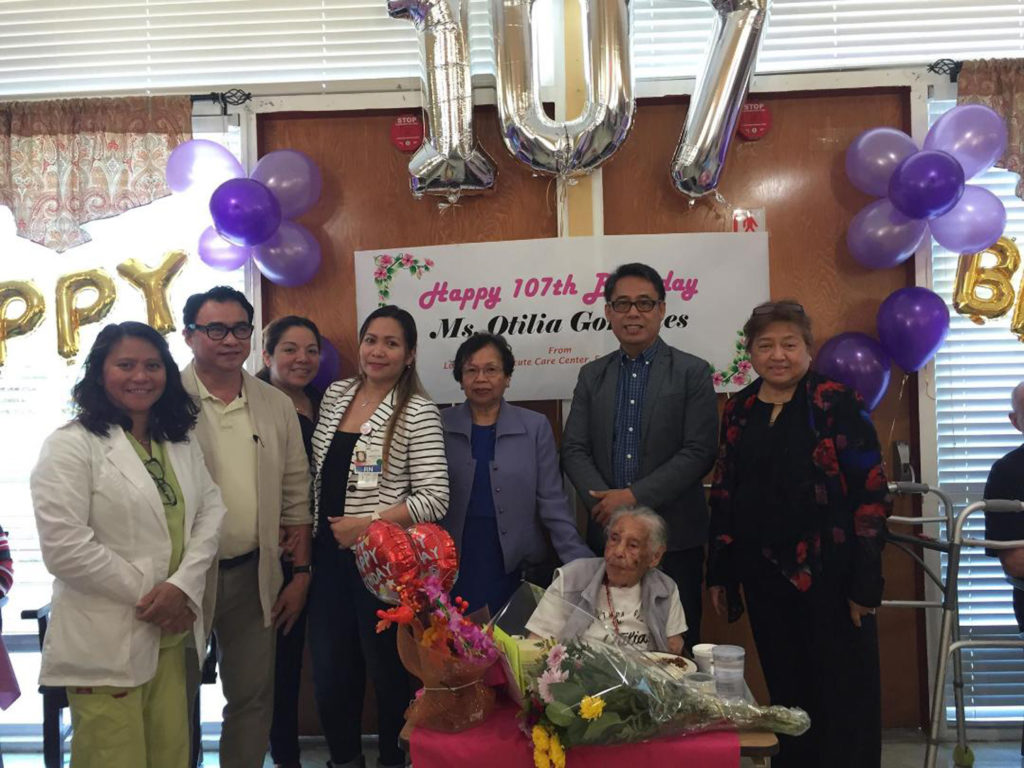 I sympathize with her lonely soul. She ruminates. She dreams. She remembers. 
The true essential self is ageless, even if the body and its surroundings wail that you're old.
She was telling something, her tales spinning a spiel, suggesting a personal account through the human voice.  At times it is a person talking to you, gratifying the appetite for stories of raw life outside the language.
There are many things about growing old — if you can accept the aches and the pains, the wrinkles and creases and dimples, the crow's feet, the spider webs and the thinning lips and hair. The body also cruelly betrays the skin, spilling brown spots all over.  Sunk cells, dimmed eyes, dropped teeth, migraines, and universal back pains. All these is enough to make you wail, "Youth is wasted on the young!"  
Youth is wasted on the old, if all they do is pine away. 
Miss Gonzales, the 107-year-old lady who was once the Queen of Catalina Island, said she has come to terms with aging and is living life on its own terms. She attributes long life to the food she has been feasting all her life: beans, enchiladas, menudo and chili con verde. She danced the waltz, tangoed with La Cumparista, and sang "Ave Maria."  But she told me, "Don't forget — it is beans that gave me long life."
We spoke with Nestor Alegre, the hospital administrator of Los Palos Convalescent Hospital, whose profession is dedicated to alleviating all maladies of old people, except the passage of years, and the obstinate refusal of the old to surrender in the force of time.  It is a 24-hour endeavor that starts and ends with prayers, because for them, there's a need for physical and spiritual strength as well.
Their working hours involve almost a ministry-like advocacy, said Rev. Mercedes Pascual, who is the Activity Director of the hospital. "They can still enjoy life, or what remains of it.  We try to imbibe them with patience, a treasury of enthusiasm, immeasurable courage, cheer and kindness; encompassing all the nobility and humility of which they are capable. We try to  achieve that with sensory stimulation, puzzles, movies, balls; while they are all confined to wheelchairs for safety and mobility."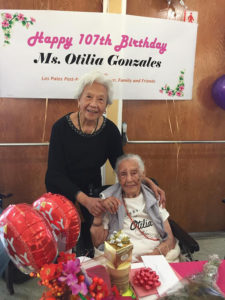 All are encouraged to have group mates, best friends, and religious programs. For everyone who signs up the job signs with compassion and dedication from the heart. Here, nobody retires and the talent given by the Lord is always maximized.
The day started with free-wheeling as soon I found myself seated beside the birthday lady, Otilia Gonzales Machado, who was the center of the merriment.
She is small and slim, and most of the time she wore pants. From a distance, she looks like a boy, all of 107 years.  Her face is sharp, with its lines engraved by the winds and the sun of Catalina. Her eyes are firm without illusion, her lips are hard without lipstick.  With these, she has accepted old age, as one accepts sunshine and rain.
Growing old has stifled dramatically, influenced by the prospect of a longer lifespan, increased awareness of health and fitness, and the changed perception of elder women's roles are now taken more seriously by society, the medical world and the community they move around.
Now they can demand the freedom to take life less seriously, to be unconventional, to flaunt their grey hair and wrinkles and double chins and falling wombs.  They now can age proudly, not only embracing the loss of youth, but also transcend all the anxieties and fear of aging.
With an acceptance that's beyond age and prejudices, lies a gentler joy and peace that sacrifices old age. It is an exciting time to grow old, which seems, for better or worse, outlives all body capabilities — if you learn to look for the treasures in that come with it.
E-mail Mylah at moonlightingmdl@aol.com