THIS week I would like to pay tribute to our dear friend Dion. He was a well-known entertainer, a fashionista, and a friend, not just to me but to a lot of people in the community. 
We are all in awe and sadden by his untimely death. With this, I would like to share a heartwarming letter of Bong Prada Lim to Dion. We all feel the sadness of losing a friend and may God bless you always.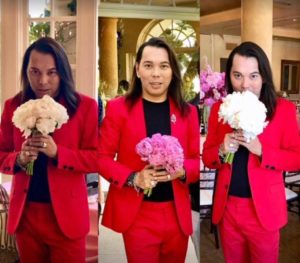 I  have known Dindo Santos for more than two decades. It was one evening at a Filipino entertainment bar restaurant in Orange County — he was vibrant, full of energy, and had a huge smile and loud laugh.  He would crack jokes and made fun of others and also himself for the sake of getting through the night entertaining the people who were all stressed out from work.  
My name is Bong Prada Lim and he said he knew. "I am Dion like Celine," he said. I smiled. He wore a powder blue Versace suit. That very night he told me, "you're my idol.  I love your style and your beautiful designer clothes. Such a fashionista."  Again, I smiled. 
We hit it off. Out of this grew a friendship that transcended whatever differences we had or later developed because above all, we understood the same thing because we were "sisters."  We did have a lot of family fights.  As we progressed, we learned more and that life can be cruel, painful and blinding so it's hard to see anything else. 
Yes, Dion like we all fondly call him, was indeed an entertainer.  He belted out the Michael Buble songs and who could forget the tandem with Joseph Gelito,  and his way of saying " applause."
Little did he know, I idolized him for he had talent. He could sing and had an awesome voice, especially when he sang my fave song, Louis Armstrong's "What a Wonderful World."
We embraced that life is beautiful. We shared so many beautiful memories. We laughed and we cried — so many thoughts, heartaches, and secrets.  I can only shed tears now.
I can wipe my tears but I can feel more the pain of Mommy Lilia Santos. The sorrow of a mother losing her child. Mommy, no amount of words can wipe away those tears but for your consolation, Dion's mission on earth is done and he is with Daddy now.  I am sure he is welcomed in heaven with open arms and a symphony of angels in chorus as he also awaits all of us one day for eternal happiness.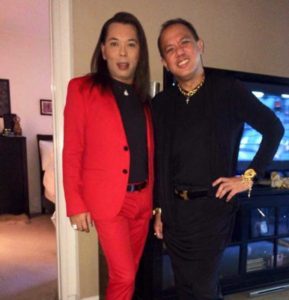 Dennis and Dale, your Kuya Dion is gone. Forgive him for the times he was not around you, when he was with friends more. Forgive him for he was stubborn. I know how you constantly reminded him of his heart condition.  He had a big heart. He wanted to fit everyone inside. He tried to be generous, caring and loving . 
Dion has touched many lives.  Seriously, only a person who has so much love to give could replace and fall in love with a new boyfriend immediately.  Funny as it may sound but no one can surpass the countless men in his life.  He had more loves than Elizabeth Taylor or Madonna combined.  
Countless friends and even foes will miss you —  your fashionable sense and style and your Facebook and Instagram shout outs and postings. Surely, each will shed tears and condole. All have different stories to say. It was how you lived your life and not your death.  
As I bid farewell to you my dearest friend and sister,  I end by saying, "fabulous applause." I love you. Till we meet again.         Bong Prada Lim
***
Monet Lu is a Marikina-born, award-winning celebrity beauty stylist with his own chain of Monet Salon salons across Southern California and Las Vegas, Nevada. Ultimately, Monet is known as an all-around artiste who produces sold-out fashion and awards shows as well as unforgettable marketing campaigns. Monet is also the founder of the revolutionary all-natural beauty products such as Enlighten, your solution to discoloration . To contact Monet, please visit www.monetsalon.com or email him at monetsalon@aol.com