THE on-and-off search for the Philippines' favorite super heroine came to an end when it was confirmed that actress Liza Soberano was chosen to play the next "Darna."
Then, it happened. 
As if caused by some unseen "dark" forces; our supposedly new Darna got injured, which caused her to turn down the role tearfully and regretfully. 
This turn of events begs the question: so, who will be the next Darna?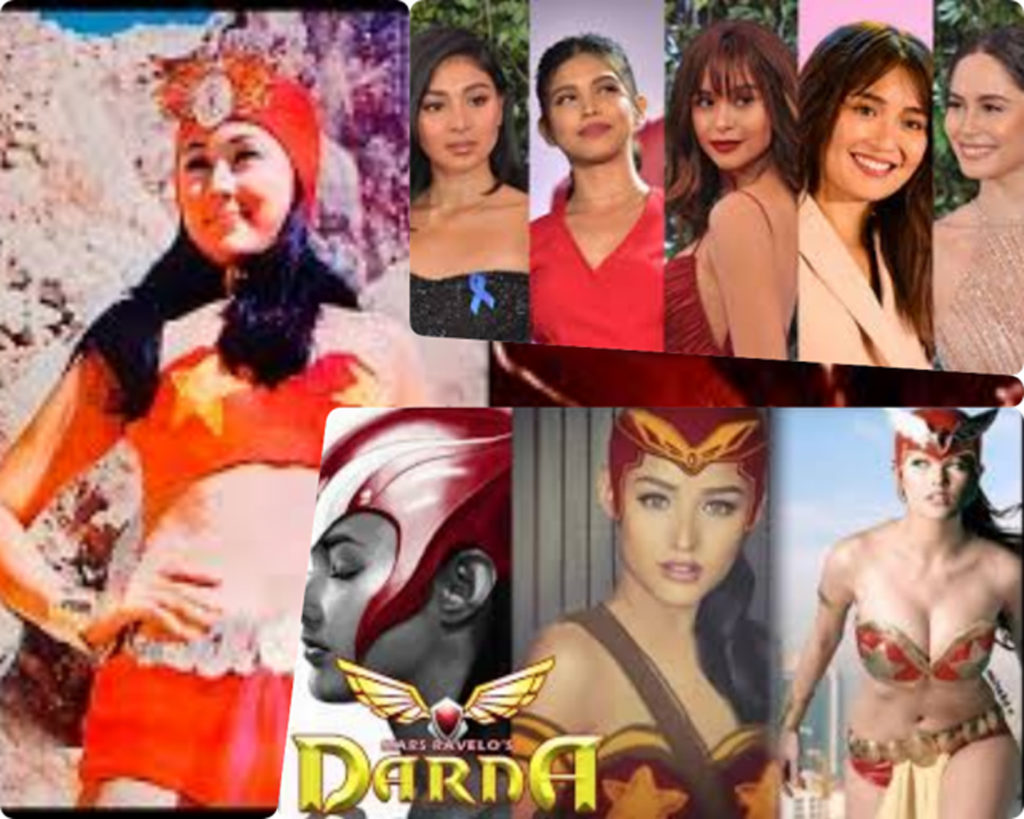 Who is deserving to turn into this brave and mighty lady warrior sporting a red bikini with a gold star in each brassiere cap; red helmet with ruby encrusted gold winged medallion; gold bracelets; golden medallion belt with a loincloth in the middle; and almost knee-high red stiletto boots? 
Who do you think is worthy to swallow the infamous magic white pebble that transforms a common "Narda" to a "Pinay Wonder Woman" named, DARNA?
"Who?" is the question everybody seems to be asking. 
I am not surprised that several names have been thrown as to who fits the description of our Darna. And there were celebrities who have expressed their interest in the role, like Pia Wurtzbach, Maja Salvador, Jessie Mendiola, to name a few. The director of Darna, Erik Matti, himself actually revealed who he thinks is a great fit for the role, now that Soberano can no longer play it. 
In his interview with Ricky Lo of the Philippine Star, he said, "After her [Soberano], I only see Nadine Lustre so far as someone who can be Darna. Very sultry. She has a lot of female sensuality and at the same time still looks tough and very Filipina."
He added, "The key to casting Darna has always been someone who can look plain and ordinary in her Narda alter ego but can be tough, spunky and can be very sexy when she transforms to Darna." 
To this, Nadine reportedly expressed her gratitude for being one of the choices to play such an iconic role. Darna's trademark red suit, magical stone, and catchphrase ("Ding, ang bato!") are quintessential parts of Pinoy pop culture. Mars Ravelo's comic heroine dates back to 1939. No wonder, picking the best person to play Darna is tough.
The first woman to play Darna from 1951 to 1952 was none other than Rosa Del Rosario. Her name might not ring a bell these days, but she was dubbed the "Queen of Philippine Movies" in her heyday. She made a name for herself in silent films during the '30s and later, starred in many "talking-pictures"—including the first-ever Darna movie produced by Fernando Poe Sr. and written by Ravelo himself.
Next to Del Rosario was Liza Moreno who played Darna in 1963 and 1964 which was actually 11 years after Darna was first shown in the silver screen. Then there's Eva Montes in 1965, and then, of course, the Star for all Seasons, Vilma Santos is 1973.  She played the role the longest: from 1973 to 1975; then again in 1980. 
Some of the actors who also played Darna were Lorna Tolentino (1977), Dolphy (yes, Dolphy! In 1979), Rio Locsin (1979), Sharon Cuneta (1986), Nanette Medved (1991) and Anjanette Abayari in 1994. This was the last Darna film to date.
In 2003, "Asia's Songbird" Regine Velasquez flexed her acting chops in a cameo appearance for the 2003 remake of Captain Barbell (starring her now-husband, Ogie Alcasid and Bong Revilla). She even wore the costume again for a performance with Alcasid during their concert tour. 
Two years later, Angel Locsin flew into our TV screens (and everyone's hearts) with her portrayal of Darna in 2005. Locsin, who was already soaring after the success of Mulawin, dominated primetime ratings and her version enlisted four former Darna actresses to be part of the show: Gina Pareño, Rio Locsin, Lorna Tolentino, and Regine Velasquez (who also sang the theme song and voiced the "Darna!" shout). Despite the clamor for her return in Erik Matti's highly anticipated film with Star Cinema, Locsin had to retire her costume due to personal health risks.
The last actress to play the role on TV was Marian Rivera in 2009. Fresh off her role as Dyesebel, Marian's version featured the famous opening theme "Narda" by Kamikazee, and depicted Narda as a young woman who initially didn't want her powers and responsibility. The series also enlisted Mark Anthony Fernandez and Dennis Trillo to play Rivera's love interests.
Fast forward to the millennial times where "anybody can be a star." Anybody can "dream, believe and achieve." I humbly think that the role of Darna is something that should be treated like a beauty title. Not because it should be given to someone who is easy on the eyes but like our former Miss Universe Pia Wurtzbach said about being Miss Universe, "it is both an honor and a responsibility." 
As much as I love the top choices they currently have (to play Darna), for me, being the next Darna means she will be carrying on the legacy that the veteran actresses (who played the role) have passed on.  She will embody one (if not the most famous) of the cultural icons in Philippine entertainment. 
Having said that, I think this would a good time to discover and give a chance to fresh talent — someone new. And while that poses as a challenge (albeit, a good one), I am optimistic that finding the perfect Darna is worth the wait.
***
Monet Lu is a Marikina-born, award-winning celebrity beauty stylist with his own chain of Monet Salon salons across Southern California and Las Vegas, Nevada. Ultimately, Monet is known as an all-around artiste who produces sold-out fashion and awards shows as well as unforgettable marketing campaigns. Monet is also the founder of the revolutionary all-natural beauty products such as Enlighten, your solution to discoloration . To contact Monet, please visit www.monetsalon.com or email him at [email protected]