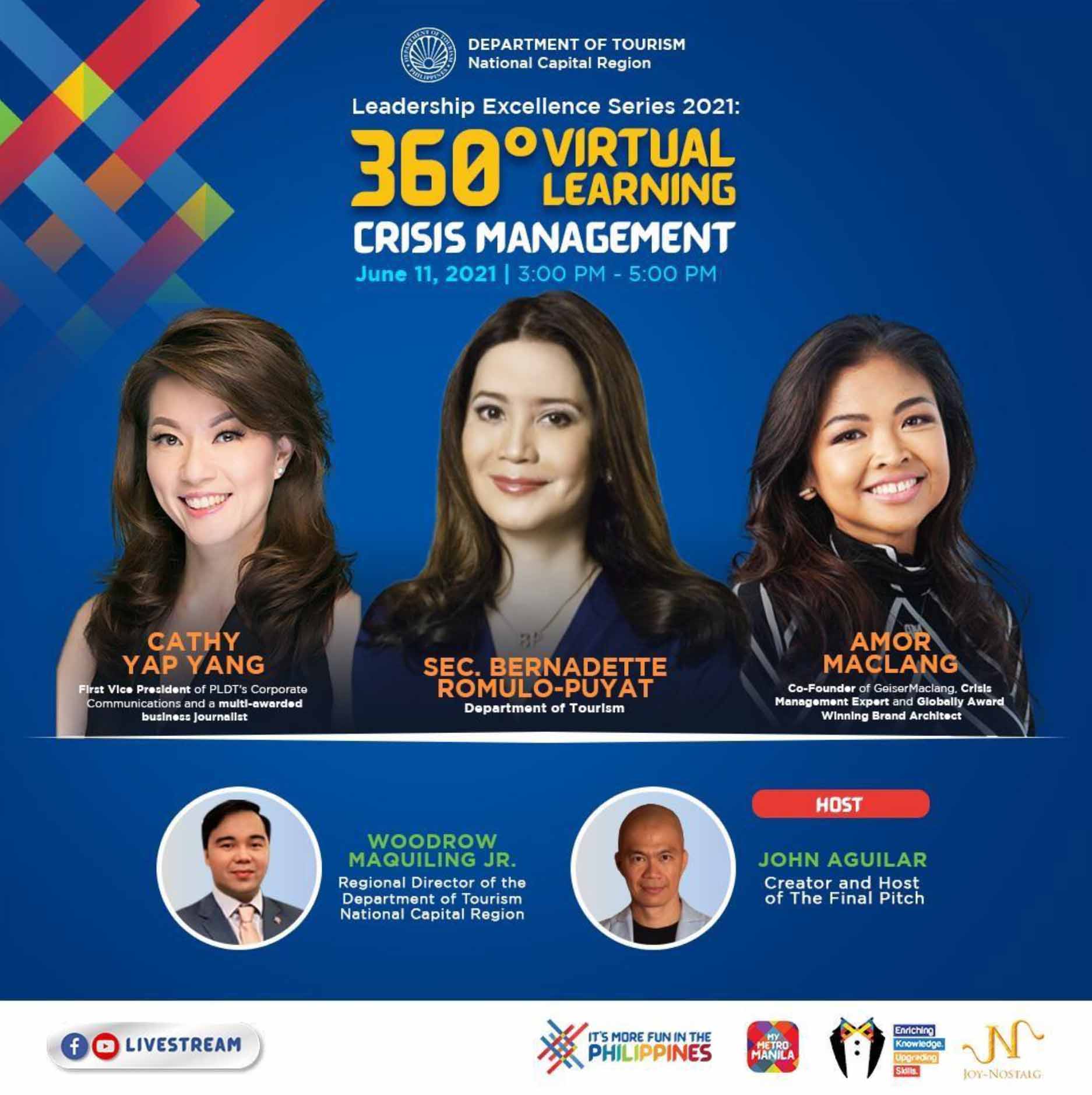 MANILA—The Department of Tourism – National Capital Region's (DOT-NCR)
trailblazing hybrid online learning course, the Leadership Excellence Series (LES), is
returning to the screen this 11 June from 3:00-5:00 P.M. via Zoom with its culminating
presentation featuring two formidable women business leaders, Amor Maclang and
Cathy Yap Yang, offering practical advice and expertise on crisis management and
customer satisfaction in the wake of the pandemic's adverse effects on the economy.
Applauded as a top-notch online learning forum for hospitality, tourism, business
practitioners, and travel stakeholders, this third in the three-part series for 2021 zeroes
in on addressing the importance of understanding customer's preference and
consumer behavior while addressing adverse situations as the tourism industry and
economy grapple to rebuild consumer confidence and redefine business strategies.
Inspired by the world-famous TED Talk format, the DOT-NCR's LES 2021 hybrid
online learning event forms part of a collection of training courses offered by the
DOT—the brainchild of the tourism chief herself, Secretary Bernadette Romulo
Puyat—which collectively seeks to retool, reskill and reboot tourism stakeholders and
tourism workers in the new norm.
The previous edition held last 1 March put the spotlight on culinary tourism and
heritage cuisine, tourism products the DOT is strongly promoting as it slowly and safely
re-open tourism destinations across the Philippines.
Open to the public, free-of-charge with priority for tourism industry enterprises, players
and frontliners, the LES 2021 is livestreamed primarily on Zoom for registered
participants and the DOT-NCR's digital platforms @TourismMNL on Facebook,
Twitter and Tourism MNL on YouTube. Download the entire program for free at
Spotify, Apple podcast and Googlecast.
Interested participants may register here for free at:
https://dotncrles2021.wixsite.com/register. To qualify for a DOT certificate of
participation, registered participants are required to finish the entire online learning
program and complete a feedback form.
Previous LES speakers include Francis Kong and Josiah Go in July 2020 edition;
Jonathan Yabut and Ardy Abello in October 2020; George Royeca and Martin Aguilar
in February 2021; and Chefs JP Anglo, Godfrey Laforteza, Gabby Prats in March 2021
edition.
Register here for free at: https://dotncrles2021.wixsite.com/register