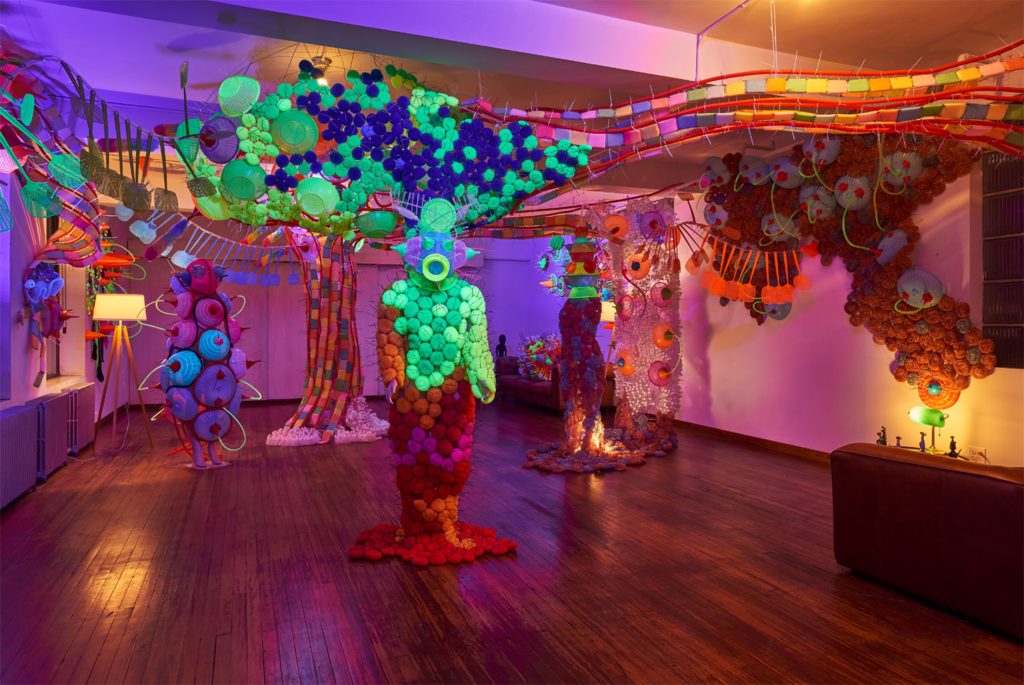 Aliens of Manila: New York Colony @ Pintô International
Make this weekend a full Filipino weekend in the East Village with your families and friends starting with brunch and a round of drinks, then walk a couple of blocks away to Pintô International's headquarters on 431 East 12th Street to see "Aliens of Manila: New York Colony," which was recently unveiled as part of the organization's new regularly programmed global exhibitions and event series.
Pintô's New York HQ is a few blocks away from Filipino restaurants Jeepney, Maharlika, and Ugly Kitchen on 1st Avenue and about a block from Mama Fina's on Avenue A. That's right, after feeding your stomachs with sumptuous Filipino cuisine, walk the calories off on your way to feeding your soul with art.
Contemporary artist and designer Leeroy New stayed at Pintô for a two-week artist residency in February. During this time, he created an immersive, site-specific installation of psychedelic extraterrestrials responding to the structure of the space: a fifth-floor walk-up loft in Alphabet City.
The Aliens of Manila is part of the gallery's new quarterly exhibitions program and curated by Pintô International Co-Founder and Director Luca Parolari.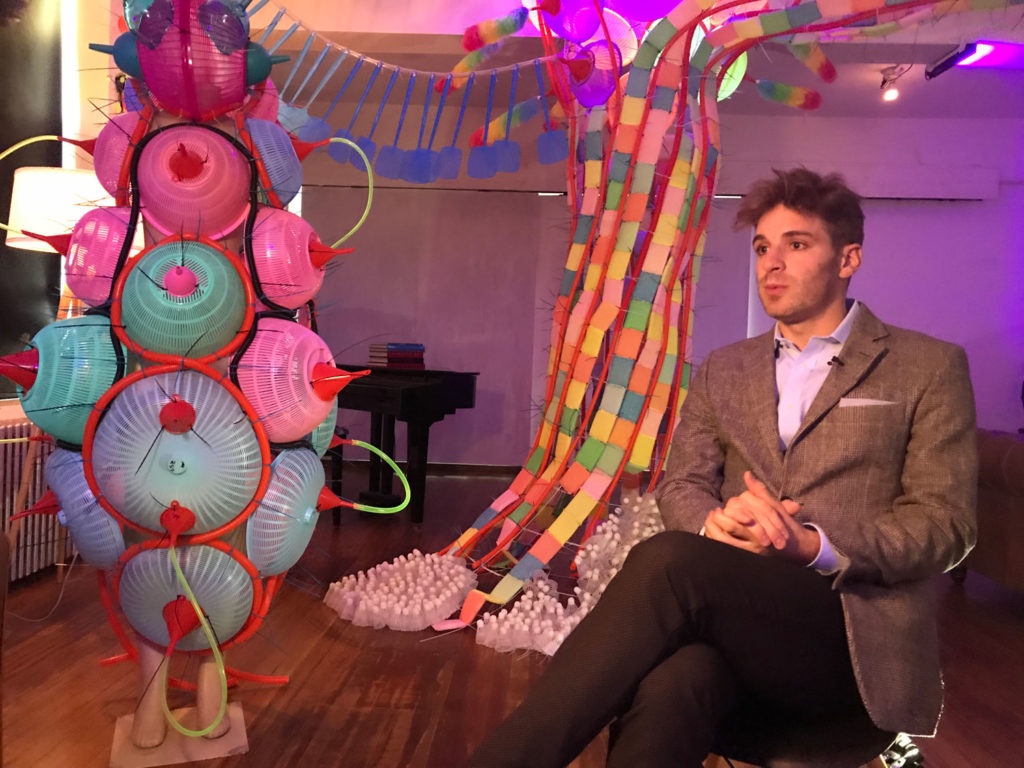 "Leeroy New is a multidisciplinary artist who works between installation, sculpture and fashion. He has been working on Aliens of Manila for the past several years and he has taken it around the world but this is the first time that the show is done in New York," Parolari told the Asian Journal.
The final output is a warping, psychedelic sculpture constructed from food covers, flexible conduit, fiberglass strips, cable ties, and other materials that cling to the architecture of Pintô's East Village loft. The psychedelic structure was supported by local psychedelic news website Tripsitter. When it was erected, the Tripsitter team provided funding and outreach to share the word about the new sculpture.

"The goal, the aim of this body of work is to shed light on a number of themes including immigration and struggle for integration in particular for overseas Filipino workers," Parolari explained. "The nature of these aliens is that they're struggling to fit in in a context that is alien to them."
The series speaks to the wider experience of cultural displacement but is profoundly informed by the artist's own familial experience with the phenomenon of what he refers to as "OFW" — Overseas Filipino Workers. These Aliens of Manila made public appearances in New York City throughout the week of the exhibition opening earlier this month.
New also presented a series of wearable sculptures — an extension of his design projects in interdisciplinary design and architecture — for this ongoing Aliens of Manila project.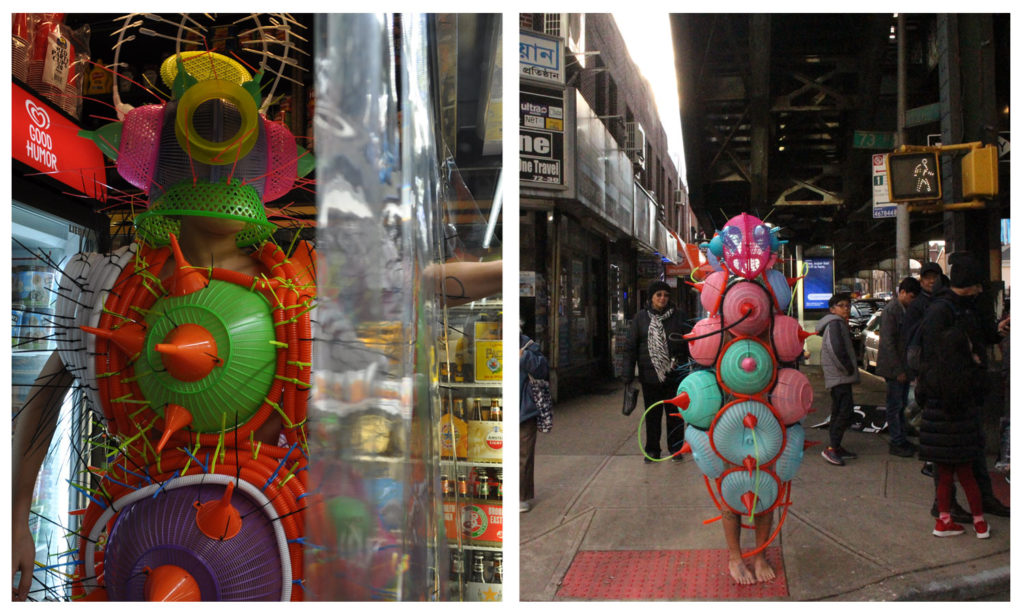 The sculptures are made of familiar materials from recycling centers, surplus shops, dollar stores, and industrial market districts local to New York. The artist used sponges, fly swatters, funnels, strainers, feather dusters, among others.
"It is also about repurposing materials which have been used in other projects before and this is in line with the philosophy of making do with what you have, typical of many who are in the lower income situation," Parolari explained.
For the project, the artist, his friends, and local collaborators don the costumes in public as a kind of "material conduit" between the artist and the environment. This "staged displacement" creates a literal and visual duality between the native and the "alien."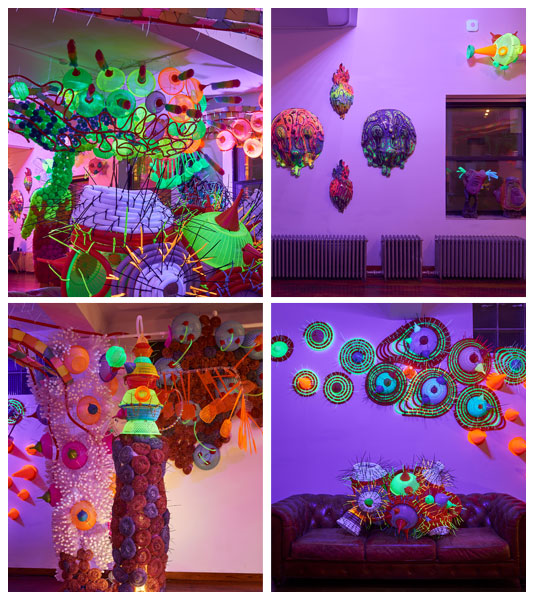 Pintô International is the global foundation and the international arm of Pinto Art Museum in Antipolo, Rizal. It takes care of programming and exhibition of Philippine contemporary art in New York. The organization was born in 2017 and in collaboration with the Asian Cultural Council, came up with benefit shows.
"We are quite literally opening our doors, our pinto, of our private homes for the public to enjoy contemporary art and culture, similar to what we did before at Boston Gallery and Pinto Art Museum in the Philippines," he added. "We were founded on the principle that art plays a diplomatic role in bridging distinctive nationalities, worldviews, and communities." 
The organization hopes to come up with quarterly shows throughout the year, along with regular Pinto Sessions, which they envision to be a series of monthly receptions and special programs where they invite different speakers and performers for a multidisciplinary dialogue. They also hope to open doors for Filipino artists to showcase them for the New York market through exhibitions coinciding with international art fairs, biennials, and other global arts initiatives that would further foster its mission of cultural diplomacy.
Pintô Art Museum is an exhibition space and contemporary museum located in the Philippines' historic pilgrimage city of Antipolo outside of Manila.  The museum was founded in 2010 to publicly exhibit the art collection of Filipino neurologist and patron of the arts, Dr. Joven Cuanang.
"For over three decades, it has been my unwavering vocation to undertake the promotion and support of contemporary Philippine art in my home of Manila. As Pintô builds its global constituency, we are looking to New York's uniquely cosmopolitan, progressive arts community to join us in building a dialogue around and a platform for the contributions of living Filipino artists," Dr. Cuanang said.
"Aliens of Manila: New York Colony" runs until May 27.