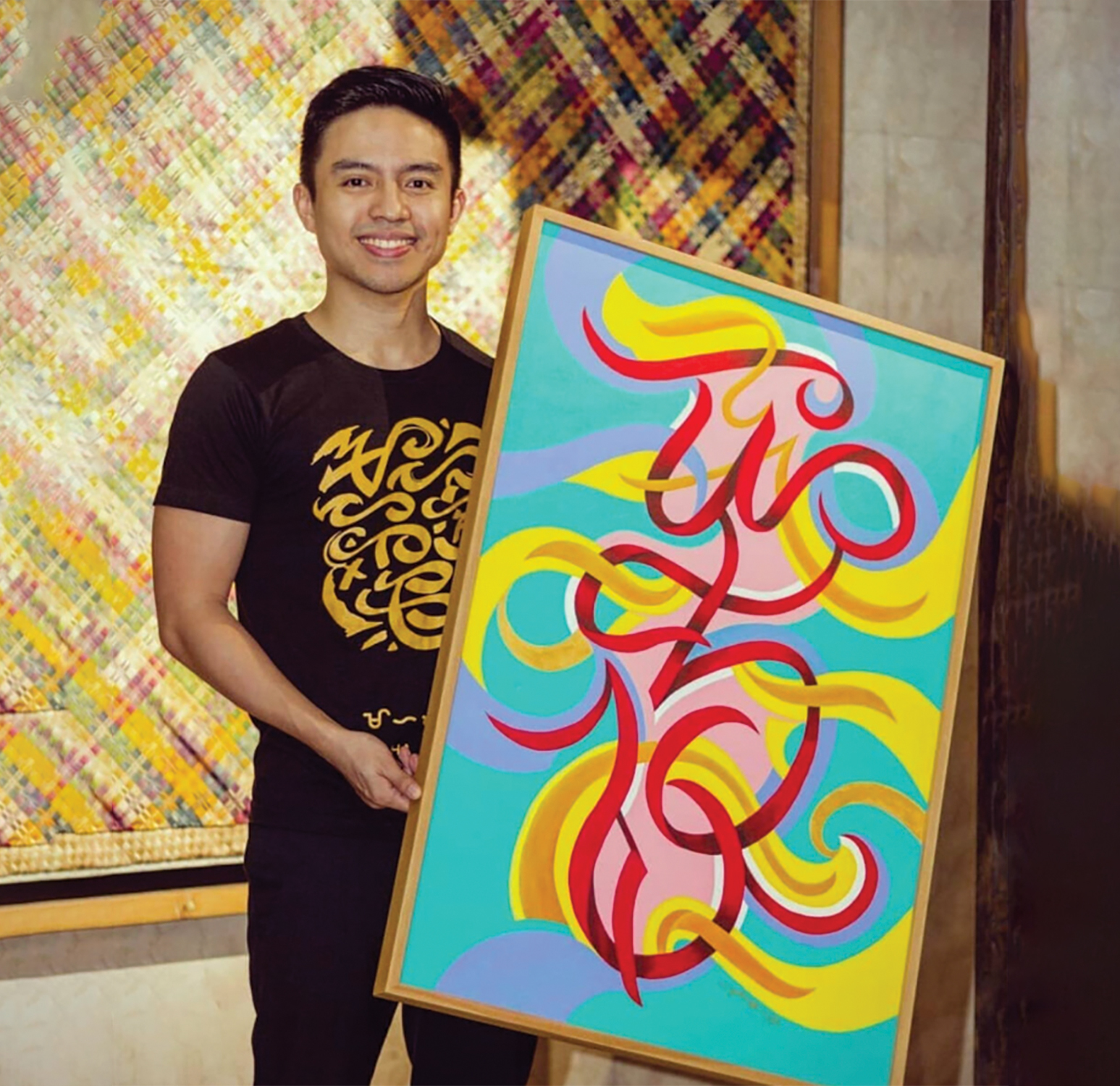 Taipan Lucero is a man on a mission.
A calligraphist and visual artist, George Ian "Taipan" Lucero wants the world to know about the beauty of Filipino calligraphy as an art form.
He is the man behind CalligraFilipino, a portmanteau of Calligraphy and Filipino for which he received a grant from the National Commission on Culture and the Arts (NCCA).
His art and advocacy celebrate the art of pre-colonial writing and Filipino culture and his work focuses on the artistic interpretation of baybayin combined with elements from traditional art and jewelry across the archipelago, such as the colorful curvilinear motif of the Maranao called Okir, the Sarimanok, the radial design pattern of Kulintangs, and the Lingling-o fertility charm of the Cordilleras, among others.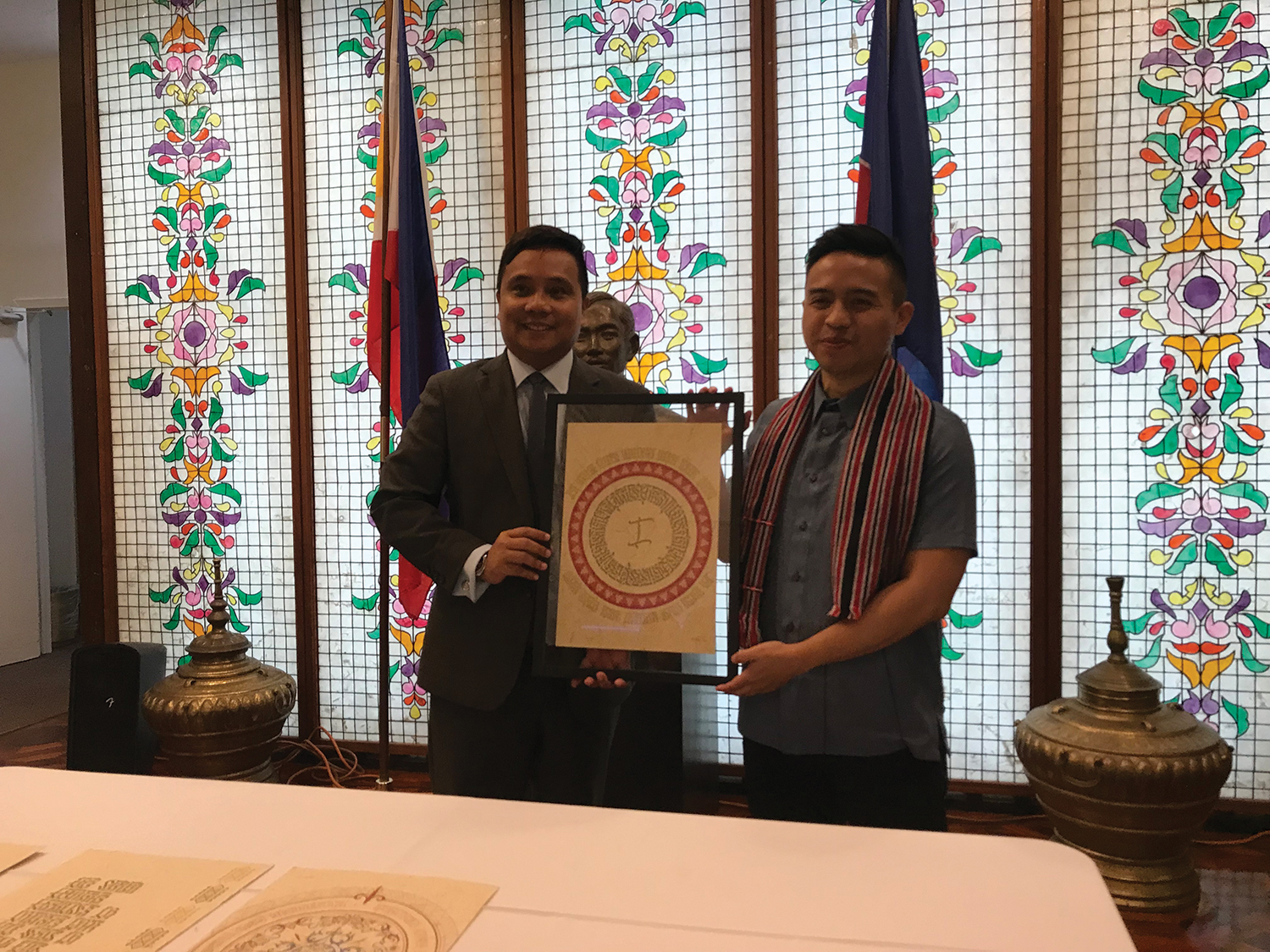 "It's an honor and a privilege to be able to communicate to our to our fellow Filipinos about this type of culture and I think marami ang may gusto to know about it and to witness it firsthand," Lucero told the Asian Journal after he delivered a talk and a brief workshop at the Philippine Consulate General in New York to promote his upcoming CalligraFilipino VI exhibit in San Francisco.
Whether it is a trend or not, more and more Filipinos are talking about baybayin in recent years. From tattoos to T-shirt and tote bag designs, the baybayin characters are getting more ubiquitous in public.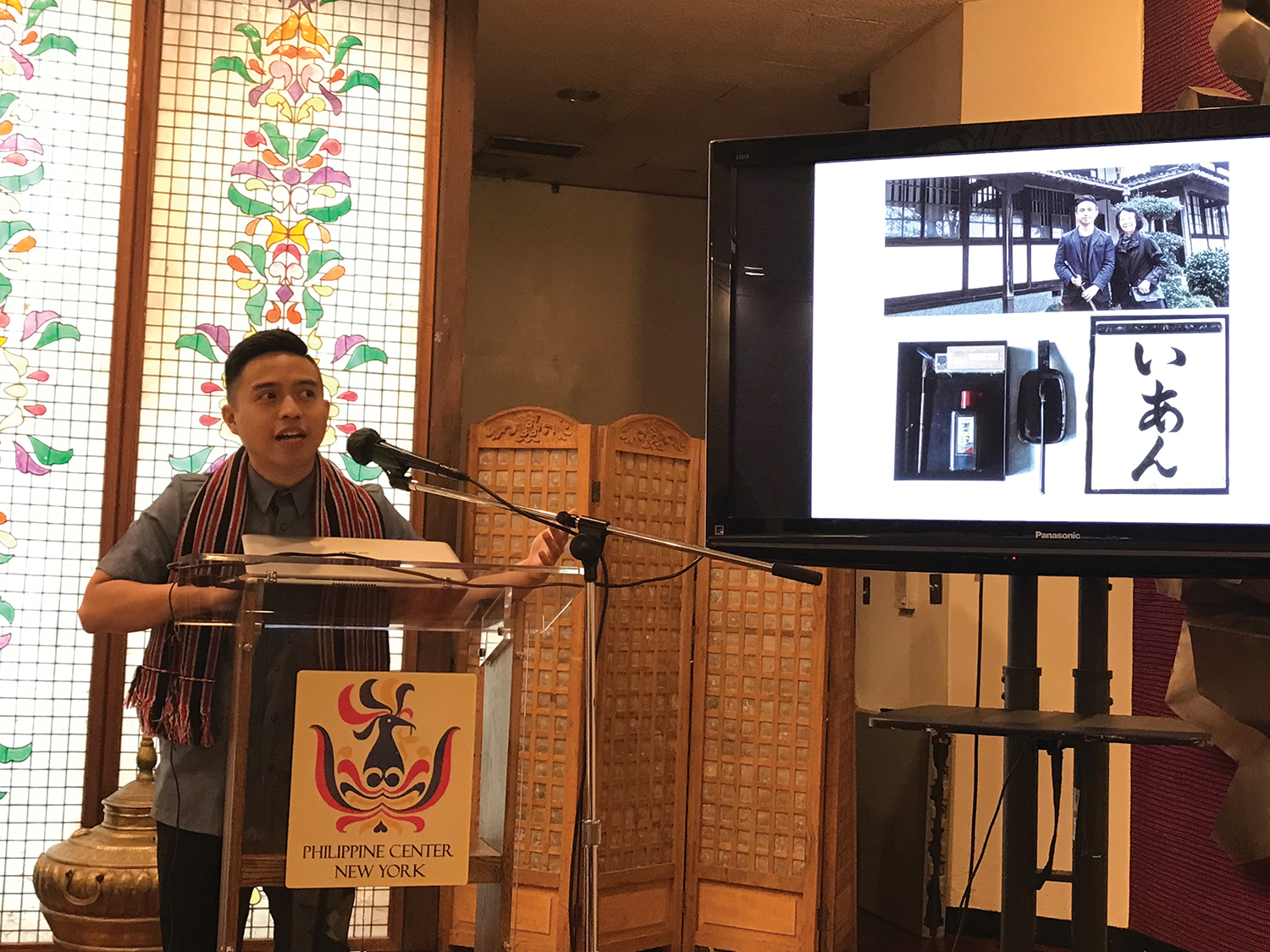 Lucero's artworks perfectly blend art and calligraphy with the preservation of the Philippine ancient indigenous script called Baybayin. His presentation emphasized the importance of preserving Filipino culture and the traditional writing system, especially during the digital age.
"This is my first exhibit and talk out of the country. Hopefully, I want to have talks and exhibits in Europe, specifically in Spain, so we can exhibit how beautiful our culture is," Lucero shared. "So we can tell Spain, this is our culture before they came, this is what we had. I want to show this is where our culture could have gone without interruption."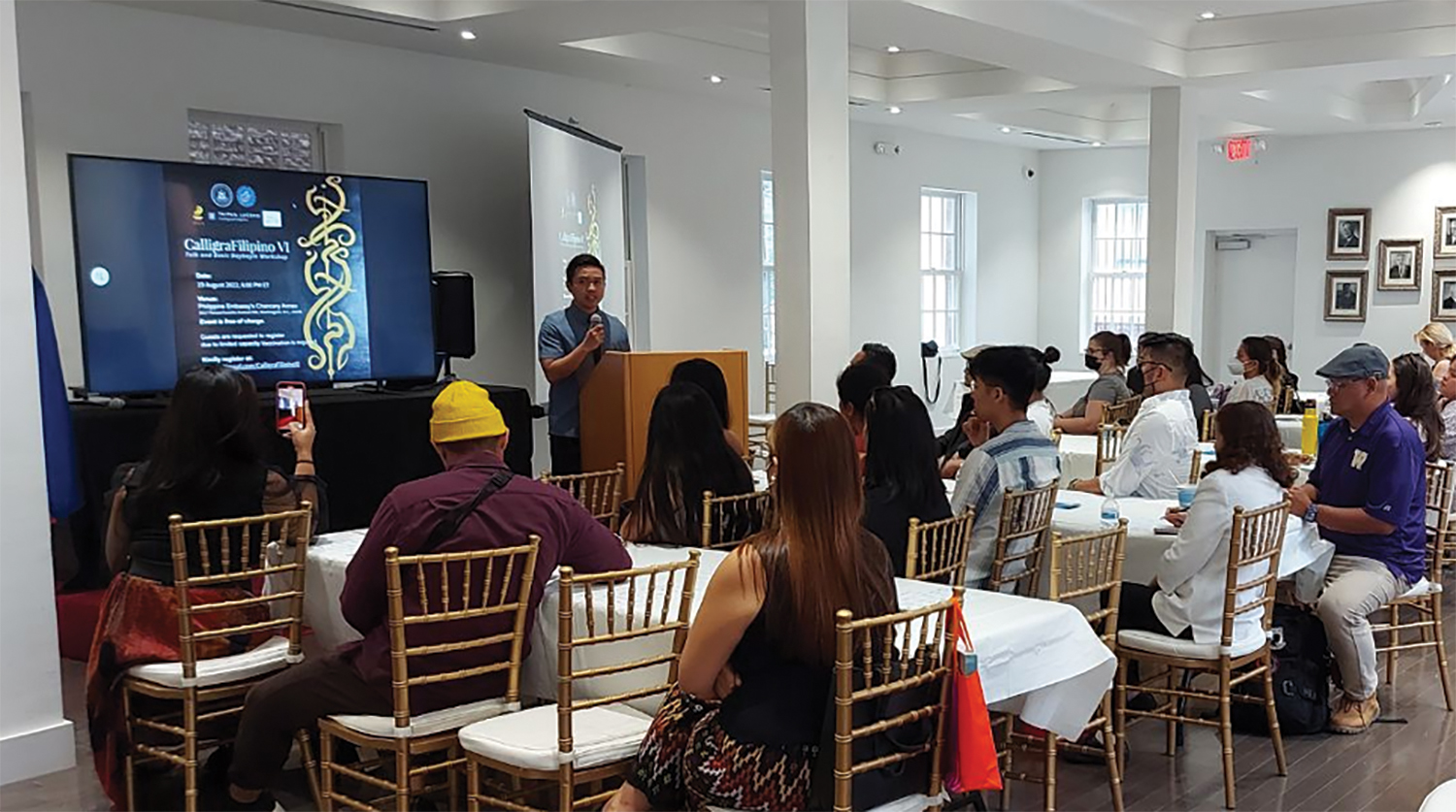 He briefly talked about how ancient Filipino ancestral writing did not bloom into an art form like its Asian neighbors due to colonization and how he hopes to change that in his own little way.
"I don't know if I'll be tooting my own horn here if I say this but I think I am the first one to do it like fine art type of calligraphy. I'm trying to elevate it to be a main form of art for our country, for our culture," he added.
Lucero, a cum laude graduate of the University of the Philippines College of Fine Arts, explained the two aspects of his CalligraFilipino project which are sinulat (written) and ginuhit (drawn). He also shared his views on the visual etymology of Baybayin characters and how it relates to the Filipino language.
"It's a growing process and I think more now, I am leaning toward this handwritten style because the first times were more drawing. That was me as a designer then but now I'm pushing towards real handwriting," he said, explaining how his calligraphy art has evolved through the years.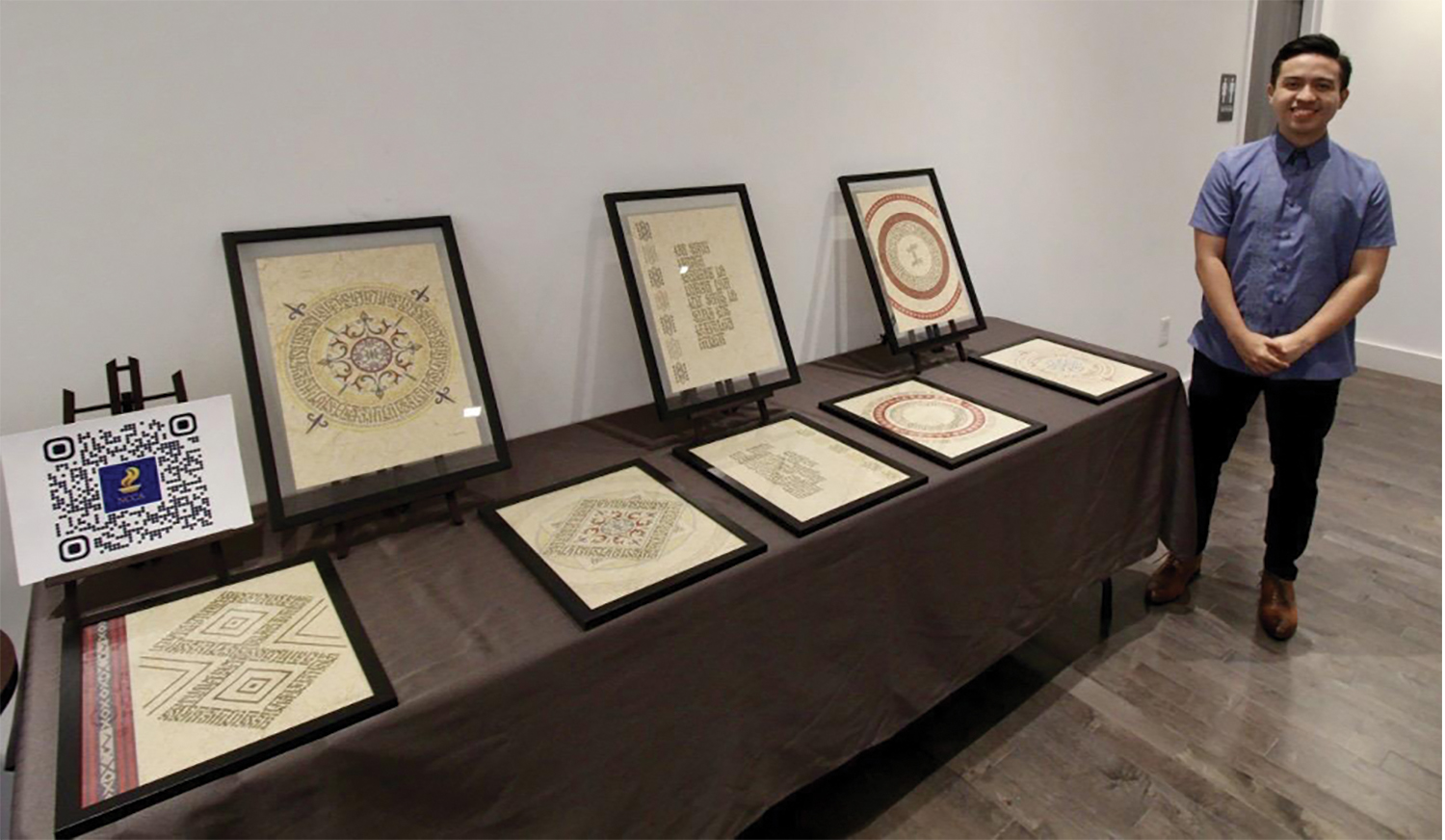 Lucero was an independent creative industry professional, providing design and marketing services to a long list of clients, including Fortune 500 companies. Working as the only Filipino designer in a company in Kobe, Japan, he experienced firsthand the immense love and respect the Japanese show their culture through practicing Japanese calligraphy called shodo. Inspired by this, he quit his job and went back home to start CalligraFilipino.
Lucero called on Filipinos "to be proud of what is ours" and that is exactly what he is doing. He takes pride in deriving inspiration from the rich Filipino culture and explained that one of his early inspirations was the intricate pre-colonial gold and jewelry designs he saw on display at the Ayala Museum.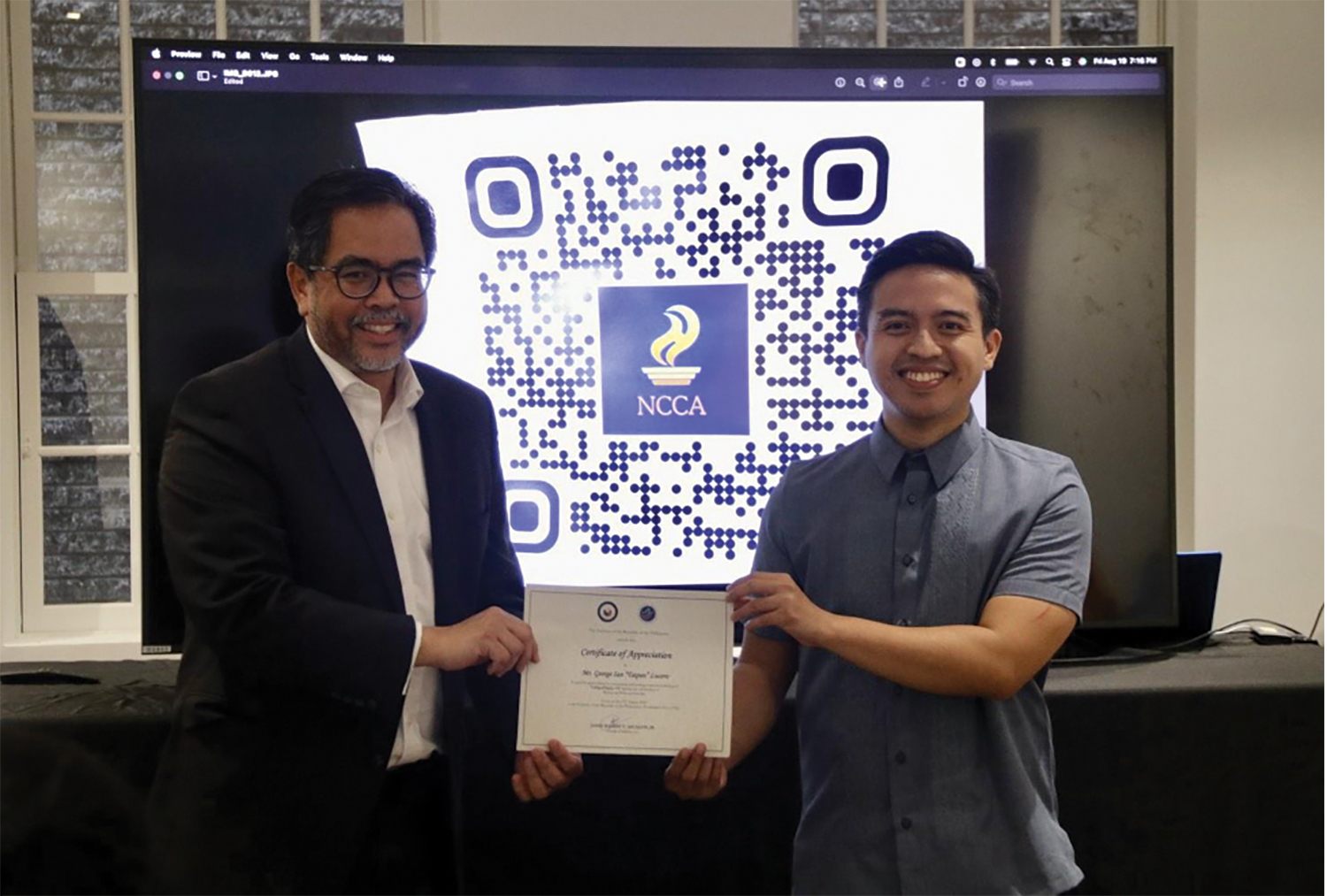 At the Philippine Embassy in Washington, DC, Chargé d'Affaires Jaime Ramon T. Ascalon, Jr. said "while we are proud of our cultural treasures such as Baybayin, we should also be equally proud of our living treasures such as Taipan. We hope Taipan will continue to raise the profile of the Filipino people globally through his CalligraFilipino."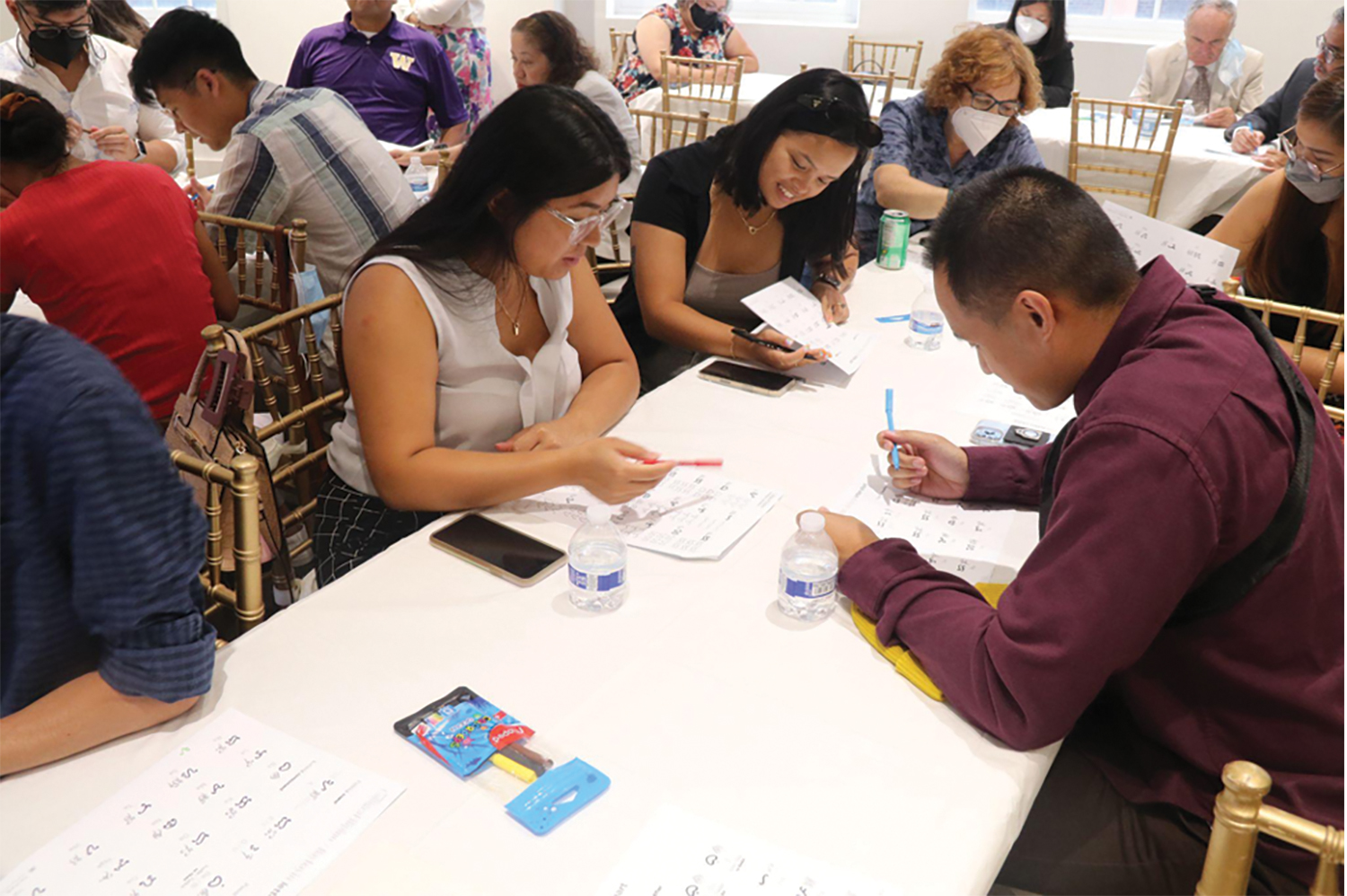 The workshops in Washington, DC and New York were attended by scholars, museum fellows, and members of the Filipino community.
(Taipan Lucero's CalligraFilipino VI exhibit will take place from September 16 to October 14 at the Philippine Consulate General in San Francisco. On October 2 at 1:00 PM, Lucero will have a presentation at the San Francisco Art Museum. More information on his works may be found on his Instagram account @taipanlucero) n