U.S. Open celebrates 50 years
And just like that, the U.S. Open season is over, but not without hot issues and fanfare.
This year, the Open celebrated its 50th  birthday, and along with it, the opening of the Louis Armstrong Stadium version 2.0, a 14,000 seat arena right next to the Arthur Ashe Stadium.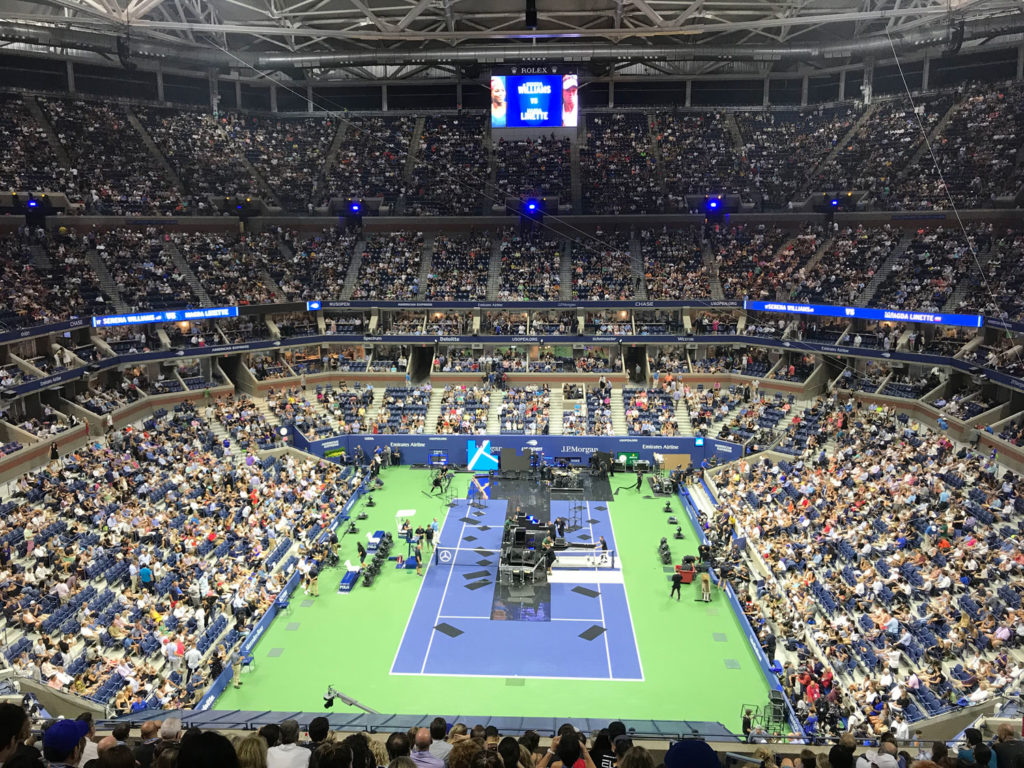 We met and interviewed a couple of tennis players who made it into the draw, one representing Australia and the other the United States.
Lizette Cabrera was born in Brisbane, Australia to Filipino parents while Sabrina Santamaria was born in Los Angeles, California to a Filipino mother and a Panamanian father.
Both of them went through a lot in order to reach their dream and last week, they both achieved one of their dreams.
They also share an ultimate dream: to win a Grand Slam and be the world number 1.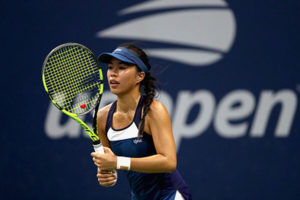 Lizette Cabrera
The 20-year-old Cabrera is thankful that Tennis Australia had one spot left for the US Open draw and she had to win three matches in order to make it.
"I am just so happy to be in my first US Open," said Lizette, the youngest of three children of Ronnie and Maria Cabrera. She made her first Grand Slam appearance at last year's Australian Open and made her WTA debut last year in Brisbane.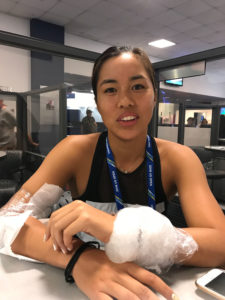 The Cabreras used to live in a small town called Townsville until they moved to Brisbane when Lizette was 13 so she could attend the National Academy for her tennis.
This is her second full year doing the WTA tour.
"I'm still a baby on the tour but I am learning a lot," Cabrera said. "I get to travel 35 weeks a year so I am barely home. I miss my family and friends so much but I wouldn't change it because I love what I do."
"I love being in a different country every week and play in front of crowds and just do what I love and hopefully inspire young girls to play tennis as well," she added.
Growing up, Cabrera said she idolized Justin Henin, Serena Williams and Victoria Azarenka. On the men's side, she considers Rafael Nadal as her idol and she would look forward to the Australian Open every year so she could see him play. She was around 12 years old when she realized she was good enough to pursue a professional career.
Our interview was a little bittersweet since she just came off from a loss against her compatriot Croatian born Ajla Tomjlanovic.
Cabrera is happy to represent Australia because it is so multi cultural.
"Yes, I may be Filipino but I was born in Australia and I very much feel I am Australian and the same with some of the other girls. It is great having so many different cultures representing Australia because it is an accurate representation," she said.
Cabrera has been in New York for more than a week now and she has made sure to at set at least a day to see the city.
"I've been shopping, walking around, went to Brooklyn Bridge. I want to go to the Empire State Building before I go home," she quipped.
Up next for her is a WTA tournament in Hiroshima, Japan. Despite the hectic scheduling of the tournaments, Cabrera has no complaints because she is indeed living her dream.
"It is crazy, I am literally living out of my suitcase. I get so sick of my outfits because I have been wearing them for the whole year," she told us as she talked about her life on tour.
She is on the road three months at a time and it has made her quickly adjust to the environment of the city they're in for the week long tournament.
There was a heat wave earlier in the day, prompting a number of retirements in the main draw because of the oppressive heat. The heat and humidity did not bother her a bit because she trains in Australia which had really warm summers as well.
Cabrera remembers one photographer when she was playing in junior level who was so confused he had to ask her 'You're from Australia, your name is Spanish but you look Asian. What are you?'
"I told her I was born in Australia, I am Filipino and I am proud of it," she said. "That's one thing I need to do a better job of is really connecting with the Filipino community because I think it is really good other Filipino athletes out there beside Manny Pacquiao who is doing so well."
The last time she visited Manila was for a junior tournament when she was only 14 years old.
"I didn't even get to see family then so now I am trying to plan a holiday there and we'll go island hopping," she said. "I also really want to go to this variety show ASAP."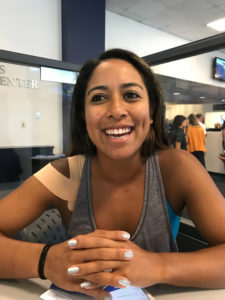 Sabrina Santamaria
Now on her third U.S. Open appearance, Sabrina Santamaria of the United States — half Filipino and half Panamanian and full American — achieved what she failed to do the first couple of times.
With her partner Nicole Gibbs, Santamaria was able to register her first U.S. Open win when they won over the team of Guarachi and Lapko.
"It is exciting. The momentum shifted a little bit and it was a really odd score. We fought back and it was really a good third set. I am super thrilled to be back at the U.S. Open," Santamaria told the Asian Journal.
Santamaria made her debut at the Open in 2013, and returned in 2015.
"To actually win this time is an incredible feeling," she added.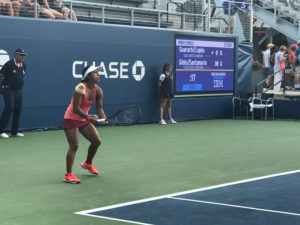 Santamaria recently decided to focus more on doubles. The last couple of years have been financially tough for her playing both singles and doubles.
She started 2018 well and began winning matches in doubles so she decided to concentrate on her doubles matches. Financially, it was a big decision for her and now that decision has started to pay off.
"I'm really excited that 2018 has turned out to be very good so far," she exclaimed.
She has won titles, she has beaten well-known opponents such as Victoria Azarenka, and just recently in Cincinnati, they made it to the semi-finals.
As an American of Filipino and Panamanian lineage, some people get confused.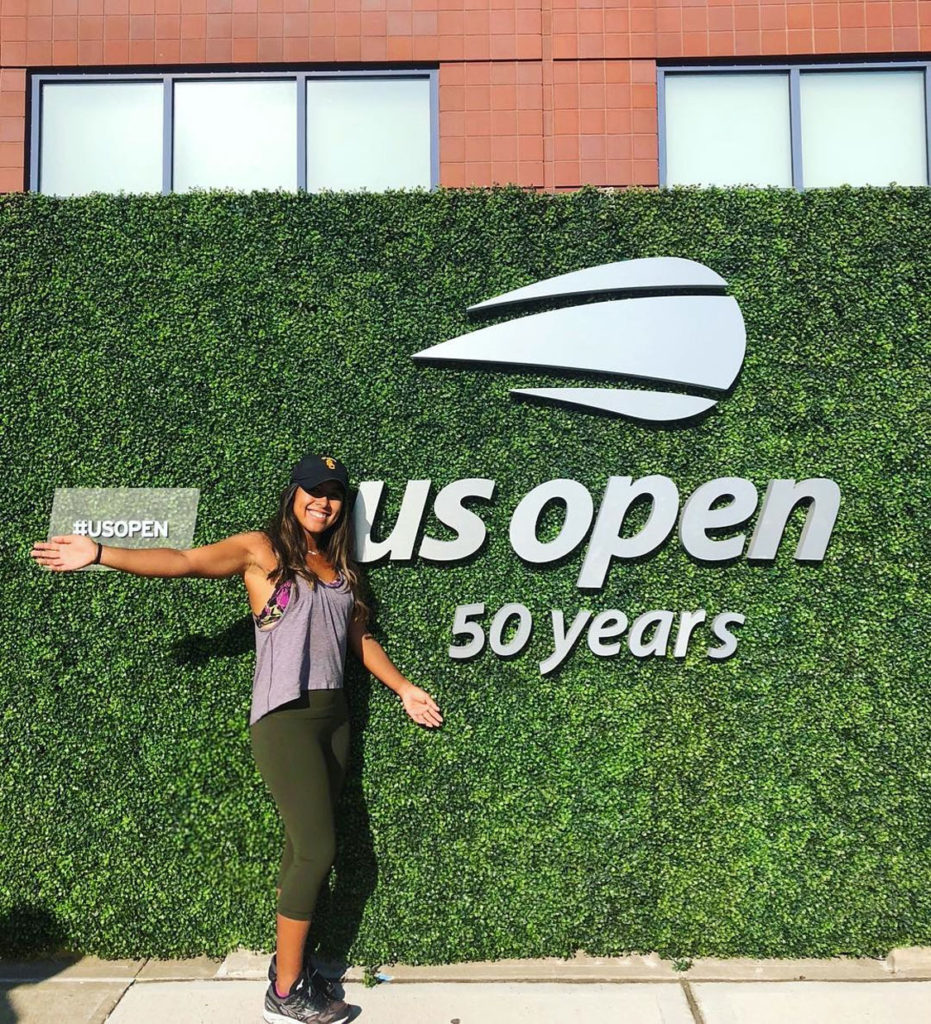 "It's funny because ever since I was little, people would guess my ethnicity and they would ask me if I'm Asian or Hispanic. I tell them 'I'm Filipino and Panamanian' and I have to explain how my parents met," Sabrina said.
Strangely enough, her parents met at a little, rickety park in Los Angeles because they were both playing tennis. Her mom, Anneli Vida moved from Manila when she was 23, her dad Ivan from Panama when he was 18.
"I guess I was just destined to play tennis from the beginning," she said laughing.
Because her parents loved tennis, they started her young, around four years old.
Competitively though, she thought she could make a career out of it when she was 14. She decided to go to college at the University of Southern California to further hone and develop her talents. At USC, she earned her degree in International Relations.
"It was tough. It taught me how to time manage and everything. I had great professors and it was nice to establish a really good network at USC," she said.
While there she played collegiate tennis and in 2013, they won the NCAA, which opened the US Open doors for her then.
At USC, they had a strong Filipino American presence with her, Raymond Sarmiento, Allison Ramos and Danielle Lao. Lao was in the qualifying rounds of the Open this year but lost in Round 2.
"It's nice to have that Filipino connection with them," she shared.
Sabrina follows a strict regimen when it comes to training and competition. She starts her day with a quick shower, goes to her trainor and gets her treatments. She then eats the same thing, chicken and pasta, then she goes to the gym for some footwork drills.
Filipino dishes are for cheat days and celebratory meals she says.
"I realize when I am on the road that I miss my mom's cooking a lot. She cooks pancit, adobo, kare kare, my favorites. I actually love it all. Oh, except for one dish, sinigang. I find it too sour," she said.
The last time Sabrina visited the Philippines was when she was 9 years old.
"It has been a long time. I am hoping to get back maybe when I go to Asia or Australia, we can make a pit stop. I am planning to bring my mom to Australia," she said. "Maybe next year is more feasible."
Growing up, Sabrina said she has always idolized the Williams sisters, and she would imitate the styles of Kim Clijsters and Justin Henin Hardenne.
Back in 2013, she admitted to having her fangirling moments especially when she would see her idols. The past couple of years had made her much more comfortable because she has been seeing them more in various tournaments and everyone is friendly.
It's difficult being away from home on tour and on the road especially in the three months that she was in Europe without seeing her friends and family.
"I wouldn't trade this for anything in the world. This is an amazing life, to be playing the sport I love and being able to a new country almost every week and meet new people so this is a dream for me," she said. "Living out of a suitcase and repeat outfits are just small downsides."
Before she embarks on her next destination, Santamaria said she was going to enjoy her days in NYC and roam the city, find new restaurants and bars and explore Lower East Side, which is fast becoming one of her favorites.