Since its release three months ago, "Black Panther" has broken a handful of records, including achieving its status as the third highest-grossing film in the United States. For those who have yet to see it or want to do so for the nth time, the Marvel blockbuster arrives on DVD and Blu-Ray this week.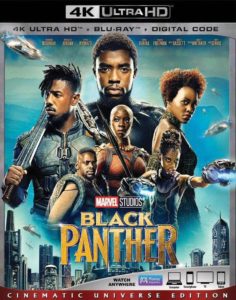 A lot has been written about the success of the film, as well as its historic representation of minority actors and characters. In addition to the influences of African heritage throughout "Black Panther," the uniform for the Dora Milaje (Wakanda's all-female special forces) was partially inspired by the Ifugao tribe in the Philippines.
That's thanks to Filipino-American Anthony Francisco, senior visual development artist on Marvel Studio's Visual Development team.
"I'm just glad that everyone likes it and no one is taking exclusive ownership of the movie. I feel like it's for everyone. I feel a sense of pride that I was able to use a lot of influences and put it into one really badass iconic costume that still reflects African culture," Francisco told Asian Journal.
The designer, who was working on "Avengers: Infinity War" at the time, was brought on board for "Black Panther" back in summer 2016, even before the script was finished.
"The process usually starts from the comic book reference source material, which we try to keep close to," he narrated. "That's the key thing that makes us successful. Then when director Ryan Coogler was signed on, the head of [Marvel's] Visual Development, Ryan Meinerding, talked to Coogler and then relayed the vision to me like the description of how it should look or a reference material of what direction I should go in."
Francisco scoured through material to find textures and patterns he liked to influence his sketches. The process overall, he estimated, took somewhere around two months — the bulk of the labor involved research.
"As a concept artist, the most important thing in design is to research. The more things you know, the more things you could remix into your design and know what's been done and make sure you know how to blend different influences," he said.
During some instances, he had the chance to directly talk to Coogler to get a better understanding of the latter's vision. Using Coogler's notes and what was referred to as the "Wakanda Bible," Francisco then proceeded to drawing and rendering in Photoshop.
"I do those sketches first to problem solve the way the costume patterns would be or the silhouettes and the cuts before undertaking a big rendering in Photoshop so I could be more efficient with my time. I decide to keep my sketchbook open and then I start painting in photoshop and just blocking out the figure. Starting off with a naked body first, I try to build it as if you're wearing clothing. I put a layer of an undershirt and on top of that, more clothing and armor. So when I turn off and on the layers, I could mix and match sometimes. It's just easier to pretend that I'm dressing up something," he described his method.
After the outfits were illustrated, they were then materialized by costume designer Ruth Carter.
"For Marvel's Visual Development, our purpose is to design the heroes and villains of the Marvel Cinematic Universe (MCU) and from there, our designs go to the costume designer who makes them come to life and translate them for the big screen. It's a tough job but we try to make sure our designs translate well," he said. "Ruth Carter did an amazing job of making the designs come to life. We had like four costumes done before she got on board but the rest of the other designs, it was all her."
The final sketches for the Dora Milaje, he said, were "75 percent African [primarily the Ndebele, Dinka and Maasai tribes], 10 percent samurai Japanese armor, 5 percent Filipino, 5 percent Native American and 5 percent Medieval armor — spin those tribal ideas and make it futuristic modern armor…but push it [to be] even more high-tech."
Those are all evident from the beading and patterns on the outfits to the long rings around the women's necks to the split-toed shoes they wear.
"I think my favorite moment is when they're going to pick up Nakia (played by Lupita Nyong'o) and it just shows a lot of Okoye's (Danai Gurira) character and then right away, you see she's not your typical traditional warrior. She's still funny, she's smart, and just like a really good role model. But maybe I'm biased because I'm looking at the costume that I did on her. It just looks so good. When Lupita wore her costume, my design, that was awesome too. Someday, hopefully, I could meet them because I don't think that they know that I designed their costumes. I would love to give them a print of my images. That'd be cool," he said.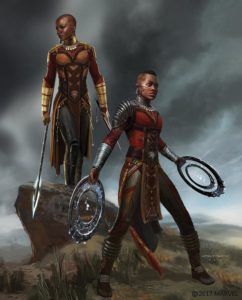 As for the Filipino influences, Francisco said he grew up seeing tribal decor at relatives' homes. Those elements stood out to him enough that they made their way to designs for "Black Panther," like the tabard on Okoye's armor inspired by a table runner and the gold rings on the side of her uniform from anting-anting (good luck amulets).
Following the release of "Black Panther," Francisco has done several interviews about how his Filipino heritage was a part of the outfits.
"My dad read one of my interviews and he told me, 'Maybe the reason why you remember that is because the Ifugao people would come from their mountains and perform from house to house in Cubao. They'd be dancing in front of us in bahag (loincloth) clothing…' All the while I thought it was just based off what I've learned from school, which is also true 'cause we learned about a bunch of other indigenous Filipino tribes," he said.
With the DVD of "Black Panther" out this week, Francisco hopes more audiences will see it if they haven't already.
"You'll see the awesomeness of the movie and you'll see the behind-the-scenes stuff," he said. "Even if people aren't into the comic books, Marvel's movies are so popular because they get the right writers and directors, the ones who put a lot of emotion into their films and universal stories I guess that everyone could relate to. But that's also the testament to the Marvel characters in the comic books. Marvel characters always have a flaw, which makes them more relatable to people."
Behind the artist
Francisco, who recalls drawing Marvel and DC characters at an early age, briefly studied art at the University of Santo Tomas, before he and his family immigrated to Los Angeles around the age of 17.
He was pushed toward studying physical therapy, but a counselor noticed that he already had some art credits. He said his parents weren't too opposed to him pursuing a career in the field.
He started with the idea of becoming a comic book artist because it was "the boom of animation" when he came to the United States.
"I tried to do that and I took some classes, but I had to draw a lot of drawings to make them move and I thought that was too difficult," Francisco shared. "But I was still going to push for it, it's just that your arm starts to hurt and some people would give me tips like, 'Maybe that's not what you should be doing. You seem more like a designer.' So, that's like the first thing I did, creature design for special effects. And that's where my door into the entertainment industry happened."
His first job in the industry was at Amalgamated Dynamics Incorporated (ADI), an Academy Award-winning character effects studio founded by Alec Gillis and Tom Woodruff, which gave him the opportunity to design on a spec script.
Excited about making double compared to his minimum wage job, Francisco realized that one could make money by drawing. He left for a year to continue formal training at Associates in Art in Van Nuys, California, before he returned to the company full-time.
"A teacher once told me, 'Do what you love and the money will come.' That's helped me with my nearly two-decade career to be truthful to yourself and do what you really want to do," he said.
Bubble Boy (2001), starring Jake Gyllenhaal, was the first film he worked on. "I did the bubble," Francisco shared. "And when you watch the DVD, the special features has my artwork in it." His portfolio followed with "Men in Black II," "The Passion of the Christ" and the 2002 "Spider-Man" film.
"I turn everything more in a positive way like if, for example, I did not get the design, instead of thinking of, 'Oh, I'm a terrible artist. I didn't get it.' I think of it as 'now I know that's not the direction' so I help out. And I learned that from ADI and Alec Gillis, he's the one who told me that. If you get good feedback on 80 percent of your design, it's good enough to build off of so you don't have to be so critical of yourself all the time," he said.
The Fil-Am designer eventually moved to Marvel Studios after he was brought on by a friend, Charlie Wen, who was then the co-head of Visual Development.
"He brought me on to the team and I think from there, the producers and directors responded to my work even though I would say I'm not as good. I mean, I wasn't as good as I am now when I first got in. So it's kind of lucky that it really shows design is very important in how good you render and also how you come up with ideas," he said.
Now going on his sixth year, he has much to be proud of, as he has been involved in many of the studio's biggest projects.
One character, in particular, is the tree-like creature Baby Groot, whom Francisco drew for "Guardians of the Galaxy Vol. 2" and then transformed into a teenage version (voiced by Vin Diesel) in "Avengers: Infinity War." The latter movie, which came out in theaters on April 27, is considered the highest-grossing film worldwide for 2018 thus far.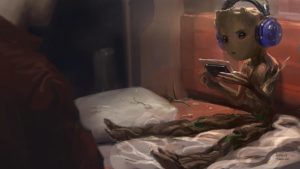 "I developed him from when he was in the pot to when he had legs to dance and finally teen Groot. I did many various ages he could be in. I am not sure how old he is in the movie but I was designing him to be 14-16 years old," he said, adding that his young children were inspirations for the character.
Other movies he's worked on are "Thor: Ragnarok" (Loki), "Ant-Man," "Doctor Strange," and "The Chronicles of Riddick."
"What else am I proud of? I'm proud of working with this amazing team. They all look out for each other and make sure people get the right credit. I think Marvel Studios is very good with that," he said of the studio's team of five visual development artists.
As for what's next for Francisco, he says some of his work can be seen in "Ant-Man and the Wasp" coming out this summer, and "Captain Marvel" — the first solo female superhero movie in the MCU — and a sequel to "Avengers: Infinity War," both releasing in 2019.
With having to constantly create professionally, he said it's important to keep the mind active.
"I like to do landscape painting just to relax my mind and sketching. I sketch a lot. Or write down sentences and words that sound interesting. Also, looking at art, classical art or newer art. But I really like rhythm a lot and portraiture. A lot of anime, I like to watch anime on Netflix. It's a good source of reference and comic books too," he said.
He also gets ideas while spending time with his two kids, an 11-year-old son and 9-year-old daughter, both of whom are Jiu-Jitsu world champions.
For budding artists, Francisco says visualizing your goal and practicing every day are some of his top pieces of advice.
"Visualizing the goal that you want and trying your best to work hard to get to that goal. Working hard is a given, right? Work hard, do your best. But some people really do their best but they don't get anywhere yet, not yet, but eventually, you'll break that barrier and you'll get to where you need to go. So don't give up on yourself. Artists tend to be very sensitive people," he said. "Practice every day and don't worry about comparing yourself with other artists. You know just use them as inspiration but focus on yourself toward getting better. Don't complain about situations you can't control."