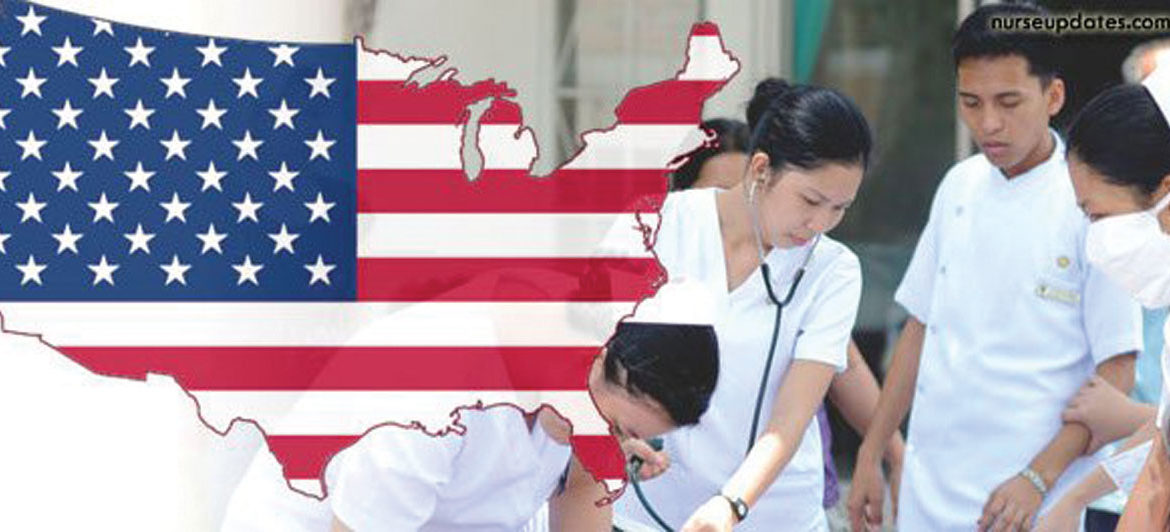 Every year, the United States celebrates National Nurses Week from May 6 to May 12 (the birthday of modern nursing pioneer, Florence Nightingale), to honor the over four million nurses providing care across the nation. 
This year, the American Nurses Association chose the theme of "Inspire, Innovate, and Influence" to recognize the impact and innovation of nurses both in and outside of the hospital — whether it be providing individual care to patients and their families, or helping solve many of the nation's public health issues.
For the nearly four million Filipinos living in the U.S., Nurses Week has also been about recognizing part of the Fil-Am culture and experience.  Roughly 200,000 nurses in the U.S. are Filipino — all familiar with ironed scrubs, matching clogs or nursing shoes, baon (packed lunch) preparations, and long 12-hour shifts.
How Filipinos came to be so represented in the U.S. nursing industry dates back to the early 1900s as the first batch of government-sponsored scholars arrived in the states through the Pensionado Act of 1903.
Upon graduating, many nursing students went back to the Philippines to work and help establish nursing schools.  Many others also stayed in the U.S. where they eventually became the first generation of Fil-Am nurses.
"Nursing is so important in our Filipino community because that is who we are," said Alyssa Cosejo, a Fil-Am student in her first quarter of nursing school at the Loma Linda University School of Nursing.
Much like many young Fil-Ams in line to become the next generation of Fil-Am nurses, Cosejo, 19, found inspiration to become a nurse from watching her mom.
"Ever since I was a little girl, I was always fascinated when she left the house in scrubs and came back with a smile on her face," said Cosejo.
"I would listen to her stories about what happened at work and it just made me want to be like her," she added. "She is so caring and loving, and every time she comes back from work, she feels fulfilled."
Alec Kirk, a 23-year old Fil-Am in his second year as a nursing student at the university, similarly found inspiration from his sisters and cousin in Ireland, who despite everyday responsibilities like raising children, continued to work hard as nurses.  He said he plans to follow in their footsteps and continue into graduate nursing education as well.
But at the core of what influenced and pushed him to pursue nursing was the simple urge to help people.  He suggested the same was for his fellow nursing colleagues.
"Ask any other nurse and you'll always get an interesting answer and perhaps very differ- ent from mine, but it seems, the answer always returns to some version of 'I like to help people,'" he said.
Why so many Filipinos become nurses is a question asked by many in the U.S. — Filipino and non-Filipino alike.
One reason may come from its rich history, as the profession continues to bring opportunities like it did in the past.
"I think nursing is incredibly popular in the Filipino community because this career has numerous specializations, and job opportunities can be found anywhere in the world," said Piercy Wayne Adlaon, a 21-year-old junior year student at the university.
Filipino nurses working outside of the Philippines send about $1 billion in total to the Philippines every year, equating to roughly PHP50 billion annually.
Ron Carpio — a Fil-Am nursing instructor at Cal State University Channel Islands and Western Governors University — said that the attractiveness of a nursing career was apparent to his family back in the 1980's when he was still in high school.
Initially thinking of becoming a doctor, Carpio said his father encouraged him to look into nursing.
"I went to pursue that, and I haven't turned back since then," said Carpio.
The Filipino culture of caring, dedication, and togetherness has also been cited by Fil-Ams in their choice to become nurses.
"I suspect that our culture of caring for each other — something akin to kapwa — is highly compatible with the image of nursing as a caring job," said Kirk.
In 2012, Filipina nurse Menchu Sanchez made the Filipino nursing community proud when she was lauded by former U.S. President Barack Obama for her heroism in saving 20 newborn babies during Hurricane Sandy.
At the Filipino Nurses Global Summit & 11th International Nursing Conference in the Philippines early this year, Rev. Arnedo S. Valera — Esquire Executive Director and Migrant Heritage Commission's chairperson — said Sanchez was a representation of all Filipino nurses around the world.
"They are hard working.  Indeed, they have a reputation for going out of their way to take good care of their patients," said Valera.  "This is because Filipino nurses come from a caring culture, where families take care of their own sick and aging relatives."
Nursing homes, for example, are rare in the Philippines.  It isn't uncommon to find generations of family members living together in one household.
But culture and history aside, Carpio encouraged those thinking of pursuing nursing do it because they have the passion and will to endure the challenges it comes with.
"That's what I tell my students," he said.  "You're going to learn a lot as a nurse, but at the same time, it's tough.  You have to enjoy doing it."
Inspire, Innovate, Influence
In light of the Nurses Week theme, Kirk sees technology and its role in advancing the practice of nursing as being one of the focuses this year, and referred to one professor he thought embodied the spirit of innovation.
"She taught us about using technology and research in healthcare as nurses, and how those are evolving the profession of nursing," said Kirk.  "Her point and emphasis to us was to always question our practice and participate in the inquiry to better it."
Touching on the theme's emphasis on inspiration, Adlaon — who was inspired to become a nurse after shadowing one as a hospital volunteer — said he continues to find inspiration as a student.
On who has been influential to him, Adlaon described his previous clinical instructor who he said  influenced students by "encouraging them to enhance their skills now so that in the future there won't be any mishaps or confusion."
Cosejo added that the fact that her professors have chosen to teach her and her classmates despite the option of higher pay working full time at a hospital, has been inspiring.
"They show the students what it means to truly love our clients," she said.
So how do the young future nurses think nurses should be honored?
Kirk suggests giving a short remark or a small gift of gratitude to a nurse, such as one in the family.
Lunch bags, tumblers, apparel, lapel pins, and pens have been popular gifts.
He also suggests nurses send some acknowledgement to other fellow nurses.
"It's nice to say in a way, 'Hey, I see you.  I see that you are trying your best as a nurse despite everything else.  Let's keep going.'," said Kirk.
Adlaon gave another sweet and simple suggestion of donuts and a thank you card.
For Cosejo, simply acknowledging the work they do is a good way to start.  
"I think Nurses should be celebrated by acknowledging all the hard work that they do," said Cosejo.  "People look past nurses and just praise the doctors when there is a lot of hard work done by the nurses themselves."
Having been around both seasoned and new nurses, Carpio also said that just recognizing and showing acknowledgment of what nurses really do — both in and out of the traditional medical facilities — is a great way to honor them.
But regardless of recognition, Carpio added that the nurses who enjoy their job will continue doing what they love.
"I love my job,"' he said.  "It's what I do and I don't need to be recognized for something I know I'm supposed to do."
Facebook Comments