"THEY are afraid, my brother…They are afraid of our mighty fists, my brother…They are afraid of the magnificence of our works, my brother…They are even afraid of our songs of love, my brother."
This is the final stanza of Filipino Carlos Bulosan's poem "Song for Chris Mensalvas' Birthday," which provided the inspiration for a new original work by a Filipino-American creative collaboration between performance artist and director Jasmine Orpilla and choreographer Peter de Guzman of the dance company Malaya Filipino-American Dance Arts.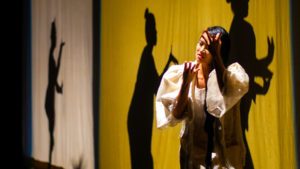 "How Many Years Did We Fight the Beast Together" is a new multidisciplinary performance art piece by Orpilla and de Guzman that premiered on Thursday, July 19 at the Roy and Edna Disney/CalArts Theater (REDCAT) at the Walt Disney Concert Hall in downtown Los Angeles.
The REDCAT New Original Works (NOW) Festival 2018 is held every Thursday to Saturday from July 19 to August 4 and features both veteran and upcoming performance artists. Orpilla and de Guzman's work was one of three performance works showcased in the first week of the festival.
The work has three key sensory elements: singing, dancing and instruments. Bulosan's poem was reconstructed into the libretto of the piece, sung in an operatic style by Orpilla, who had cultivated a rich career as an international soprano vocalist, as a way to symbolize the "Western point of view and approach to music" against the backdrop of untouched, orthodox Filipino dance.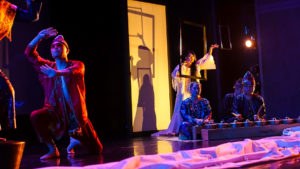 "We're taking these traditional forms without changing or appropriating them or moving a muscle in terms of the traditionality, and we're putting them in this context of contemporary theatre to underline this point of view of the Western eye toward different cultures, towards the tradition of Pangalay dance," Orpilla said in a recent phone interview with the Asian Journal.
The show opens up with Orpilla, decked out in pristine Maria Clara regalia, singing those Bulosan lines to the backdrop of dancers' silhouettes. The curtain drops to reveal four Pangalay dancers and tulingkang gong players. Orpilla transitions to the background of the stage to give the dancers and musicians the spotlight.
The Pangalay dance, which has its roots in the Sulu Archipelago and Sabah of the Southern Philippines, comprises graceful intention with the flexible "fingernail" gestures.
"It's a dance form that has been largely misunderstood because of the way a lot of dance companies interpret it," de Guzman told the Asian Journal.
"Our performance of Pangalay isn't changed to make it contemporary, but rather it's contemporary because of the context that it will be performed, with the juxtaposition of the libretto, the Carlos Bulosan poetry and the imagery that the viewer gets to experience," said de Guzman, whose dance company, the Malaya Filipino-American Dance Arts, provided many of the resources and talent for the Pangalay portion of the piece.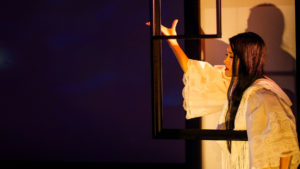 Both de Guzman and Orpilla acknowledged the importance of premiering this work at the REDCAT, which has lauded itself as being a purveyor of diversity and uplifting artists from all walks of life. For them, showcasing these antiquated styles of dance and music in the contemporary, often homogeneous world of performance art was a way to challenge the status quo, a major theme in their piece.
In their July 19 performance, the audience largely comprised of white art enthusiasts, which isn't unusual for high-brow, even avant-garde artistic media. By presenting these deeply rooted artistic customs of the Philippines to this audience was profoundly breaking barriers of what constitutes art worthy of a grand showcase.
As with all performance art, the economy of symbolism in their collaboration tells a story much deeper than the blending of Western and non-Western artistic modes. Orpilla dons a Maria Clara dress and hip-length hair to exemplify the Filipina feminine ideal that was established after European colonization, which posed several questions concerning the Filipino beauty standard largely molded after Western ideals.
"We're making a statement of each other as well, like how Filipino Americans of different generations and how they look back on their ancestry and what direction do they go moving forward," Orpilla remarked. "And this even goes beyond that and we approach the question of what is entertainment? Is this supposed to be entertainment? No, it's not. And what is beauty? Is beauty the Maria Clara look or is it [the look] before the colonial era? What do we consider Filipino beauty? These are the questions we wanted to raise with this work."
Scrutinizing the colonial mindset: a life-long project
Throughout the thread of her work, Orpilla — who was raised in Japan and Saudi Arabia with roots in Ilocos Sur, Philippines — has been exploring these themes, which are centered around the history of colonial influence in Filipino identity and "how racism affects someone's perception of self."
Though Orpilla, a trained soprano with a broad vocal range, has enjoyed international distinction after having performed all throughout Europe, Asia, Saudi Arabia and North America, she's primarily stayed within the performance art realm because "everything else wasn't fulfilling me and wasn't allowing me to explore the themes that really gratified me."
Similarly, de Guzman, after dissatisfaction with the contemporary dance scene, spent 10 years in the Philippines under the mentorship of Pangalay dancer and academic Ligaya Fernando-Amilbangsa, who penned the book "Pangalay: Traditional Dances and Related Folk Artistic Expression."
While in the Philippines, de Guzman studied the forms of Pangalay and the regional culture and mores behind it to be able to capture an authentic, untouched replication of it in his current work with Malaya Filipino-American Dance Arts.
This collaboration began roughly two years ago when Orpilla wanted to explore authenticity with traditional Filipino art that deviates from the mainstream mode of entertainment and pageantry. With her long-standing creative mission to explore colonialism, white-washing and "microaggressions" associated with racism, Orpilla's collaboration with de Guzman fields questions to Filipinos everywhere about our community's clear-cut definitions of beauty, art and entertainment, and to see from where those standards derived.
"You, now, have generations of Filipino Americans who have researched deeply their cultural heritages," de Guzman said.  "And you can see that in the kinds of art we see Filipino Americans creating in college theaters, dance companies and all these other avenues, and so we see these artists performing their identity with much more depth and knowledge of their cultural heritage."
De Guzman and Orpilla's piece, which was unintentionally showcased in the era of diversity (or lack thereof) in arts and entertainment, speaks volumes of how creative people of color can reclaim their identities and unapologetically deviate from the accepted definition(s) of beauty and art. And if that makes audiences uncomfortable, then all the better because that means the message is coming through, Orpilla said.
"In many ways, art isn't supposed to be comfortable and there definitely are moments in this piece that might make people uncomfortable, but that's what art is supposed to do: make you take an introspective dive," Orpilla noted. "This is something that I've been delving into this for quite a while, and this isn't all that I can say about this particular theme [of challenging accepted notions of aesthetics]. There's so much more to do, so many other specific narratives to tell."
"How Many Years Did We Fight the Beast Together" isn't the only Fil-Am premiering original work for the REDCAT NOW Festival. This week, on Thursday, Aug. 2, Los Angeles-based artist Jay Carlon will be premiering his own dance performance at the REDCAT titled "CARLON: fold, unfold, refold," which combines kinetic movement and vibrations and the distortion of sounds.   
**
Correction: An earlier version of the article identified Peter de Guzman as art director of "How Many Years Did We Fight the Beast Together." De Guzman was the choreographer, while Orpilla served as the director of the piece. This version has been updated to reflect this.