(Reading Time:
6
minutes)
A native Angeleno, Garcetti considers himself a friend of Filipino Americans, having worked alongside and for them throughout his political career.
The city, which he has led since 2013, is home to over 139,000 Fil-Ams, making them the most represented Asian American and Pacific Islander (AAPI) group.
Before he was mayor of the second-largest metropolis in the United States, one of his notable undertakings as council member resulted in bringing major representation for the community: the creation of Historic Filipinotown ("HiFi") in 2002, the first official geographical designation honoring Filipinos outside of the Philippines.
While serving the city's 13th Council District — which covers areas including East Hollywood, Silver Lake and Echo Park — Garcetti observed the political and regional divisions within the Filipino-American community, which had complicated and deferred the creation of a Filipinotown for over two decades
"I just made a very simple statement. I said, 'If everybody is at the table and if everybody is unified and if everybody can claim credit, we'll do this.' And we did it in two years, even in an area that isn't a majority Filipino because it was important for me to teach that history to Los Angeles and for us to claim that together for white, Black, and Latino Angelenos to recognize that this isn't just their heritage, it's our heritage," he recounted.
Though Fil-Ams tend to be more dispersed throughout the city and county unlike other AAPI groups, the significance of having this area would be an avenue to teach the future generations of Fil-Ams and even other ethnicities about how Filipinos settled in Los Angeles and went on to create the community organizations and centers still active today.
Other symbols to represent the Filipino story are scattered throughout HiFi, notably the Fil-Am World War II veteran monument in Lake Street Park and the mural at Unidad Park.
"Historic Filipinotown is probably the proudest accomplishment of my time as councilmember," he said. "We really were able to establish something that became a platform for investment, beautification, and cultural celebration."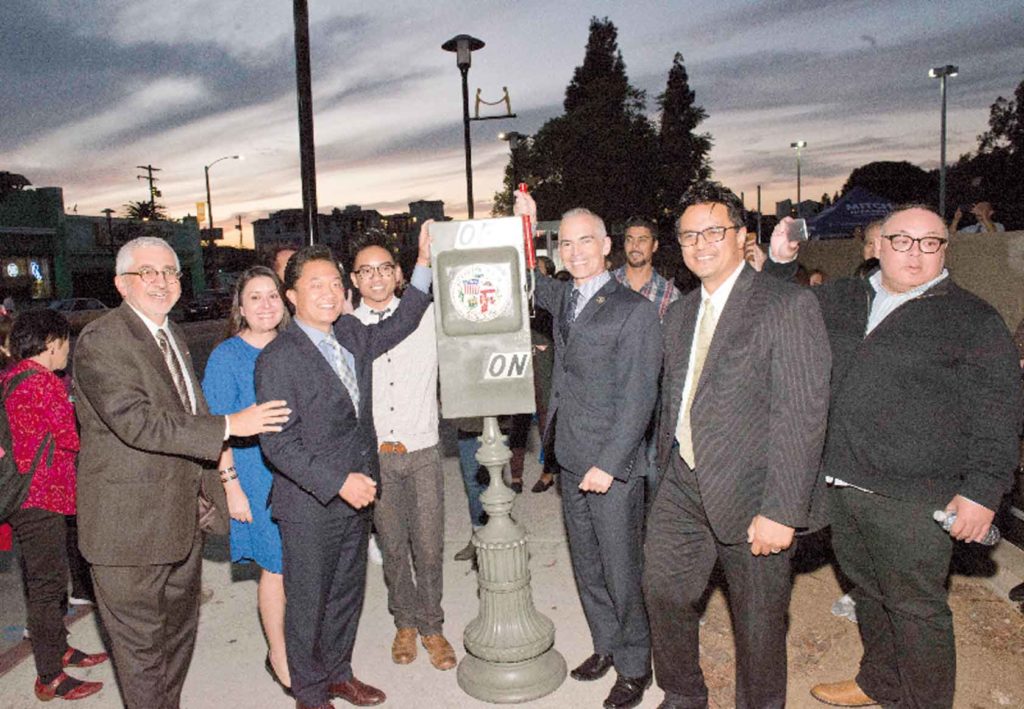 His grandfather Salvador Garcetti, who was born in Chihuahua, Mexico, fought in the Philippines during World War II.
"He got his citizenship as a result here as an immigrant. He fought alongside his brothers in the Filipino army who didn't get their benefits — that's why I fought for so long to make sure Filipino veterans got their benefits," the mayor said.
As the city's leader, this motivated him to ensure that ethnic groups are also recognized inside City Hall.
"That's a question I always ask: not are we doing well, but who are we missing? That's why it was important for me to establish a Filipino voice in City Hall, a Filipino neighborhood in the city, and it links closely to me and to tell my Filipino story," he said.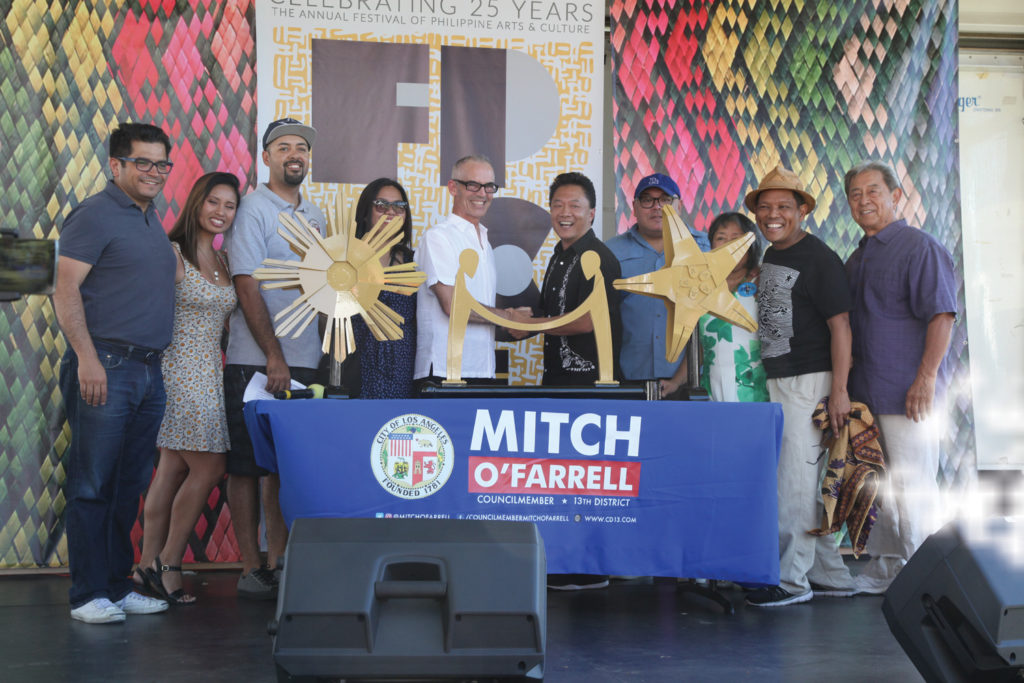 Currently, the Mayor's Office has six Filipino Americans, working in departments from immigrant affairs and gang reduction and youth development. Last year, Garcetti also nominated former Search to Involve Pilipino Americans (SIPA) Executive Director Joel Jacinto to the city's Board of Public Works, making Jacinto the first paid Filipino American commissioner. On top of that, the Los Angeles Filipino Association City Employees (LAFACE) has over 500 members.
"I don't think there's a department that…doesn't have somebody Filipino American," Garcetti remarked.
Charting the future of the Fil-Am story in LA 
Throughout October, Southern California experienced a whole host of festivities to mark Filipino American History Month.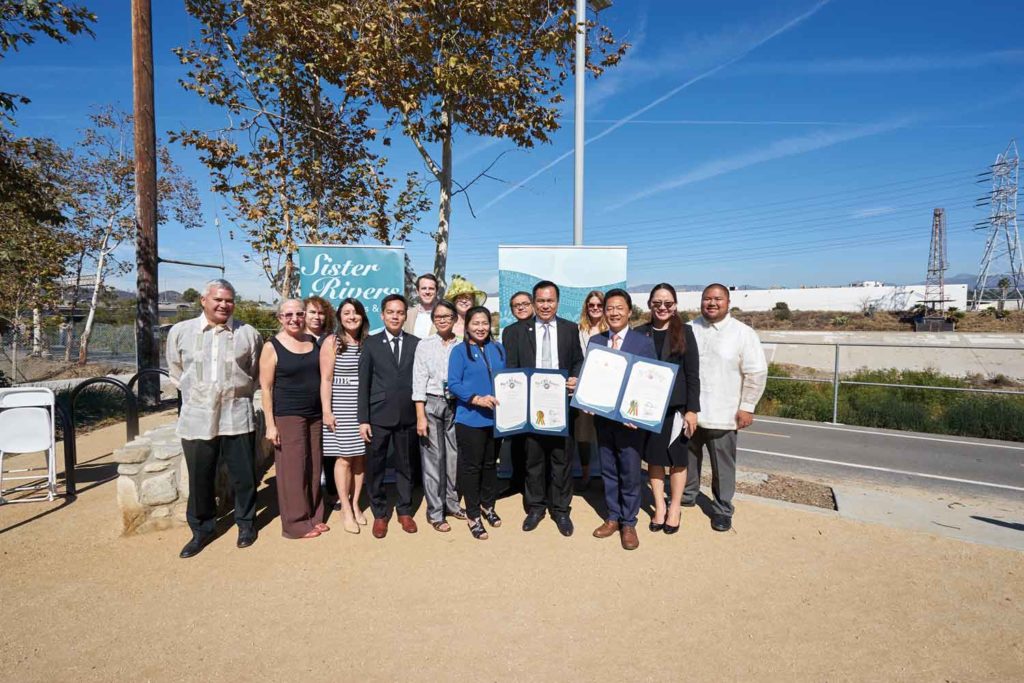 In Los Angeles, events included the City Council recognition of the month and awarding of several community leaders and organizations; the Festival of Philippine Arts and Culture (FPAC) at Echo Park Lake, which had over 10,000 attendees; the signing of the Sister Rivers agreement between the LA and Pasig Rivers; and the unveiling of 54 street lights in Historic Filipinotown inspired by the Philippine flag.
"This year was not just about celebrating the past. It was about starting to write the future with the Los Angeles-Pasig River accord. In Echo Park, we've loved the continuing celebration, and with the new street lights that were rolled out as part of a competition in Historic Filipinotown," Garcetti said. "We don't want this to be a static celebration; we want it to be an inspiration to move things forward. I think those three areas were all areas in which we've seen Los Angeles deepen its relations with the Philippines."
A bright example of this deepening relations is the City's thriving partnership with Makati City,  which began its Sister Cities program in 1992. Through the years, the Sisterhood of Makati and Los Angeles has created a robust partnership through cultural understanding and economic exchange between the people and communities of both cities.
"I hope some time while mayor, I can be the first mayor [of Los Angeles] to visit the Philippines, at least in recent history, and make those connections even stronger with Makati City, our sister city, and look what we can do to connect the rivers and just also expand trade and tourism, both to…and from the Philippines to LA," he said.
Filipino American political representation 
Given the sizable Fil-Am population in Los Angeles, Garcetti said Fil-Ams should be more involved with the local government, whether it's holding office or simply being aware of the issues.
"I think Filipino Americans can run for office. They can serve on boards and commissions, and we encourage that. They can get involved with a neighborhood council. First and foremost, think of yourself as being leaders and run for those positions. Second, apply to work in the city. The city has been a great employer for Filipino Americans, but there are new opportunities. Third, I would say, get involved in the civic life, the campaigns," he suggested.
With Election Day less than a week away, as of this writing, he also urged Fil-Ams to get out and vote, not just on the national level.
"Look at ways, in this election, such as Measure M and HHH, which are for transportation and homelessness that Filipinos can turn the vote out. We have Filipino Americans that are homeless, so [with] HHH, we need to help house them. All of us are stuck in traffic… I don't think that'll bring a bunch of jeepneys but the Filipinos have experience with public transportation that can be used here in Los Angeles, and we want to turn that vote out and they can be involved by voting," he said.
Los Angeles celebrates Filipino-American History Month to honor the unique relationship that the Philippines has with the U.S.