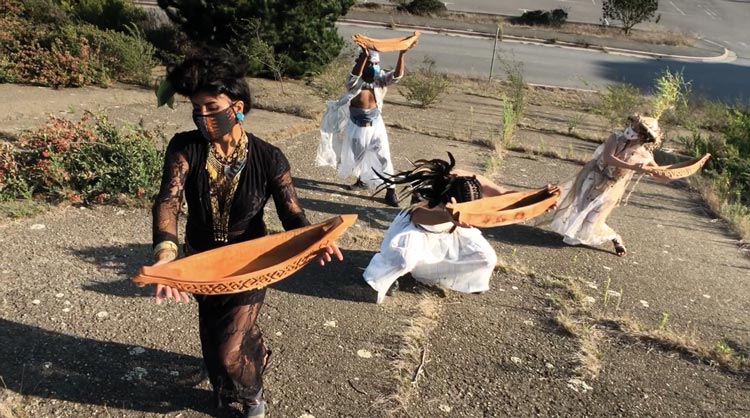 This weekend, community members in San Francisco can experience a diasporic cultural ceremony and street mural tour while observing COVID-19 safety measures in SOMA Pilipinas, the city's Filipino cultural heritage district.
Contemporary and tribal Pilipino arts group Kularts will present "Lakbai Diwa,"a multi-disciplinary project that explores ancestral oceanic culture of survival, resilience and prosperity.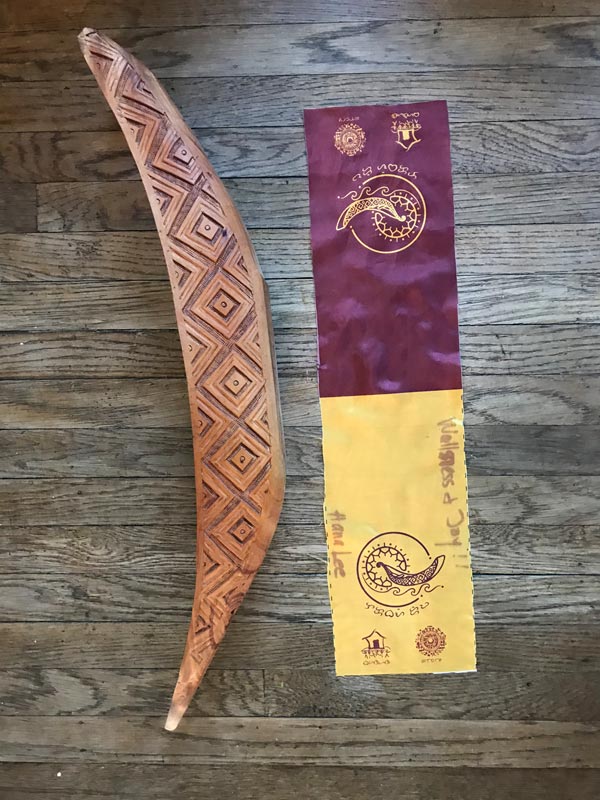 The project will entail a street mural tour and 20-minute dance ritual, which will be held at the Yerba Buena Gardens on Saturday, October 24 at 3 p.m. and at SoMa's Sunday Streets Undiscovered SF Pop Up on Sunday, October 25 at 3 p.m. A film will be announced in the future.
"Fused with indigenous spirituality, boats as vessels exemplify the balance we seek in life. In the Mindanaoan Ipat ritual, the spirit boat is a vehicle for communing with the spirit world and the higher self. The spirit boat carries the offerings and prayers to the sacred deities or energies of the five elements for a balanced world," shared Kularts founder Alleluia Panis.
'Lakbai Diwa' coalesces spirit boats with elemental states of fire, water, earth, wind and transcendence as sacred deities and powers, another component of the project. Bridging contemporary artistic experiences that represent the resilience and transformative values of the diasporic Pilipino people, 'Lakbai Diwa' draws inspiration from boats which have been an essential part of life and culture of our people in the archipelago for thousands of years. Used as vessels and with specific purposes such as homes, transportation, fishing, trade, exportation, war and recreation. The diverse types of boats include lepa, bangka, paraw, baroto, vinta, kakap, karakoa and balangay.
Lakbai Diwa, Diasporic Spirit is a year-long multidisciplinary project generously funded by the Kenneth Rainin Foundation, Open Spaces Program, and co-presented by the Filipino American Development Foundation.
Another component to the project is the ephemeral street art created by world renowned muralists and artists Cece Carpio, Nikila Badua, Dee Jae Pa'este, Paolo Salazar, and Mel Vera Cruz. They will design and paint images of Mga Diwatas/Deities of Earth, Wind, Fire, Water, and Transcendence. The murals will be on view at Bonifacio Street and Lapu Lapu Street starting October 25th, until it all fades away.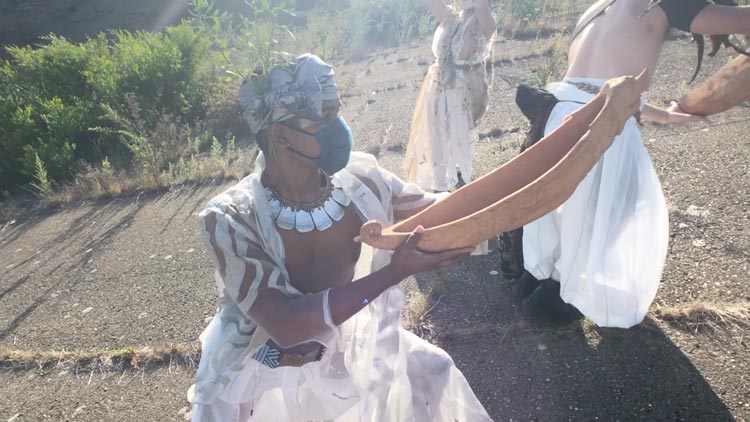 Over 35 artists and cultural practitioners are involved in the project, which will be choreographed and directed by Alleluia Panis with participating dance artists, music by Rachel Lastimosa, and costumes by June Arellano.
The general public can participate in the ritual by submitting their intentions or wishes to be added to the 'prayer flags' that will be tied to the boats. The project encourages people at home to make their own mandalas to be posted on Kularts website, and to take the self guided mural tour. For more information visit www.kularts-sf.org/lakbai-diwa.