LOOKING to unleash your inner chef and finally master some Filipino dishes during this stay-at-home period? There's a new cookbook with the premise of "easy" savory and sweet recipes from pork sisig to ginataang bilo bilo (rice balls in sweet coconut milk).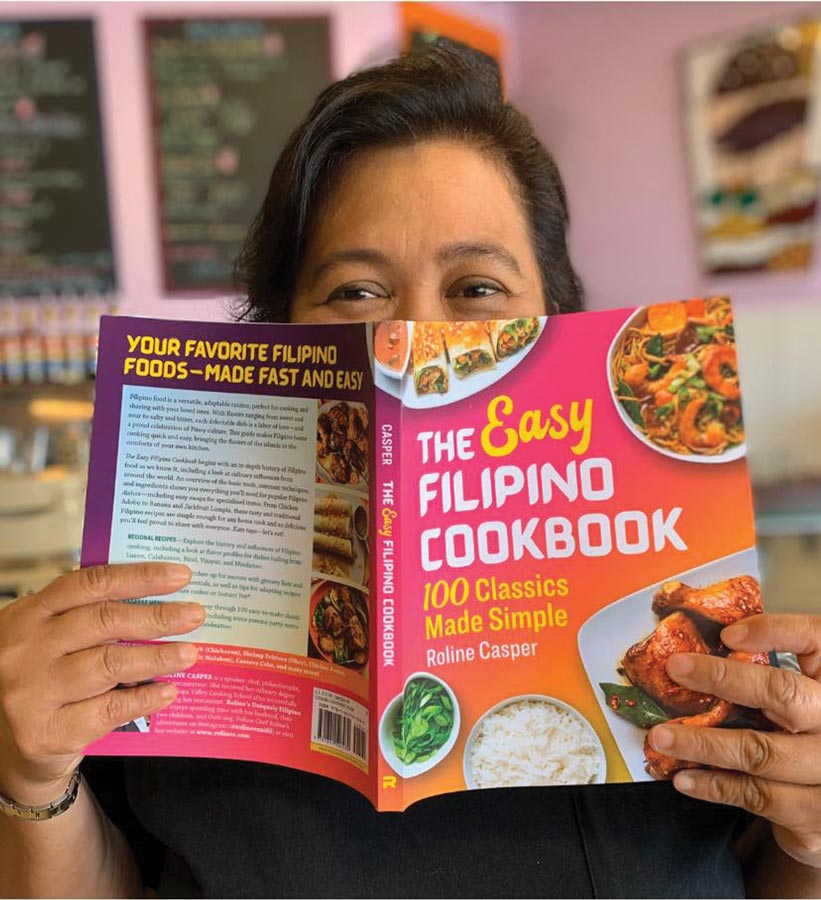 "The Easy Filipino Cookbook: 100 Classics Made Simple" — released on March 24 by Rockridge Press — comes from Roline Casper, a Pinay chef who owns Roline's Uniquely Filipino in Vacaville, California.
"It is meant for the second generation of Filipino Americans who want to learn how to make the dishes they grew up eating [and] people who don't really know our food but are curious," Casper told the Asian Journal in an interview ahead of the launch. "What inspired me was being able to share our culture through this love of food and eating."
Her title joins the library of Filipino cookbooks we've seen in the past two years, such as "The New Filipino Kitchen: Stories and Recipes from Around the Globe," "I Am a Filipino And This is How We Cook," and "The Filipino Instant Pot Cookbook: Classic and Modern Filipino Recipes for Your Electric Pressure Cooker," to name a few.
The cookbook reflects a compilation of foods Casper grew up eating and learning to cook, as well as the memories of dishes served during family reunions and holidays.
"Even though Filipino cooking draws on influences from across the globe, the heart of Filipino cooking is the family. Each family has its own food culture, traditions, and ways to prepare certain dishes. Food is usually prepared and cooked by the family matriarch, like the lola (grandmother), nanay (mother), or tita (aunt), and passed down through the generations. Each dish is a labor of love and a point of pride. Just like family, the food can be sweet, sour, salty, and, at times, bitter," she writes in the introduction.
As a child raised by a single working mother in the Philippines, Casper recalled in our interview that she would shadow her grandmother Rosa in the kitchen, primarily during the days preparing food in anticipation of relatives coming over. By her teenage years, her main goal was to one day open up a restaurant.
When she migrated to California, she worked at various hotels in cities spanning from Sunnyvale to San Diego and gained experience in hospitality. Her husband's job brought the family back to Northern California, where they settled in Vacaville.
Casper was presented with a business opportunity in 2003 to take over a small grocery store but she declined as she was raising two young children. Six years later — this time during the recession — the same offering came around, which she jumped at and has since turned it into a turo turo restaurant named Roline's Uniquely Filipino.
"A grocery store was challenging because that's not what I really wanted. But the opportunity was there and I didn't want to miss it so we put in our own money and took that risk," she said.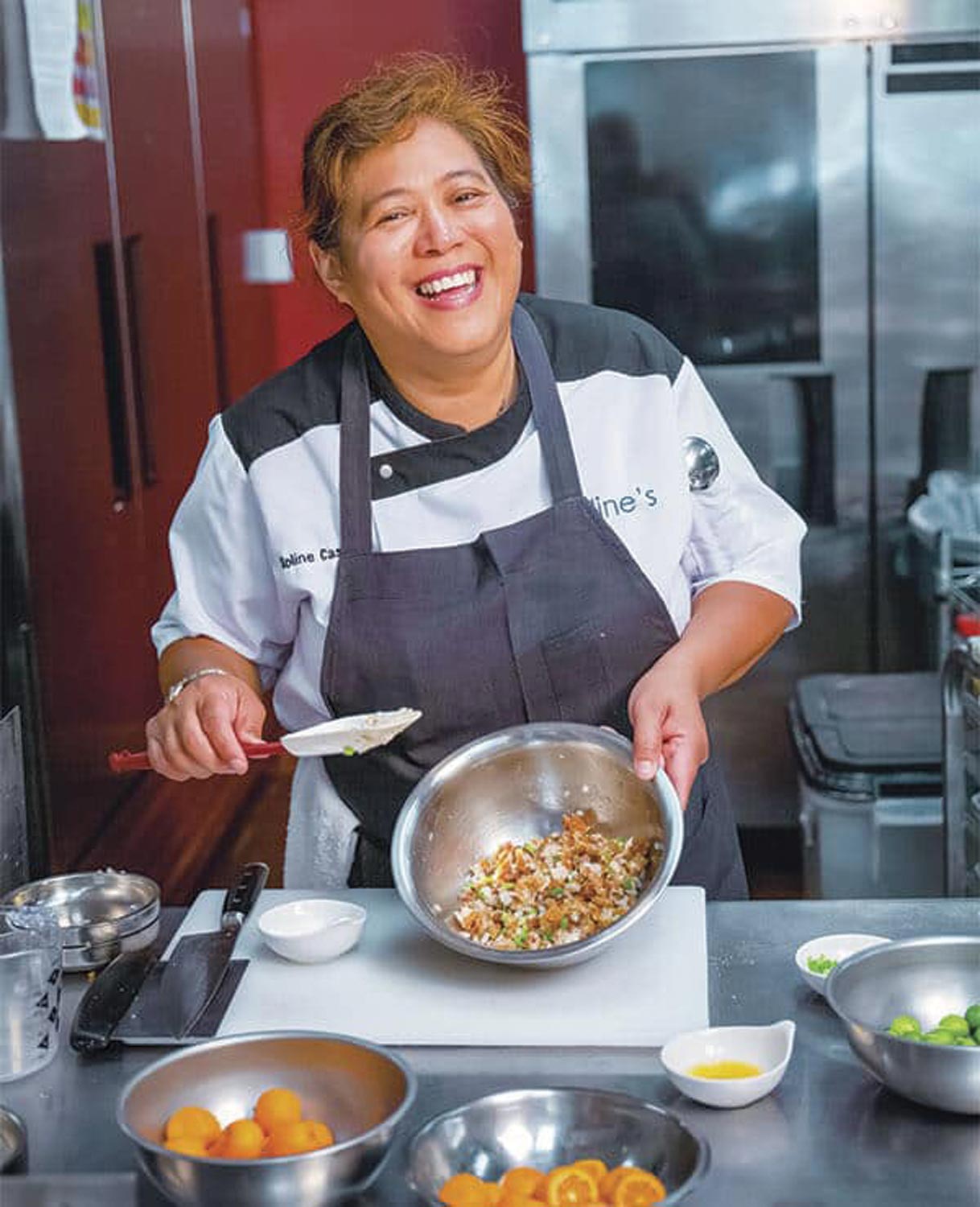 Eight years later in 2017, Casper fulfilled that aspiration of going to culinary school when she enrolled in a 14-month program at Napa Valley Cooking School. On top of running her business, she took classes five days a week, staged (unpaid internship) at Michelin-starred restaurant, SingleThread, and worked as an extern at Morimoto in Napa.
"I did the opposite of business first before going to school. I came in with a drive to uplift our food and to learn how to properly present it. The training continues to help me a lot right now with the understanding of what ingredients go together," she said. "Even though I knew how to cook, you really need to have the credentials because it's harder to be acknowledged if not."
She graduated valedictorian from the school and is a part-time instructor there. Last February, she led a three-hour class on lumpia making.
"Though we're a casual, turo turo restaurant, what I've learned in this business is to adapt to what is needed and to introduce changes every so often," Casper said.
Roline's Uniquely Filipino began offering kamayan (communal feast) dinners by reservation and a halo halo bar with multiple flavors beyond its most popular form of shaved ice, evaporated milk, sweetened beans, jellies and ice cream.
"For years, I had been thinking of doing something with the halo halo similar to the boba craze because nobody had stepped into that," she said.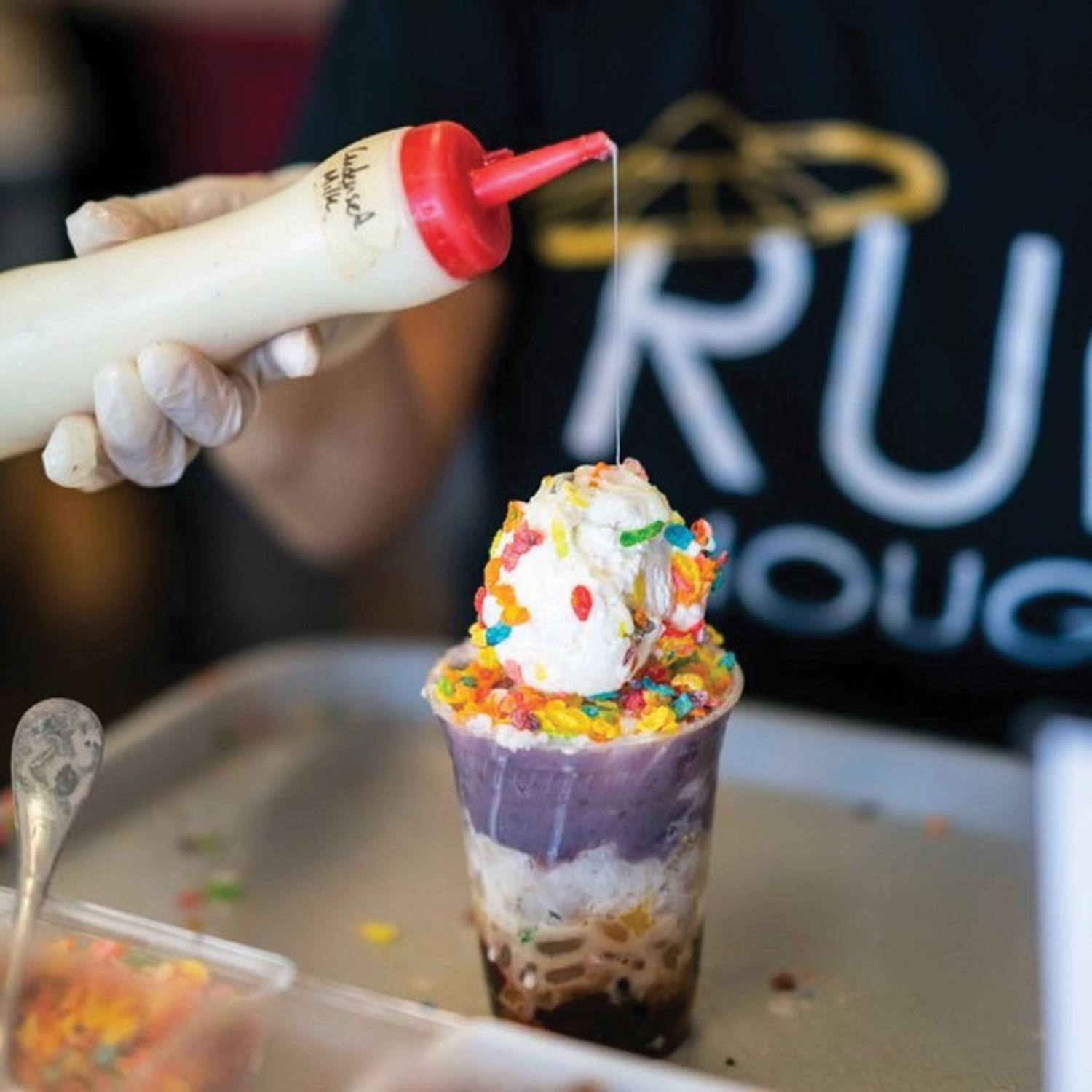 The variations include chocolate chip cookie dough; banana cue (caramelized saba banana with housemade leche flan and toasted sweet rice); and champorado (Belgian dark chocolate & topped w/ our house-made chocolate shell & Himalayan Pink Salt).
With Casper's mark in the local Vacaville dining scene and the burgeoning Filipino food movement, a publisher reached out with the prospect of releasing her first cookbook. The process of putting it together, from writing and testing the 100 recipes to editing, took about a year.
"Sometimes it felt like I didn't sleep because I had to work, take care of the family, and do the book. It's really a labor of love. Everything I cook and do is from the heart and that's where home is for me," she said, adding that it was a challenge for her to pare the recipes down for two to three servings as she was used to catering portions.
Before diving into the recipes, "The Easy Filipino Cookbook" begins with an overview of the cuisine's global influences, how the Philippines' tropical climate defined the salty, savory and sour flavor profiles, and the variation of dishes depending on region and season.
"The book is very easy for people to follow. They'll find dishes that are reminiscent of the Philippines and its many different regions so it's like traveling without physically being there," Casper said.
A particular highlight of the cookbook is a chapter listing ingredients and tools to have on hand as well as common cooking techniques used.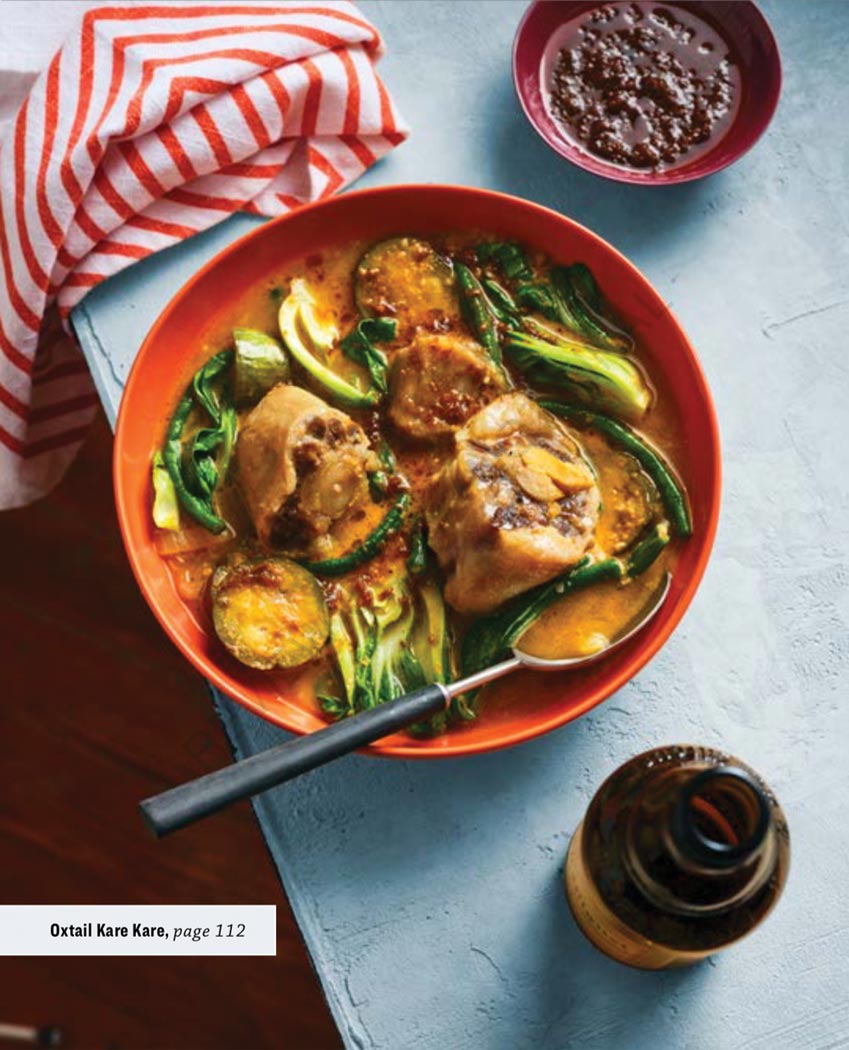 The recipes are organized by course, starting with pulutan (appetizers) like tokwa't baboy (fried tofu and pig ears with sweet Chile sauce) or tuna kilawin; then come the rice and noodles, and vegetable, meats and seafood entrees before ending with snacks and desserts. Each entry is introduced with a brief paragraph explaining how it is typically served.
While presented as close as possible to the traditional forms, Casper's recipes leave room for adaptability depending on what ingredients are available locally to readers and improvisation if they don't have access to a Filipino or specialty store. They are also labeled depending on dietary needs (e.g. gluten-free and nut-free) and time constraints — some can be made under 30 minutes or using an instant pot to speed up the process.
RECIPE: Roline Casper's Fresh Lumpia
Other dishes include a party-sized paella that serves 20; sweet Filipino spaghetti using banana ketchup for sweetness that is popular at birthday parties; laing (spicy taro leaves in coconut milk); chicken inasal as originated from the Bacolod province; embotido (steamed meat loaf) with ingredients depending on the occasion; ginataang alimango (crab in coconut sauce) that uses spinach instead of chile pepper leaves and squash blossoms; and biko (rice cake with coconut curds) for merienda that doesn't involve a 24-hour soaking time for the sweet rice.
The last section is devoted to "staples" that pair well with most Filipino meals, including banana ketchup, atchara (chutney of pickled green papaya, red bell peppers, carrots, onions and ginger) and tomato, onion and salted egg salad. It also ends with a list suggesting what to serve during holidays and other special gatherings.
"I want readers to try something new, be adventurous with what they eat, and be open-minded," Casper said. "Our food is a blend of many cultures so I feel they will find something that's familiar to them in all the dishes and create their own stories eating [them] with friends and family around the dining table."