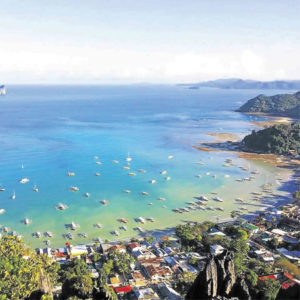 The municipal government of El Nido on Thursday, November 15, announced that a total of 50 more tourism establishments are now facing closure for violating the three-meter coastal easement policy in the town. 
El Nido town administrator RJ de la Calzada said that the establishments that violated the environmental rules have been given a two-week ultimatum to comply with the policies. 
"If they didn't comply to the self-demolition order, we will issue a closure order next week," De La Calzada told Rappler. 
The recent establishments that were found to be in violation add to the 22 businesses that were mandated to close for the El Nido cleanup that began earlier in 2018. 
The municipal government clarified that the closure will be temporary, but it will only be lifted once the businesses comply with the easement and other policies.
The El Nido-Taytay Managed Resource Protected Area office, however, is dependent on the Department of Environment Natural Resources (DENR) regional office for the next move in the said cleanup. 
Assistant Protected Area Superintendent Carolyn Esmenda said that they will wait for formal instructions in the rehabilitation of El Nido.
"The immediate action is that more DENR persons will be deployed in El Nido to assist the implementation of laws and rehab," Esmenda said. 
The agreement was attended by El Nido officials led by Mayor Nieves Rosento, DENR Secretary Roy Cimatu, Department of Tourism (DOT) Secretary Bernadette Romulo-Puyat and Department of Interior and Local Government (DILG) Secretary Eduardo Año, as reported by The Philippine Daily Inquirer.
Esmenda also said that after the second dry run from November 23 to 24, the protected area office will implement a limited capacity policy in the Small and Big Lagoons. 
It will only allow 40 tourists and 20 kayaks inside the Small Lagoon for 30 minutes at a time, while 80 tourists and 40 kayaks in the Big Lagoon for up to 90 minutes.
"The immediate instruction is to implement the carrying capacity policy for these areas while waiting for the results of the comprehensive carrying cap study to be conducted by the DENR and DOT covering other islands," Esmenda added.
El Nido has continually increased in its tourism arrivals for the past 10 years.
It is now hosting more than 200,000 tourists every year. Relaxed local regulations have led to overcrowding and occupation of coastal easements by mostly commercial buildings.
Earlier this week, the DENR Region IVB Mimaropa (Mindoro, Marinduque, Romblon, and Palawan) revealed that the fecal coliform level has reached and been kept at a normal level in Bacuit Bay within Barangays Masagana, Maligaya and Corong-Corong. Such constitutes a safe level of 100 most probable number per 100 milliliters indicating that waters are suitable for public swimming.