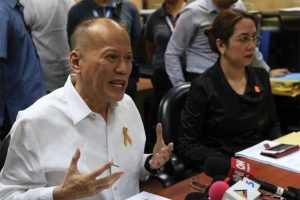 Former President Benigno "Noynoy" Aquino III, along with with some of his cabinet officials, and incumbent opposition senators are facing 274 counts of alleged malversation of public funds acquired through the Disbursement Acceleration Program (DAP).
Truth and Justice Coalition President Greco Belgica on Monday, October 15, led the filing of the complaints at the Office of the Ombudsman.
"So nag-file po tayo ngayon ng ating kaso against DAP… dahil sa pagkaka-lustay nila ng pera ng taumbayan, para i-impeach ang Chief Justice na si Renato Corona. (We filed a case today against DAP… because they misappropriated public funds to impeach then Chief Justice Renato Corona)," Belgica, who also heads the Presidential Anti-Corruption Commission (PACC), said.
Others accused in the case include Minority Leader Franklin Drilon, who was chair of the Senate Committee on Finance under the Aquino administration; Sen. Antonio Trillanes IV;  then Interior Secretary Manuel Roxas II; then Budget Secretary Florencio Abad; and then Cavite Rep. Joseph Emilio Abaya, who was later appointed as transportation secretary by Aquino.
"Of course ang sinasabi po nila dito, this was used for a public purpose, but it's not. (Of course what they're saying here is that this was used for a public purpose, but it's not.) It was used for influencing the legislators to vote for the impeachment of Corona," Belgica said.
According to him, the Department of Justice (DOJ) has found solid proof pointing to alleged ghost projects of Trillianes after he had asked them to pursue the filing of cases against Aquino and others earlier this year.
"Nakakuha tayo ng mga ebidensya ng ghost projects in Trillanes, mga confession nila former Sen. Jinggoy Estrada, nila Bong Revilla. Tapos 'yong dates kung kailan it was released, 'yong cash allocations. Lahat po 'yan are official pieces of evidence. (We were able to get evidence on the ghost projects of Trillanes, confessions of former Sens. Jinggoy Estrada and Bong Revilla. And then there are also the dates when the funds were released, the cash allocations. All of that are official pieces of evidence)," Belgica said.
The DAP, a program implemented by the previous administration, was designed to accelerate spending on projects and boost economic growth. Several of its critics had pointed out that the DAP was used to allocate funds for senators who would vote in favor of Corona's impeachment.
The funding method was declared unconstitutional by the Supreme Court in 2014 for violating constitutional provisions that bar cross-border transfer of savings to agencies outside the executive branch and to projects outside the approved national budget.
Belgica said the filing of cases was not an attack on the personalities opposed to President Rodrigo Duterte.
He suggested that those in the opposition should file similar complaints against their opponents as well, as long as the complaints could be backed by evidence.
"On issues na tinitira lang natin sila politically or namimili, wala hong katotohanan 'yon, dahil tayo evidence-based lang. (On the issue that we are being selective and being politically motivated, that's not true at all, because we are evidence-based)," he said.