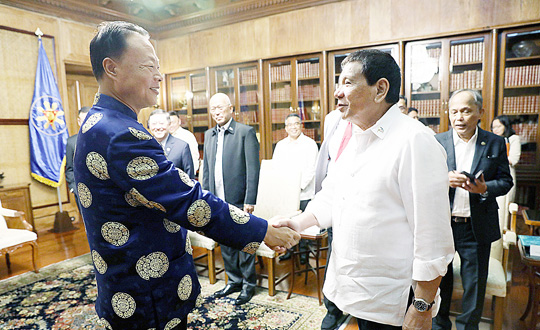 Presidential spokesman Harry Roque at a press briefing assured China that the Philippines will not be joining the military exercises the United States is planning to conduct in the South China Sea.
According to Roque, the naval drills, which will coincide with Chinese President Xi Jinping's Manila visit next month, were discussed at a meeting between President Duterte and Chinese Ambassador Zhao Jianhua at Malacañang on Monday, October 8.
"China, of course, expressed concern over a naval military exercise that the U.S. will be conducting in the area at about the same time that the Chinese president will be in the Philippines," Roque said.
"The president said that we will not take part in that military exercise," he added.
CNN had earlier reported about the U.S. Navy Pacific Fleet's proposal to conduct exercises in the South China Sea to warn China and to demonstrate its capability to respond to adversaries.
The report said the U.S. Navy would sail ships and fly aircraft near China's territorial waters and Taiwan Strait to highlight the right of free passage in international waters under the plan.
However, the Pentagon and the U.S. Pacific Fleet have declined to comment on the plan, according to CNN.