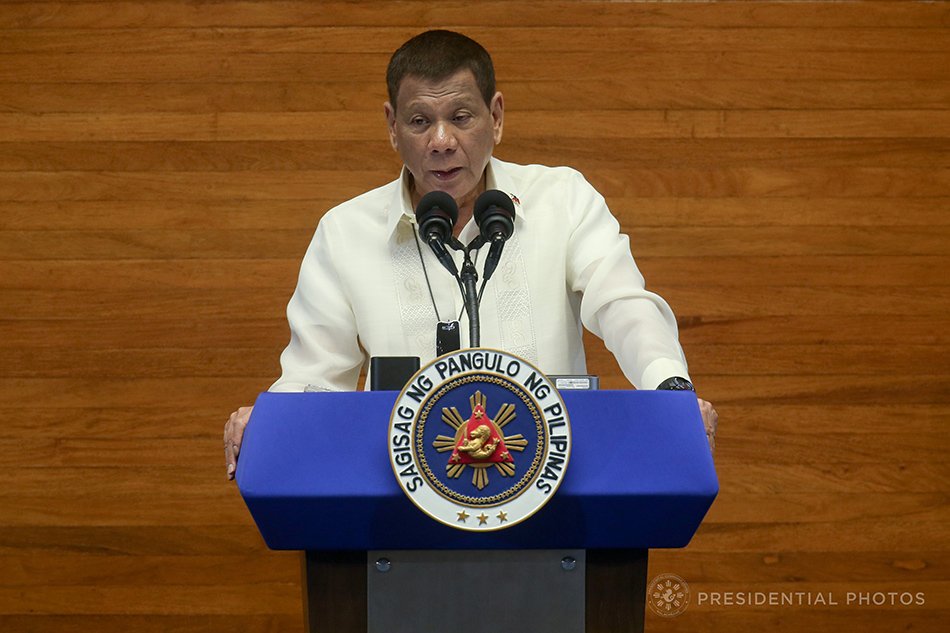 DESPITE the enforced nationwide lockdown to prevent the further spread of the coronavirus, Philippine President Rodrigo Duterte delivered his fifth State of the Nation Address (SONA) on Monday, July 27.
"We live in a troubled time. Our dream of prosperity for our country was suddenly snuffed by a pandemic virulent virus. No nation was spared. Neither rich nor poor were exempt from the onslaught of this deadly disease," the president said before limited attendees composed of members of Congress, the Cabinet and other distinguished quests at the Batasang Pambansa in Quezon City.
However, Duterte assured that "the vaccine is around the corner" and went on to thank the front-liners who are willingly putting their lives on the line to serve their fellow countrymen and the Philippines.
Senate President Vicente Sotto III and House Speaker Alan Peter Cayetano were at the president's back as his speech ran for an hour and 46 minutes, the longest SONA he delivered since 2017.
Vice President Leni Robredo, other members of Congress, and other notable figures in Philippine politics were present during the SONA virtually via Zoom.
Response to 'oligarchs'
Five minutes into his speech, Duterte slammed the Lopez Family, owners of the media and entertainment company ABS-CBN, branding the clan as oligarchs.
"Great wealth enables economic elites and corporations to influence public policy to their advantage. Media is a powerful tool in the hands of oligarchs like the Lopezes who used their media outlets in their battles with political figures," he said.
"I am a casualty of the Lopezes during the 2016 elections," he added.
Duterte also slammed Senate Minority Leader Franklin Drilon for supposedly defending the Lopez family.
"In an interview, he arrogantly mentioned, among others, that oligarchs need not be rich. Then he linked the anti-dynasty system with oligarchy and the topic was my daughter and son," he said.
Duterte's daughter is Sara Duterte-Carpio, Davao City mayor. His sons, meanwhile, are Paolo Duterte, 1st District of Davao City representative; and Sebastian "Baste" Duterte, Davao City vice mayor.
"This happened after the Committee on Franchise voted 70-11 to deny the grant of franchise to ABS-CBN. Obviously, he was defending the Lopezes that they are not oligarchs," the president noted.
Drilon's statement was in response to Duterte expressing happiness over his success in dismantling the oligarchy in the Philippines without declaring martial law, days after the House of Representatives rejected the bills seeking to grant ABS-CBN a fresh 25-year franchise.
'Bayanihan 2' law
Duterte, in his address, urged Congress to pass the second version of the Bayanihan Law, which aims to help speed up the country's recovery from the COVID-19 pandemic.
"This health emergency stretched the government's resources to its limits," the president said.
"I hope that they can [give] the same treatment of clarity, purpose, and the fastness to support the passage of 'Bayanihan to Recover as One' Act, which are supplement funds for recovery and response against the impact of COVID-19 pandemic," he added.
The new measure would earmark P140 billion for "a basket of targeted aid to sectors severely impacted by the double whammy of a public health and economic crisis."
Duterte also called on the lawmakers to fast-track the passage of the Corporate Recovery and Tax Incentives for Enterprises (CREATE) Act, which would reduce the corporate income tax rate from the current 30 percent to 25 percent, and the Financial Institution Strategic Transfer (FIST) Act, which would allow banks and other financial institutions to transfer bad loans to asset management companies.
COVID-19 vaccine
Duterte admitted that he asked Chinese President Xi Jinping to prioritize the Philippines when providing the potential vaccine against COVID-19.
"Four days ago I made a plea to President Xi Jinping that if they have the vaccine, can they allow us to be one of the first — or if it's needed that we will have to buy it — that we will be granted credit so we can normalize as fast as possible," he said.
As of writing, there are 82,040 confirmed cases of COVID-19 in the Philippines, with 1,945 fatalities and 26,446 recoveries.
Independent foreign policy
Duterte admitted that his administration is bent on pursuing an independent foreign policy.
Tackling the ongoing territorial dispute in the West Philippine Sea, the president said that the only way the Philippines can take control of islets and islands that China now occupies is to go to war.
"China is claiming it, we are claiming it. China has the arms. We do not have it. So, it's simple as that. They are in possession of the property," Duterte said.
"We have to go to war and I cannot afford it. Maybe some other President can, but I cannot. Inutil ako diyan and I am willing to admit it. Talagang inutil ako diyan (I am inutile with regards that and I am willing to admit it. I'm really inutile with regards that)," he added.
Meanwhile, Duterte claimed the United States intends to returns to its former base in Subic Zambales. However, such circumstances will put Filipinos in extinction should a war break out.
TV frequencies for distance learning
Duterte also announced that the television frequencies returned to the government will be used for the "uninterrupted, quality education" of students amid the lockdown caused by the pandemic.
"TV frequencies reverted back to government for whatever cause or reason shall not be used exclusively to the exclusion of other persons or other dummies to cope up with the demand of the next normal," Duterte said.
He added, "This will be used to provide uninterrupted quality education to our children in the shift to e-learning."
Duterte ordered Justice Secretary Menardo Guevarra, Science and Technology Secretary Fortunato Dela Peña, and Information and Communications Technology Secretary Gregorio Honasan to coordinate with Education Secretary Leonor Briones, Budget Secretary Wendel Avisado and Finance Secretary Carlos Dominguez III to come up with an "integrated program and implementation, making sure that these TV frequencies are fully utilized by government."
Earlier, Deputy Speaker Luis Raymund Villafuerte proposed that the former radio and TV frequencies of ABS-CBN be used by the government for alternative and distance modes of learning.
Improved telecommunications
The president also gave the two major telecommunication companies in the country a warning to improve their services by December or risk getting shut down.
"I call on our communication companies to improve their services lest we be forced to take drastic steps to address the less than ideal services that the public is getting from you," Duterte said.
"If you are not ready to improve and… I might just as well close all of you and we revert back to the line telephone at kukunin ko 'yan, i-expropriate ko sa gobyerno (And I will get that, I will expropriate it)" he added.
According to Duterte, the Filipinos' patience with the companies' services is already at its "limit."
"I'll be straight. Smart pati itong Globe, ilang taon na ito? At ang sagot palagi sa akin, the party cannot be reached. Edi saan pala pumunta yung yawa na iyon? (Smart and Globe, how long have you been around? And I get the same answer, the party cannot be reached. So where did this service go?)," he said.
"We are a republic, a sovereign country, bear that in mind because the patience of the Filipino people is reaching its limit. And I will be the one to articulate the anger of the Filipino people. And you might not want what I intend to do with you," Duterte dared.
"Kindly improve the services before December. I want to call Jesus Christ to Bethlehem. Better have that line cleared."
Death penalty
Duterte also called on Congress to reinstate the death penalty in the Philippines for drug-related charges.
"I reiterate the swift passage of the law reviving the death penalty by lethal injection for crimes specified under the Comprehensive Dangerous Drugs Act of 2002," he said.
"This law will not only help us deter criminality but also save our children from the dangers posed by illegal and dangerous drugs," the president added.
This statement came after he said his administration believes that freedom from illegal drugs, among other illicit acts, is a human right.
He also threatened those who commit drug crimes that he would execute them.
"I will really kill you. That is a commitment," Duterte vowed.
However, he also said that the government will "not dodge our obligation to fight for human rights."
In June, the United Nations Human Rights Office released a report saying human rights abuses in the Philippines have reportedly worsened due to Duterte's war against illegal drugs.
"A heavy-handed focus on countering national security threats and illegal drugs has resulted in serious human rights violations in the Philippines, including killings and arbitrary detentions, as well as the vilification of dissent," read the report, which was based on nearly 900 submissions as well as court and police records, interviews with victims and witnesses, and government input.
Boracay Island Development Authority
Duterte likewise lobbied for a law creating a Boracay Island Development Authority to oversee the resort island's environmental sustainability.
"I ask Congress to enact a law creating, importante ito (This is important), the Boracay Island (Development) Authority or BIDA," he said.
He noted that Boracay is doing well "because of its scenery."
"If it's only coconut and black sa white sand, water, wala 'yan (That's nothing)… But you add the visitors there, then it becomes a very tempting destination," Duterte said.
"We have seen the remarkable reemergence of the Island back to its former glory. I want this sustained."
The BIDA would serve as an attachment to the Department of Environment and Natural Resources since its main concern is the environmental sustainability of the island.
"For the rest of my term, I hope to see concerted efforts in protecting the environment," Duterte said.
With two years left in his term, Duterte pushed for increased collaboration with lawmakers for the quick passage of major legislative measures aimed at improving the lives of Filipinos.