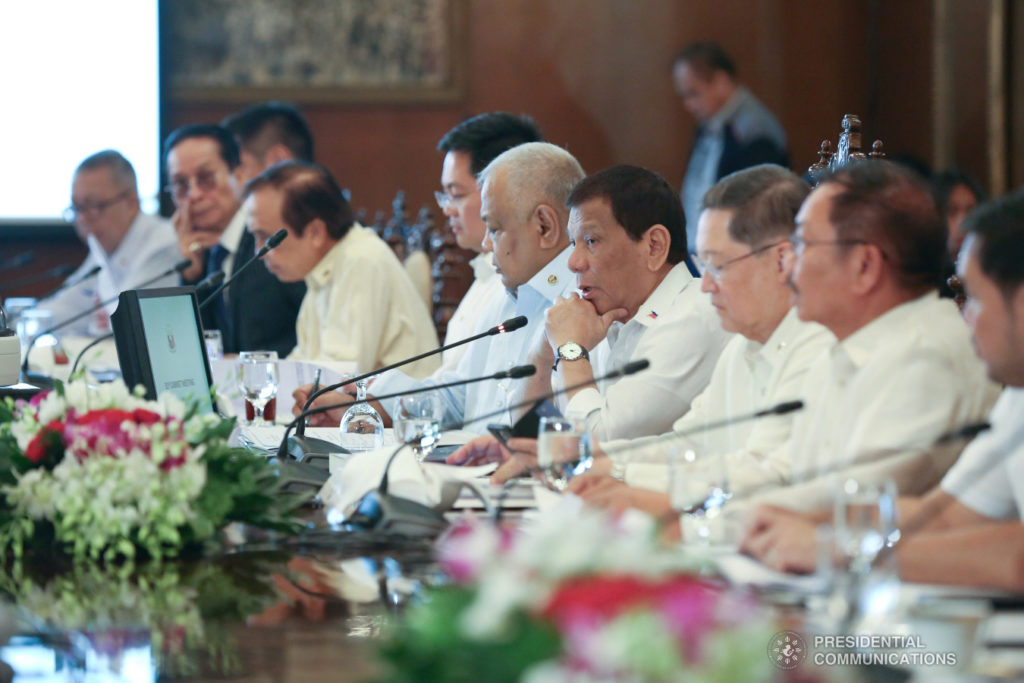 Drug money could be in play in next year's mid-term elections, according to President Rodrigo Duterte on Tuesday, November 6.
"Drug menace is the number one threat to national security linking drugs not only to its significant influence in the rise of heinous crimes but also it negatively affects the economy and the role it plays in the corruption of our collections even in our law enforcement agencies," Duterte said during his lecture on militarization and drug problem in Malacañang.
"Kita ninyo yung eleksyon, makita ninyo iyan. Drug money will play. (You will see during the elections. Drug money will play)," he added.
Duterte also mentioned Parojinogs of Ozamiz City, who are allegedly involved in the drug trade.
"Hanggang ngayon, itong naiwang na mga kapatid, mga relatives ni Parojinog, pinapatay pa pati judge. Talagang tarantado ang p*******a. (Even now, these remaining siblings and relatives of Parojinog, they kill, even the judge. Sons of bitches)," he said.
Reynaldo Parojinog, Sr. was mayor of Ozamiz City when he was killed in July 2017. He was linked to the illegal drug trade, and was caught in an exchange of gunfire between the mayor's security team and police serving search warrants in the clan's properties.
His children, Ozamiz Vice Mayor Nova Princess Parojinog and her brother, Reynaldo Parojinog Jr., were then arrested. They are currently detained for illegal possession of firearms and ammunition, and illegal possession of explosives and dangerous drugs.
The judge who was handling their case, Judge Edmundo Pintac, was gunned down in October though the family denied any link to the murder.
Duterte once again took a jab at the human rights groups saying, "The human rights groups, they [fight me.] But they do not know how deep the [drug] problem [in the country] is. It's human rights against my country."
Earlier, the Department of Interior and Local Government (DILG) asked the Commission on Elections to disqualify politicians who are allegedly involved in corruption and illegal drugs in the 2019 midterm polls.
 The idea was, however, slammed by Malacañang who said  those included in the so-called narco list should be accorded due process.
Last month, Duterte said said he does not want to expose the narco-politicians.
 "Drug menace is the number one threat to national security," Duterte said.
 He also admitted that shabu enters the country "almost everyday."
According to the president, a memorandum circular that will direct the entire government machinery to mobilize its assets and to take an active role in the government's anti-illegal drug campaign nationwide will be issued by him.
The machinery will be composed composed of the Philippine National Police, Armed Forces of the Philippines, Bureau of Customs and Philippine Coast Guard, among others, providing "a necessary personal complement to carry out the directive of the president to the Bureau of Customs to block the flow of illegal drugs in this country."