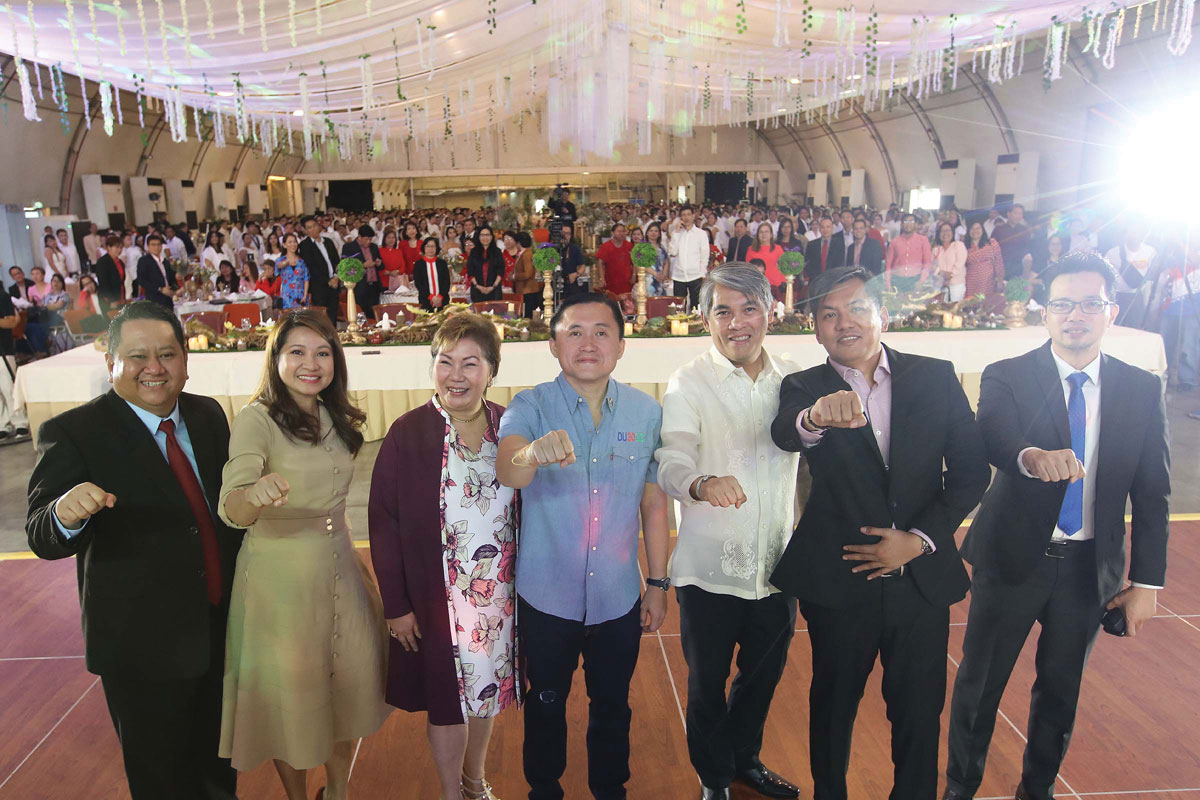 Philippine President Rodrigo Duterte has announced the 11 senatorial candidates he is endorsing for the upcoming midterm elections, notably excluding plunder-accused former Senator Jinggoy Estrada.
"Kapag natalo 'tong mga kandidato ko dito ha, babalikan ko kayo (If my candidates lose here, I'll get back at you)," Duterte said during the proclamation rally in Bulacan on Thursday, February 14.
The president confirmed that the "pork-tagged senator" has been dropped from the chief executive's slate even after he raised Estrada's hand in solidarity during the peace and order summit in Legazpi City, Albay.
"Nandoon siya eh. Alang-alang naman na hindi ko siya. Even for just one single day masabihan mo ng kandidato mo 13 lahat (He was there. How could I not raise his hand? Even for just a single day, you could say that all 13 were your bets) What is that to a friend? We know that he has suffered. We know that he was in prison," he added.
The Chief Executive's candidates now include Partido Demokratikong Pilipino-Lakas ng Bayan (PDP-LABAN)'s main slate, three of them were often associated with Duterte, namely former Philippine National Police (PNP) chief Ronald "Bato" de la Rosa, former presidential aide Christopher "Bong" Go, and former presidential political adviser Francis Tolentino.
Duterte urged the electorate to vote for the former police chief because he is "brave, patriotic and fundamentally honest" man "ready to die for his country." Go, his former aide, "only wants to serve. He only wants to work, he wants to know everybody. That's why even the communists will vote for him," the president added.
Two more candidates that complete the five-man slate are Maguindanao Second District Representative Zajid Mangudadatu and Senator Aquilino "Koko" Pimentel III. Together, they formed "MaBaGoKoTo" similar to the Duterte's "change is coming" campaign slogan.
The six other senatorial bets were deemed as the president's "personal choice." Among them are folk singer Freddie Aguilar; incumbent Senators Sonny Angara, JV Ejercito and Cynthia Villar; Taguig Representative Pia Cayetano; and Ilocos Norte Governor Imee Marcos.
Despite Duterte's move of withdrawing him from the lineup, Estrada respectfully responded that he has confidence that the Filipino electorate would still choose him as their senator given his "long list of legislative accomplishments and genuine desire to uplift the lives of the masses."
"I respect the recent statements made by President Duterte and the decision of the PDP-LBN regarding their preferred senatorial bets," Estrada said. "While the endorsement of our popular president will be helpful to my senatorial candidacy, I trust that the Filipino people will reelect me to the Senate based on my good track record as a public servant."
However, presidential spokesperson Salvador Panelo urged the public to be wary of those individuals reported to be using the president's name without authority to solicit funds and campaign materials for the administration-backed candidates.
"For everyone's information and guidance, the president has not authorized anyone in either the private or public sector, including government agencies like the Bureau of Customs, to resort to such illegal undertakings," Panelo warned.