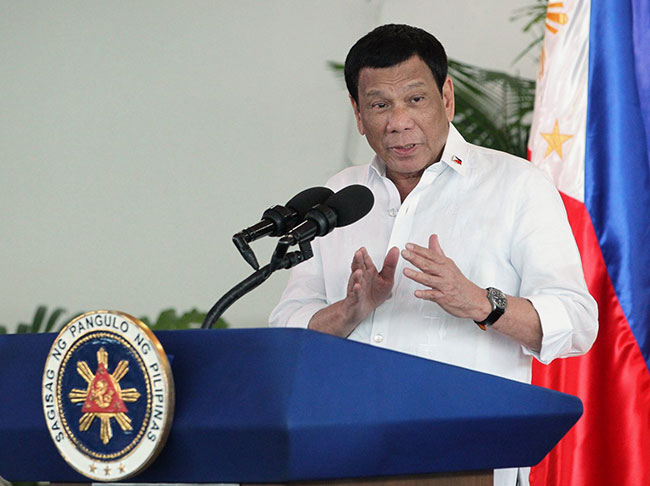 President Rodrigo Duterte this week said he is considering allowing the purchase of individual firearms if communist rebels continue their hostilities against innocent civilians and government forces.
In a speech at the birthday celebration of Masbate Gov. Antonio Kho on Wednesday, January 9, the president said, "Ako sinasabi ko lang sa NPA, ayaw kong armasan ang mga tao. Pero 'pag sige ganun ang ano (I want to tell the NPA, I don't want to arm people. But okay, if they're like that), I will allow the purchase of individual firearms)."
"Kung ambush dito, ambush doon, hindi makatiis itong mga tao ko (If there's ambush here, ambush there, the people cannot bear it). Gagalaw talaga 'to (They'll move), then I'll be forced to order the arming of everyone," he added.
Duterte also said he would arm the local government officials with high-caliber firearms since they "would feel naked" without firearms.
"Pati 'yung mga mayor bigyan ko 'yan ng armas talaga…if they continue with this kind of… Mapipilitan talaga ako — siyempre kasi ang mga mayor they would feel naked without… Maski ikaw naman makipag-giyera ka nang walang armas. (I can also give weapons to the mayors if the rebels continue with this kind of… I will be forced to. Of course the mayors they would feel naked without arms, even you if you go to war without weapons)," he said.
"'Pag inorder ko, lahat na. Siyempre 'yung may mga pera, 'yung magagandang baril. (If I ordered, all of them. Of course those who have money, they will get high-caliber weapons)," the President added.
Despite that, Duterte said he is still willing to resume the peace talks with the rebel group if they would end their atrocities.
"If they can tone down, walang ambush, walang patay ang pulis ko, sundalo ko, pwede pa kaming mag-usap. (If they can tone down, stop the ambush, killing of my policemen and soldiers, we can still talk)," he said.
He also repeatedly promised to provide communist rebels with housing and livelihood if they lay down their arms and return to the government fold.
The Communist Party of the Philippines-NPA has been tagged by the U.S. State Department and the European Union as a terrorist organization.
After Duterte lamented the continued attacks by the rebels on troops and civilians, the peace negotiations between the government and communist rebels bogged down in November.
Defense Secretary Delfin Lorenzana on Tuesday said that, despite the plans made by the Armed Forces of the Philippines, it is still impossible to end the communist insurgency this year.
"We cannot do it (end insurgency) this year because that is a big problem," Lorenzana admitted during the sidelines of Tuesday's joint Department of National Defense-AFP new year's call in Camp Aguinaldo.
The government and communist peace panels held back-channel talks to revive negotiations, but the resumption of the formal peace talks was halted by the government last year because it decided to review all agreements between the communists and previous administrations.
"We cannot end it in one year. But if our target would be the remaining three years of President Duterte's presidency, we can probably do it," Lorenzana said, adding "Let me remind everyone that our [objective] for 2019 is to achieve the President's desire to ultimately win the peace and finally put an end to local communist armed conflict."
Duterte has since been going on a tirade against communist leaders. He previously called the 50-year insurgency as a "failed rebellion" as members of the NPA are aging and declining in numbers.