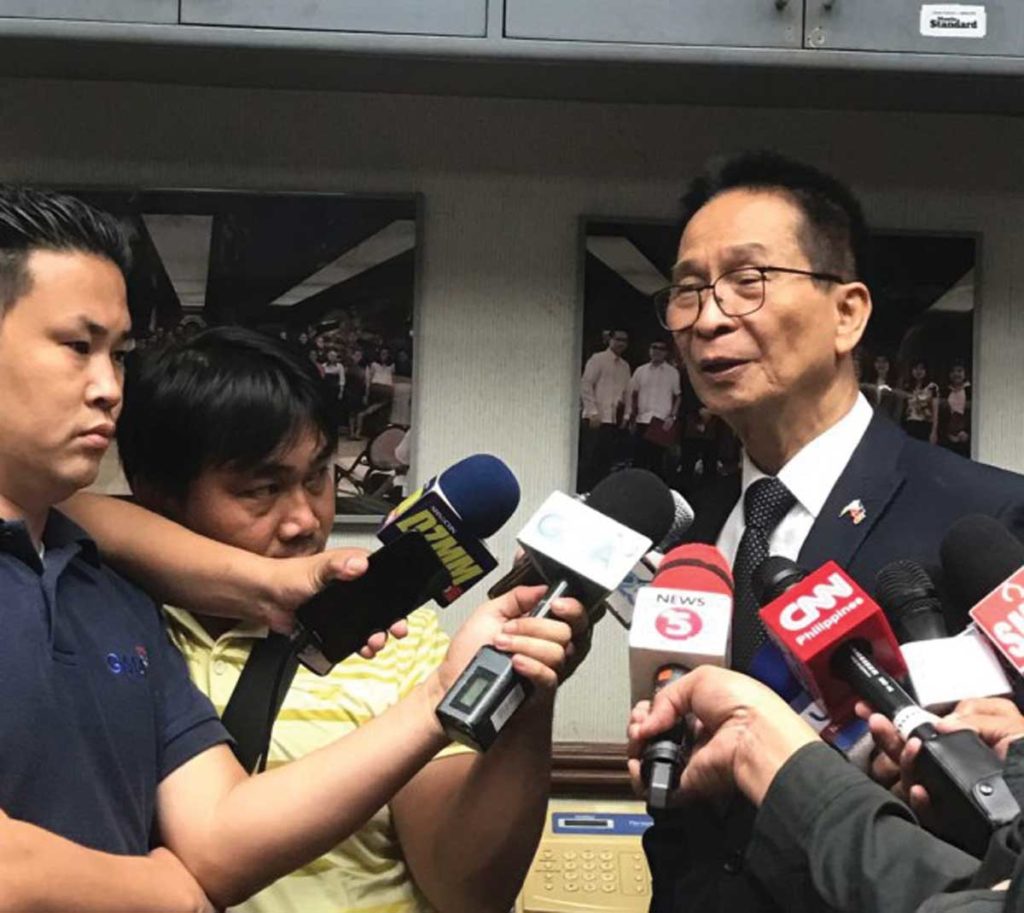 Presidential Legal Counsel Salvador Panelo on Thursday, October 11 announced that he will be President Rodrigo Duterte's next spokesman after Malacañang spokesman Harry Roque Jr. took an indefinite leave of absence.
The chief legal counsel answered affirmatively when asked if he would replace Roque, who is reportedly vying for a Senate post in the midterm 2019 elections.
Panelo noted that there will be no drastic change as he had started speaking on behalf of the president since his campaign.
"Actually wala namang pagbabago kasi (nothing has changed) because day one of the presidential campaign of the president, I was already his spokesman, and day one, when he assumed the presidency, I was also his spokesman. In fact, the executive order creating this office, my present position, states that I am the spokesman for the president," Panelo said in a video sent to reporters by Presidential Communications Operations Office chief Martin Andanar.
He also said that he has been Duterte's spokesman since the 2016 campaign. The only difference now, he added was that he would be "more visible."
"So wala namang pagbabago (nothing has changed). The only difference I think would be I would be more visible this time kasi (because) as chief presidential legal counsel, I was really speaking for the president on matters of national sensitive issues that require my articulation on the thoughts and ideas of the president," he added.
Despite his new title, Panelo would still remain as the president's top lawyer, according to Special Assistant to the President (SAP) Christopher Lawrence "Bong" Go. The presidential aide confirmed that Panelo will have "concurrent" designation.
Go also denied the rumors that Roque was dismissed from his post.
"He [Roque] is still weighing his options. Walang sibak (There's no dismissal)," the president's top aide said.
This is the second time that Panelo will be the president's spokesman. He was Duterte's spokesperson in 2016, before being replaced by Ernesto Abella, who was initially designated deputy presidential spokesman.
Roque still undecided
Panelo's reappointment as the president's spokesman came days after Roque filed a leave of absence after being kept in the dark about Duterte's whereabouts and hospitalization.
Roque, when sought for comment, responded that he will not issue any statements until Monday since he is still in China.
He also denied claims that he resigned from his post. However, he reiterated that he has not yet decided on whether he will stay or vacate his post to seek public office considering that the end of the filing of the certificate of candidacy (CoC) would be until Thursday next week.
The said filing period is from October 11 to 17. Government officials are considered resigned from their respective posts once they file their CoC.
Roque admitted on Tuesday that he has already shot a campaign advertisement despite being undecided about joining the Senate race.
"Still not sure I will run for Senate," he said then.
However, Duterte earlier advised Roque to continue working for the government and not vacate his post since he would not win in the 2019 polls.
A nationwide Pulse Asia survey showed Roque ranking 29th to 36th place among wannabe senators.