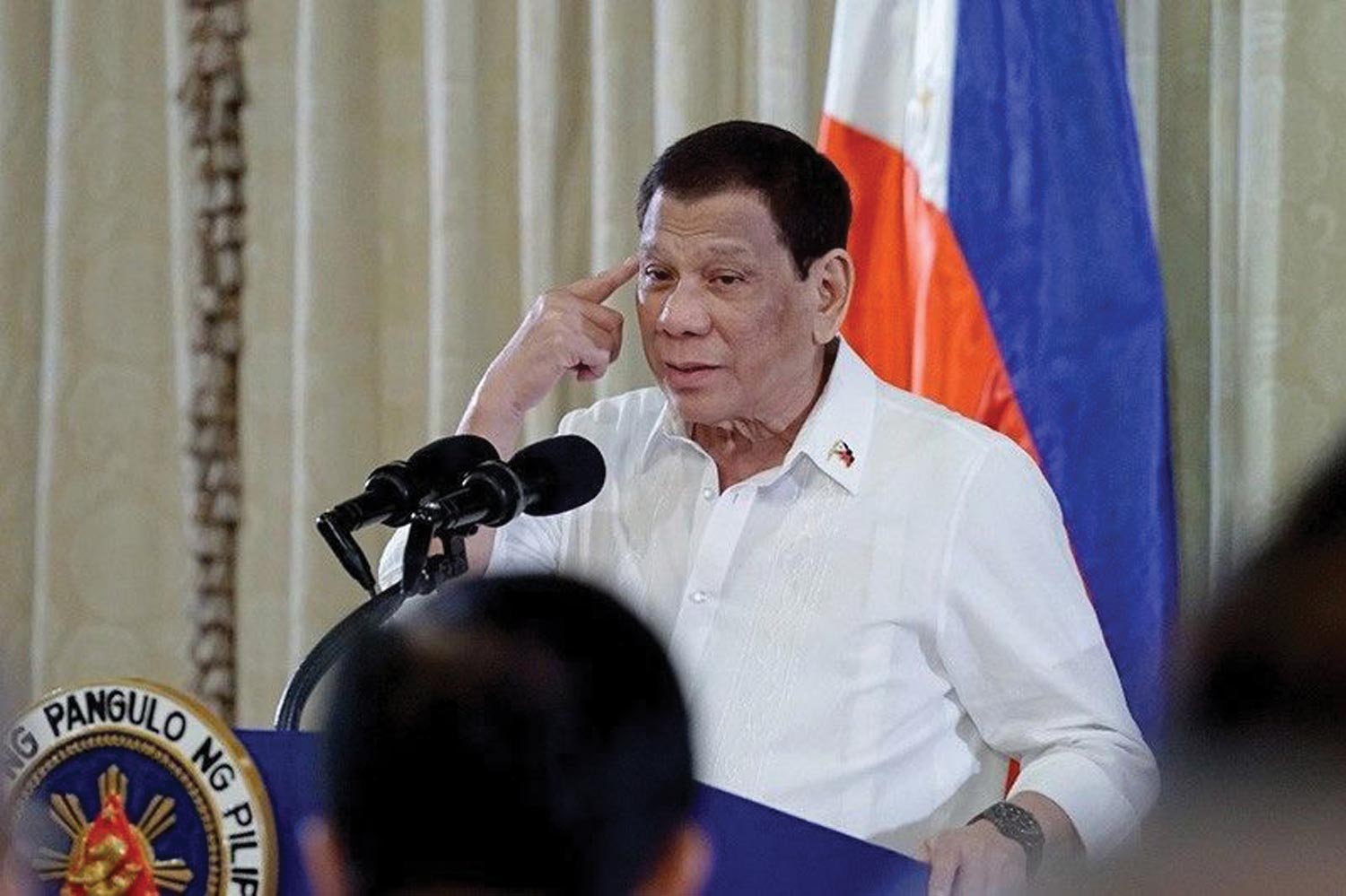 PHILIPPINE President Rodrigo Duterte has threatened to put those who refuse to get vaccinated against COVID-19 behind bars.
In his public address on Monday, June 21, the chief executive expressed exasperation over individuals refusing to get inoculated, calling them "carriers" of COVID-19.
"They are really carriers and they, you know, traveling from one place to another, carrying the virus, and then contaminating other people," Duterte said.
He threatened to vaccinate stubborn people with Ivermectin, the anti-parasitic drug for animals.
"Itong ayaw magpabakuna, kayong ayaw magpabakuna, ang ipapabakuna ko sa inyo 'yung bakuna sa baboy, 'yung Ivermectin, 'yun ang ibakuna ko sa kanila. Ang titigas ng ulo (Those who do not want to be vaccinated, I will give you the vaccine for pigs, Ivermectin. So stubborn)," he said.
Duterte went on to say he will send to jail unvaccinated Filipinos as the country faces a "national emergency."
"Don't get me wrong. There is a crisis being faced in this country. There is a national emergency. Kung ayaw mong magpabakuna, ipaaresto kita (If you don't want to get vaccinated, I will have you arrested)," he said.
He also told those who don't want to get vaccinated to leave the country.
"Kung hindi kayo magpabakuna, umalis kayo sa Pilipinas (If you don't want to get vaccinated, leave the Philippines). Go to India if you want, or somewhere to America. But for as long as you are here and you are a human being and can carry the virus, eh magpabakuna ka (you should get vaccinated)," Duterte said.
He directed the Department of the Interior and Local Government (DILG) to find residents who refused to get vaccinated and keep a tally.
"Kayong mga (You) barangay captains, I'll task the DILG to do that, to look for these persons. Kung hindi (If not), I will order their arrest sa totoo lang (to be honest)," he said.
"Mamili kayo, magpabakuna kayo o ipakulong ko kayo sa selda (You have to choose, get vaccinated or I'll send you to jail)," added Duterte.
Backlash
Several Philippine senators criticized Duterte for using threats to convince the public to get vaccinated.
"If every government policy that was carried out through threats proved to be effective, then by now we would be in a better situation," Sen. Francis Pangilinan said in a Zoom interview with reporters.
Meanwhile, Sen. Risa Hontiveros noted that there was no need for threats "if only the country has a steady and ample supply of vaccine that is safe, effective and appropriate to their condition."
According to her, the Duterte administration failed to increase the public's confidence in the vaccines against COVID-19.
"We have spent more than a year under a state of national emergency. The administration has been afforded with resources to increase the public's confidence toward a safe, potent, and effective vaccine. Sadly, this was not done," Hontiveros said.
Sen. Nancy Binay, on the other hand, pointed out that vaccine hesitancy is not the biggest problem in the country's vaccine rollout.
"Vaccine supply is the biggest problem, so we need to address that," she said in a television interview on Tuesday, June 22.
For his part, Justice Secretary Menardo Guevarra defended Duterte, saying the chief executive only used threats to reach herd immunity quickly.
"I believe that the president merely used strong words to drive home the need for us to get vaccinated and reach herd immunity as soon as possible," he said Tuesday, June 22.
However, he noted that a law is needed to impose penalties on those who refuse to get vaccinated.
"As a lawyer, he knows that not getting vaccinated is a legal choice; there is no law as yet that compels vaccination against COVID-19, much less criminalizes not getting vaccinated," said Guevarra.
Likewise, Presidential Spokesperson Harry Roque said a legal basis is needed.
"It is clear from Philippine and American jurisprudence that compulsory vaccination can be implemented. But it must have a legal basis," he said.
The spokesman added, "Of course, alam naman ni Presidente at sinabi naman niya na kailangang pag-aralan ang option na ito at kailangan ng batas na maipasa ng Kongreso (Of course, the president knows and he said it also that we need to study this option and Congress needs to pass a law)."
As of June 20, the government has administered a total of 8,407,342 doses of COVID-19 vaccines.