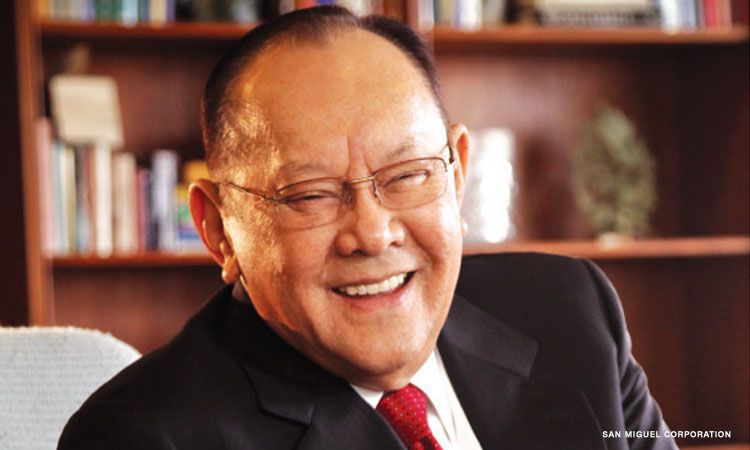 BUSINESS tycoon Eduardo "Danding" Cojuangco Jr. on Tuesday, June 16, passed away at the age of 85.
The chairman and chief executive officer of San Miguel Corporation (SMC) died of pneumonia and heart failure before 11 p.m. at the St. Luke's Medical Center.
"San Miguel announces the passing of its chairman and chief executive officer, Mr. Eduardo M. Cojuangco Jr. on the evening of June 16, 2020," the conglomerate said.
"His vision for San Miguel – to be a beacon of hope for the Philippines and a partner in nation-building – remains at the core of everything we do," it added.
Cojuangco was ranked by Forbes as the 15th richest man in the Philippines and 2,048th in the world, with a net worth of $1.1 billion (about P55 billion).
Aside from SMC, he was also the chairman of Ginebra San Miguel Inc.; San Miguel Food and Beverage, Inc.; Petron Corporation; ECJ & Sons Agricultural Enterprises, Inc., and Northern Cement Corporation.
Cojuangco also delved into politics. He founded the Nationalist People's Coalition (NPC) in 1992, and ran for president under his political party. He ultimately lost to Fidel Ramos.
Prior to that, he served as the governor of Tarlac from 1967 to 1969.
Malacañang on Wednesday, June 17, sent its condolences to the family.
"We are deeply saddened by the passing of Mr. Eduardo 'Danding' Cojuangco, Jr.," Presidential Spokesperson Harry Roque said.
"Mr. Cojuangco, through his San Miguel Corporation, where he served as its chairman of the board and chief executive officer, had immense contribution to the socioeconomic development of the Philippines through the company's operations in food, beverages, energy, power, oil refining, and infrastructure," he added.
Communications Secretary Martin Andanar, in a separate statement, said: "Mr. Cojuangco was vital to San Miguel Corp.'s success as a conglomerate and its pursuit of socioeconomic progress for the Philippines through its diversified corporate endeavors."
The Philippine Basketball Association also paid tribute to Cojuangco, who owned San Miguel Beermen, Barangay Ginebra San Miguel, and Magnolia Hotshots in the league.
"Chairman and CEO of San Miguel Corp., politician, diplomat, businessman, team owner, sports patron… Thank you for your countless contribution to the PBA and sports!" the association said in a tweet.
"Our prayers and condolences to his family and loved ones. Requiescat in pace!" it added.