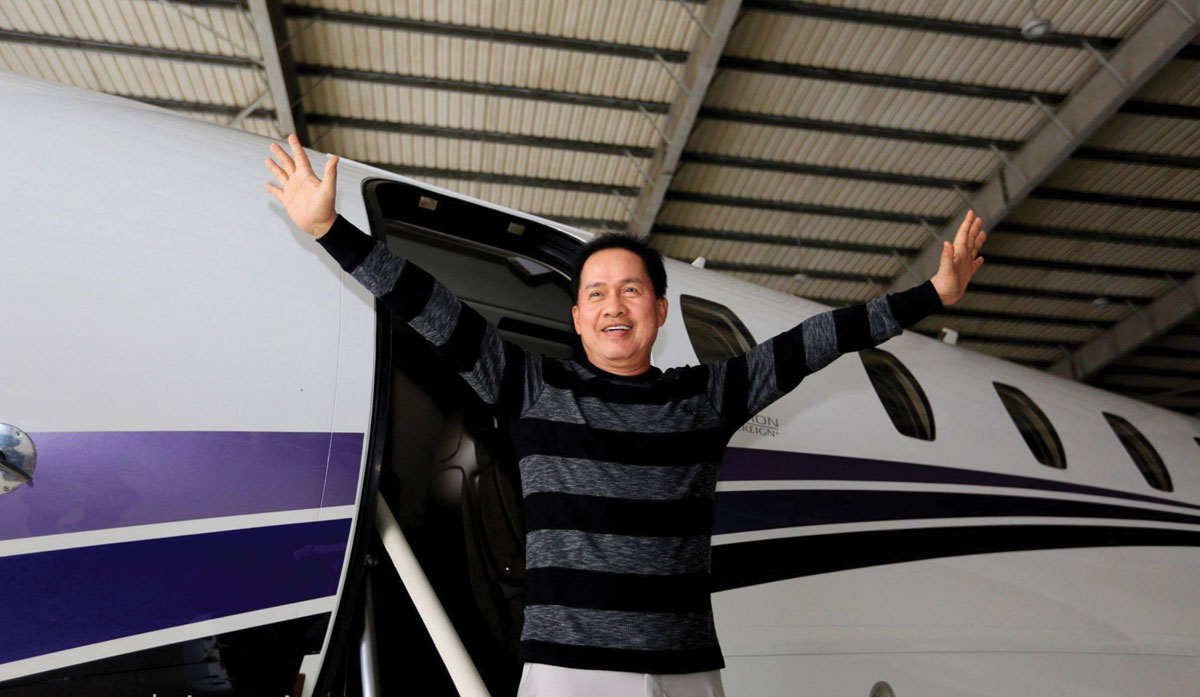 PHILIPPINE President Rodrigo will not get in the way if the United States requests for the extradition of his friend and spiritual adviser Pastor Apollo Quiboloy, according to Senator Bong Go.
The senator on Monday, November 22, noted Duterte's close ties with Quiboloy, saying that the Chief Executive will offer moral support to his adviser.
"The President is there to give moral support kay (to) Pastor Quiboloy. Kaibigan sila (They are friends)," Go said in a chance interview with reporters in General Santos City.
"Si Presidente pag kaibigan ka, kaibigan talaga (When the President says you're friends, he really treats you as a friend)," he added.
However, Go maintained that Duterte will not prevent the U.S. from extraditing Quiboloy should it happen.
"Abugado si PRRD at ako po'y naniniwala na sumusunod sa batas ang ating presidente. Bilang presidente, naniniwala ako siya nagpapatupad sa anumang treaty (President Rodrigo Duterte is a lawyer and I believe our President follows the law. As president, I believe that he implements any treaty)," he said.
Meanwhile, the Philippine Department of Justice (DOJ) pointed out that there will be no need for extradition if Quiboloy turns himself in to the jurisdiction of the U.S. authorities.
"All talks about possible extradition will be mooted if the person sought to be extradited opted to voluntarily surrender to the jurisdiction of the requesting state and defend himself/herself with the assistance of counsel in the appropriate legal proceedings in the requesting state," said Justice Secretary Menardo Guevarra in a separate statement.
On Friday, Nov. 19, U.S. prosecutors charged Quiboloy and two other top church officials for participating in a conspiracy to engage in sex trafficking by force, fraud, and coercion.
In a 74-page indictment, the three church leaders were alleged to have recruited females ranging from approximately 12 to 25 years of age to work as personal assistants or "pastorals" for Quiboloy.
"The victims prepared Quiboloy's meals, cleaned his residences, gave him massages, and were required to have sex with Quiboloy in what the pastorals called 'night duty,'" it added.
Five females allegedly fell victim to this, three of whom were minors when the supposed sex trafficking began.
For its part, Quiboloy's camp dismissed the sex-trafficking charges filed against him in the U.S.
"Once again, another vicious attempt to bring down Pastor Apollo C. Quiboloy and some of the Kingdom leaders has been organized just recently in the United States, but (Kingdom of Jesus Christ, The Name Above Every Name) and all its followers remain steadfast and committed to faithfully respond to its mission, its ministry and its divine calling despite all the detraction efforts made against them," the KJC Legal Counsel said in a statement.
It also said that accusations will not "detract" the KJC from its mission and ministry.
"People may have tried to silence Pastor Quiboloy, but they cannot put down the Kingdom nation. They will never detract from the mission and the ministry of The Kingdom. It will never stop. It will go on forever," said the KJC Legal Counsel.
"We are confident and ready to face whatever is hurled against Pastor Quiboloy and the Kingdom leaders. We trust the process of justice and we certainly expect the truth to prevail, and the Kingdom ministry will continue to prosper," it added.