President reveals plans to form unit to counter NPAs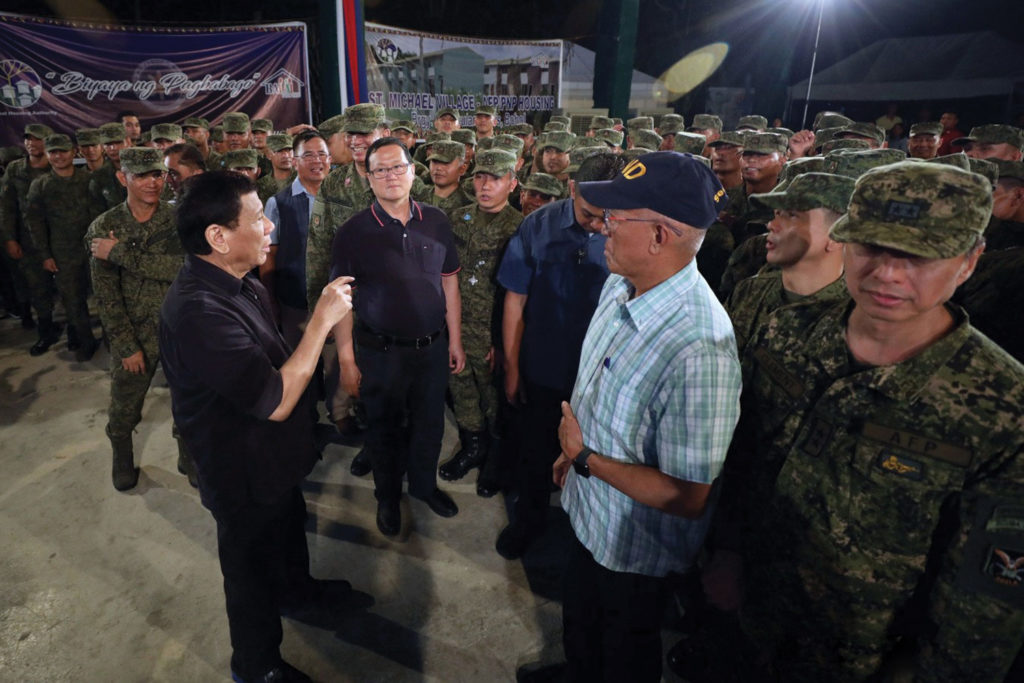 Philippine President Rodrigo Duterte's plans to establish an armed civilian unit to counter communist rebels would not violate due process, Malacañang said. 
Earlier this week, Duterte revealed that the armed unit would be formed to suppress the New People's Army (NPA) "sparrow", slang for Special Partisan Units (SPU), which have been blamed for the deaths of former communists and unarmed soldiers.
In a press briefing on Thursday, November 29, presidential spokesperson Salvador Panelo said, "Why are you violating due process? You're running after criminals. You're running after people who will assassinate us. You will prevent it from happening."
Panelo rebutted critics, saying that the government cannot "sit idly and watch" as the rebels "kill with impunity." 
As for fears that it would lead to more violence, the spokesperson said that citizens should  
"I don't think it will encourage [violence]. In fact, people will be relieved that there is such, if this idea becomes a reality na may mga nagbabantay pala sa amin [laban sa] mga gustong pumatay sa amin. Eh kung ako ang civilian, matutuwa ako (where there will be someone who will protect us from those who want to kill us. If it were me, I would be happy)," Panelo said. 
Named the "Duterte Death Squad," the president said the unit will be composed of troops matching the alleged skill of the NPAs to kill people. They would be deployed to guard transport terminals, eateries and other public places to kill communist rebels. 
"I will match their talent in assassinating people. They have firearms, for sure. That's my plan, what I lack is a sparrow unit. That's their advantage, so I will create a sparrow. Duterte Death Squad against the sparrow. There's no problem. They are the enemies," Duterte said. 
He also repeated his order among the government troops to shoot drug suspects should they feel threatened and if they perceive their lives to be in danger. 
However, he noted that he does not want a war among his fellow Filipinos. 
"If they resist violently, if you believe your life is in danger, shoot. If you believe in good faith, son of a b****, they will shoot you. If you are behind that animal, shoot him," the president warned. 
Death squads not allowed – CHR
Commission on Human Rights (CHR) chairman Chito Gascon responded to Duterte's declaration, noting that protecting people from lawless violence should not be done with violence and should often abide by the established rules of engagement and due process.
"International humanitarian law requires states to use only regular armed forces under strict military discipline. Thus this strictly prohibits death squads under all circumstances," Gascon said.
Lawmakers criticize creation of a death squad
Senator Panfilo Lacson said that the president knows that it is illegal and unconstitutional to establish troops solely intended to terminate a certain group. Even fellow Senator Aquilino Pimentel III doubted that it would push through. 
"Being a lawyer and former prosecutor, I don't think he was serious because he knows it's illegal and criminal to perform such an act," Lacson said.
Pimentel said, "I'm sure the president will not create one such squad." 
Senator Grace Poe echoed her colleagues' sentiments, noting that Duterte often only talks about such cases. 
"Sometimes the president makes such kind of statements, but we all know that we have laws and we know that in any situation, we have legal processes," Poe said.
Senator Francis Pangilinan, on one hand, noted that the deployment of the Duterte Death Squad would not resolve the most pressing issues in the country. He said that it would offer more problems than solve them. 
"It will not create more jobs for the ordinary citizen. It will not lower the prices of basic goods. It will not increase incomes and wages of the worker. It will only turn our country into a howling, lawless wilderness," Pangilinan said.
"Creating death squads, sowing violence and daily killings is not a solution to our nation's ills, it is part of the problem," he added. 
Senator Antonio Trillanes IV, on the other, said that such is Duterte's strategy to instigate the authority that he is allegedly slowly losing. He said that it is also an attempt by the administration to sway the public's attention from the controversies during the president's term. 
"He is doing this because he feels that he is losing his grip on power and that fear is his only way to keep people in check," Trillanes said.
"Duterte wants to divert the attention of the media and the public from the mysterious MOUs (memorandums of understanding) entered into with China; the questionable awarding of the telco to a Duterte crony; and the P11-billion shabu shipment issue," the senator added.