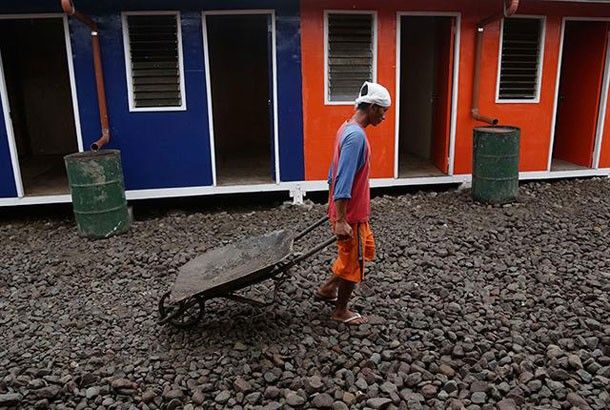 FIVE years after super typhoon Yolanda destroyed parts of the Philippines, Malacañang assured that the rehabilitation and recovery efforts are being fast-tracked.
To date, P146.156 billion in funds have already been released for the rebuilding, according to the current administration.
Presidential spokesperson and chief presidential legal counsel Salvador Panelo cited the National Housing Authority (NHA)'s report, saying 100,709 units of the 205,128 permanent housing units for Yolanda were already completed; 46,412 of them are occupied, while 54,297 are open for occupancy as of October 30.
Panelo also released data from the Office of the Presidential Assistant on Special Concerns, which oversees the Yolanda rehabilitation projects, saying P146.156 billion was released to implementing national government agencies, government-owned and controlled corporations and local government units as of December 31, 2017.
"Half of the funds released were allotted for housing programs and ancillary basic utilities… To speed up resettlement, we are addressing issues that cause the delay, which include limited availability of titled lands for resettlement, slow processing and issuance of permits and licenses for construction projects and absence of sustainable livelihood opportunities, among others," he said.
Former President Benigno Aquino III stressed that some of the foreign assistance pledged never arrived, and for the most part, has not been turned over to the government.
According to him, there were problems with power and water supply in relocation areas identified as safe but away from low lying coastal areas since utility companies did not have sufficient funding to undertake massive housing projects.
He said, "That is why the national government has to come in and fund (the provision of utilities). However, the same takes time (two years) as we need to pipe in from the next town… temporary water and power are supplied until permanent lines are installed."
Aquino also conceded that there had been problems with substandard housing due to the people on the ground both in the past and current administration failing to monitor the implementation.
"Some are caused by substandard materials unknowingly used by some contractors such as sand coming from sea instead of rivers. These are the aggregates available in the market," he said, adding, "What is important is we have corrected the defects and no housing units that were identified as defective were paid."
The Department of Finance and the Department of Social Welfare and Development are now drafting a joint order for a one-stop shop facility for relief consignment, similar to the proposal of Senator Sonny Angara, Panelo said.
"We likewise take this opportunity to spread better awareness on climate change and its impact on our communities… The Palace, through the Presidential Legislative Liaison Office (PLLO), has transmitted to both houses of Congress a bill creating the Department of Disaster Resilience last July, as President Duterte articulated both in his 2017 and 2018 State of the Nation Addresses," Panelo said.
Senator Loren Legarda, meanwhile, reiterated her call for communities to heighten resilience as the nation commemorated Yolanda this week.
"We need to continuously conduct massive education and information campaign on disaster preparedness so that communities do not remain complacent," she said.
She also said that we need to ensure we are not rebuilding risks when we are rebuilding communities. That we must reduce the risks and not create new ones.
"If a community is prone to landslides, consult the geohazard map to see where relocation is possible; otherwise, we will continue to incur damage and rebuild again when natural hazards occur. That is certainly not a mark of resilience. In coastal communities, there should be mangrove reforestation because mangroves sequester carbon and are good buffers for storm surge and tsunami," she added.
Panelo commended the people in the front lines who responded to the calamity, as well as the nations, agencies, and organizations that helped the Philippines overcome the ordeal.
"We commend the exemplary resilience of our own people who, in the face of adversity, have remained steadfast. Yolanda has taught us a hard lesson in public service, particularly on the need to respond to our people's plight with more compassion and urgency," he said.