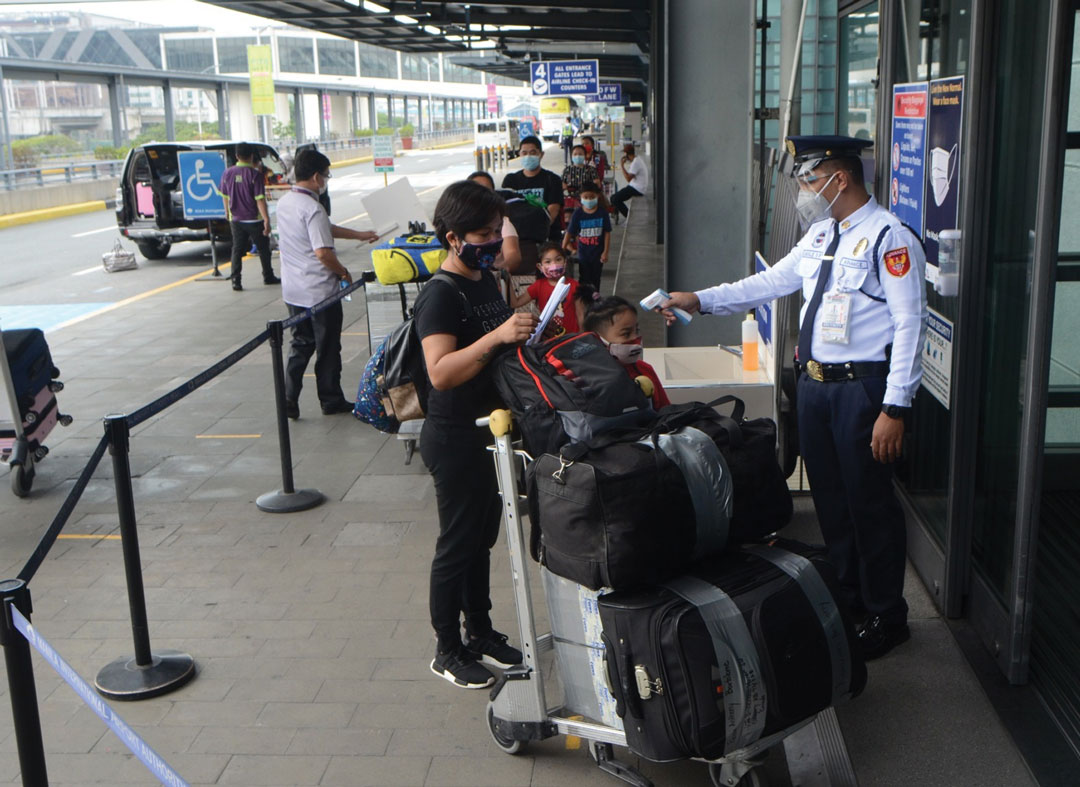 Travelers from US still required to quarantine for 10 days
THE Philippines has updated its roster of "green" or low-risk nations, which qualifies vaccinated travelers for a shorter quarantine period upon arrival in the country.
In a statement released Friday, July 16, Presidential Spokesperson Harry Roque announced the revised list of 57 countries and jurisdictions approved by the Inter-Agency Task Force (IATF) for "the purpose of the testing and quarantine protocols for fully-vaccinated individuals."
The updated list included 11 additional states and jurisdictions, namely Azerbaijan, Barbados, Bermuda, Comoros, Curacao, Dominica, Gabon, Liechtenstein, Mali, North Macedonia, and Romania.
Meanwhile, Belize, Liberia, Malawi, Morocco, Mozambique, Rwanda, Saint Kitts and Nevis, Sierra Leone, Senegal, and Zimbabwe were removed from the list.
The United States was still not considered as "green," which means travelers coming from the country will have to quarantine in a government-approved facility for 10 days instead of seven.
Below is the updated list of "green" states and jurisdictions approved by the COVID-19 task force:
Albania
American Samoa
Anguilla
Antigua and Barbuda
Australia
Azerbaijan
Barbados
Benin
Bermuda
The British Virgin Islands
Brunei
Burkina Faso
Cayman Islands
Chad
China
Comoros
Cote d' Ivoire (Ivory Coast)
Curacao
Dominica
Eswatini
Falkland Islands
French Polynesia
Gabon
The Gambia
Ghana
Greenland
Grenada
Hong Kong (Special Administrative Region of China)
Iceland
Isle of Man
Israel
Laos
Liechtenstein
Mali
Malta
Marshall Islands
Mauritius
Federated States of Micronesia
Montserrat
New Caledonia
New Zealand
Niger
Nigeria
North Macedonia
Northern Mariana Islands
Palau
Romania
Saba (Special Municipality of the Kingdom of Netherlands)
Saint Barthelemy
Saint Pierre and Miquelon
Singapore
Sint Eustatius
South Korea
Taiwan
Togo
Turks and Caicos Islands (UK)
Vietnam
Individuals should have stayed exclusively within the "green" countries 14 days prior to their arrival in the Philippines. They will be considered fully vaccinated two weeks after completing their shots.
They are also required to carry their official documentation of full vaccination validated through the Philippine Overseas Labor Office (POLO), or present their International Certificate of Vaccination (ICV).
The Bureau of Quarantine (BoQ) will ensure strict symptom monitoring while the travelers are in quarantine facilities.
On the fifth day of their quarantine, they will be required to take a reverse transcription-polymerase chain reaction (RT-PCR) test.
If the test yielded a negative result, individuals will still need to complete the seven-day facility quarantine. And if they tested positive, they would need to observe the prescribed isolation protocols
Individuals will receive a quarantine certificate issued by the BoQ where their vaccination status is indicated upon completion of the seven-day facility-based quarantine.