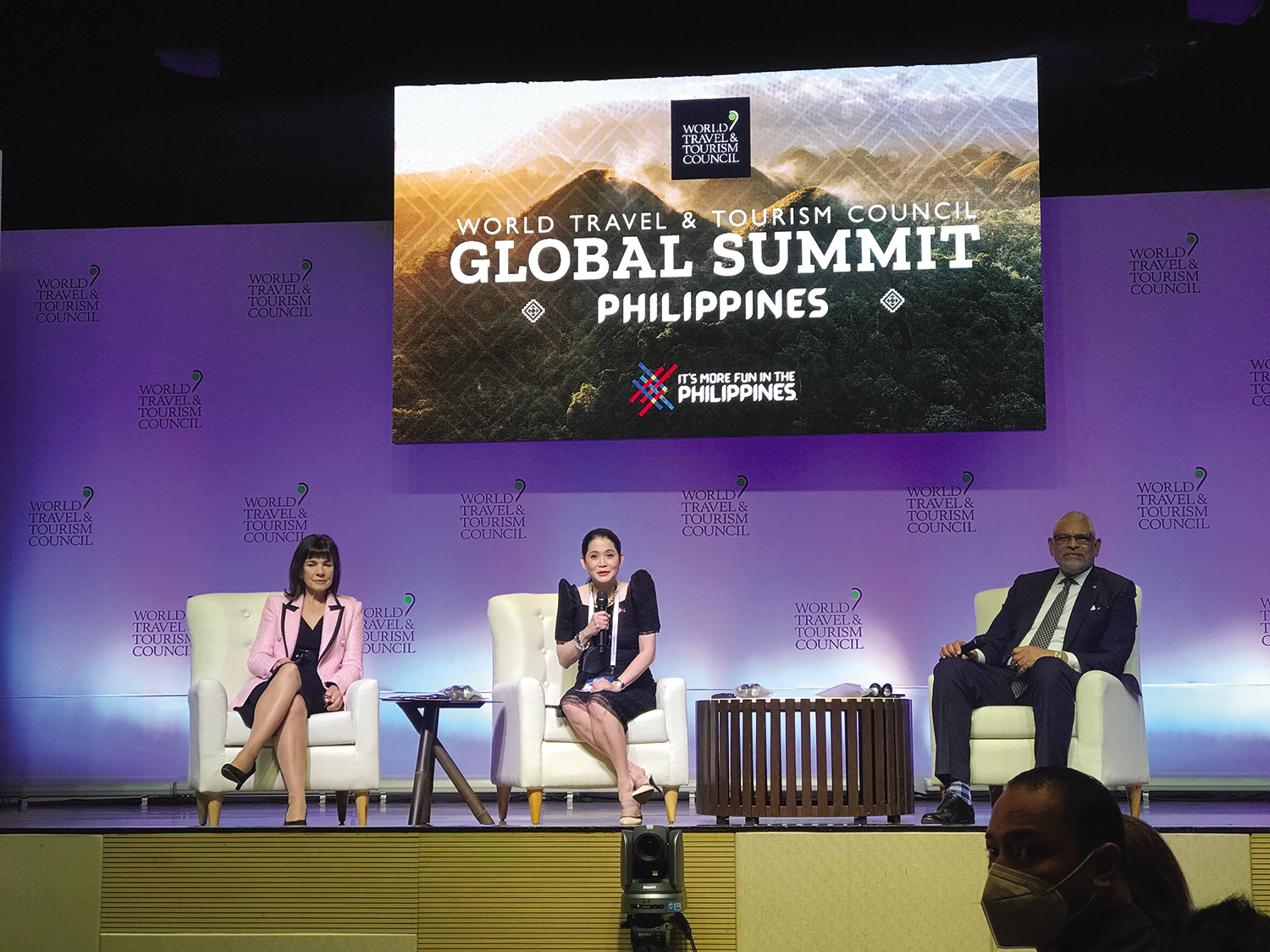 DOT focuses on 'regenerative tourism'
THE president and chief executive officer of the World Travel and Tourism Council (WTTC) praised and thanked the Philippines for successfully hosting the three-day summit in Manila.
"I'm not often stumped for words, but I am now. Wow! What an amazing summit. We really have rediscovered travel," Simpson said at the closing ceremony of the summit, which gathered leaders of the tourism industries across the world.
Simpson, who considered the "extraordinary Philippine welcome" as her personal highlight of the two-day summit, added that its success was a "testament that the country's tourism industry is well on its feet."
Department of Tourism (DOT) Secretary Berna Romulo-Puyat pulled all the stops to make sure that the country's first-ever hosting of the global summit would be memorable as she took pride in setting an example of how to open safely and showcase "how beautiful the country is."
It was also the first major in-person conference attended by more than 1,200 delegates, 600 of whom were from more than 50 countries. According to the DOT, there were over 10,000 virtual registrations during the various events of the WTTC held at the Marriot Hotel in Resorts World Manila.
Puyat said that as the pandemic forced the global tourism industry to raise its game and change the way it gets things done, "we have likewise put much effort into discerning the most effective combination between the enforcement of health and safety guidelines and personal convenience – the delicate balancing act of implementing measures to ensure everyone's safety without placing unreasonable burdens on the traveling public."
"Our shared hopes and dreams for the future are reflected in the policies we have developed, and the measures we have put in place to plan and realize this sector's full and complete recovery," she added.
Timely and Important
"I consider that this as a very timely and very important event because it is useful for many countries and the tourism sector is important for the economy, and the experience, the information that has been provided during the meeting is very important for all countries," Mexico's Ambassador to the Philippines Gerardo Lozano Arredondo told the Asian Journal.
The ambassador also shared that he discovered Filipino food and Mexican food "are really quite related."
"There are several dishes that it is not so easy to differentiate in Mexico and Philippine cuisine and there are many in common though one of my favorites is the lechon," he said, citing the similarities in the preparation in both countries.
Now in the last year of his tour of duty, Arredondo said he is looking forward to bringing back and introducing to Mexico new ingredients that are not common there, referencing the galleon trade, which he called the first experience of globalization and trading.
He also expressed his optimism about the full economic recovery of countries like Mexico and the Philippines which are both major tourist destinations.
"I am very optimistic about the recovery of the economy and I am sure that at least in the case of Mexico and the Philippines touristical sector will play a very important role in the recuperation of the economy," Arredondo said.
"This has been a wonderful global summit and, to echo your brand campaign, we certainly had lots of fun in the Philippines. This is an experience all the delegates of the Summit can definitely attest to," WTTC Chairman Arnold Donald said in his closing address.
Gloria Guevara, special advisor of Saudi Arabia's Ministry of Tourism and former president and CEO of WTTC, said the Philippines "has exceeded all of our expectations. Thanks to the leadership of Secretary Bernadette Romulo-Puyat before and during the pandemic, the Philippines has been successfully repositioned as a top destination and she delivered an impactful Summit. The Filipino hospitality has also made it memorable."
Beautiful Destinations
"I'm really excited to be supporting tourism in the Philippines," said Jeremy Jauncey, founder and CEO of Beautiful Destinations.
We had a chance to chat as we waited for the gala dinner at the Philippine International Convention Center to begin.
"Hopefully, this is the start of the recovery as we are serving the people again and the country is open. It's beautiful. It is the kind of tourism you want to be doing now – sustainably focused, regenerative tourism, out in nature, all the stuff that we've been missing in the last two years," Jauncey shared.
Jauncey and his girlfriend Pia Wurtzbach have been traveling even during the pandemic and as such, they have experienced how travel has changed.
Asked to give a couple of advice to those raring to travel once more, he quipped, "Plan ahead of time, you need a lot more paperwork so plan ahead of time. Unfortunately, you can't just turn up at an airport anymore, because you need all the paperwork. That means you have to be early at the airport as well."
He also believes in the importance of having a global health passport of sorts.
"It is really important for our industry if we can make it work but it is a complicated and lengthy process," he admitted.
Regenerative Tourism
As Jauncey mentioned, the Philippines is stepping up its game as far as sustainable tourism is concerned, focusing as well on regenerative tourism, which leaves a lasting and positive impact on the host destination.
"We want sustainable tourism and we want a tourist destination to be even better than it was before, (we want the kind of travel) that does not destroy nature but at the same time benefits the host communities," Puyat said.
"We have to think of the future generations… We want to make sure that each tourist destination is taken care of for our future generations," she added.
In one of the panel discussions at the WTTC, regenerative tourism champions and Masungi Georeserve trustees Ann and Bullie Dumaliang said stakeholders must first localize their approaches and understand how they could protect the destination.
"When we talked about regenerative tourism it focuses on an ecosystem-wide approach which we tend to forget when we talk about sustainability," Ann said.
"A lot of us have limited the concept of sustainability to simply reducing plastic waste, offsetting our carbon, and all of these. We tend to forget that we need to localize our approach and that means getting to know all the places and understanding the geographical nature of the destinations," she added.
Masungi Georeserve Foundation provides forest enforcement support to deter and eliminate threats to the georeserve and surrounding watershed areas.
Through on-ground patrolling, installation of ranger stations, and investments in monitoring technology, the foundation was able to accelerate efforts and secure more areas for conservation in the area.
At present, the nature reserve project located in Baras, Rizal has so far planted 60,000 native trees, engaged more than 100 park rangers, supported 200 local households, and rescued 2,000 hectares of land from encroachment and illegal activities.
"All of that now is sustained and protected using the fund that we raised through tourism, it really goes on to show how tourism can be a force for good for nature," Ann shared.
"Regenerative tourism is really a change in mindset, it's a paradigm shift from a tourism that leaves no trace to a kind of tourism that leaves things better than they were before, both for businesses and for travelers," his sister Billie added.
For the Dumaliangs, the government plays an important role in replicating Masungi's successes.
"You need to be open to innovation, to new policies, and actually incentivize that. If you don't restore the watersheds around us, you will lose water. If you don't protect the area from extractive industries, the entire landscape and all the communities will suffer," Billie said. (With reports from PNA) n