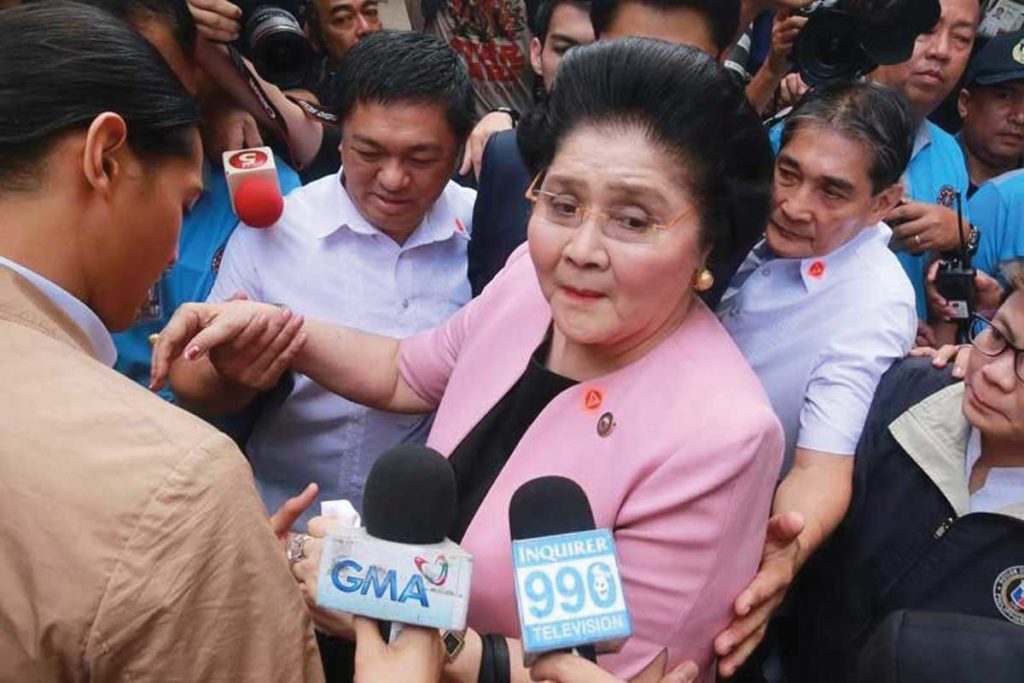 The Sandiganbayan Fifth Division on Monday, December 3, granted a post-conviction bail to Ilocos Norte Second District Representative Imelda Marcos due to her advanced age and health conditions, a decision similar to that of former Sen. Juan Ponce Enrile.
In an order dated November 28, the graft court considered the old age of the former first lady in deciding whether or not to permit her to post bail. Such is a case likened to the controversial verdict penned by now Supreme Court Chief Justice Lucas Bersamin to allow Sen. Enrile to avoid detention due to "fragile health and advanced age."
"Taking into account primarily the fact that she is of advanced age and for health reasons, consistent with the doctrine in Enrile vs. Sandiganbayan, bail is allowed for these seven cases," the decision stated as reported by the Philippine Daily Inquirer.
The 89-year-old widow earlier presented medical documents before the court claiming that she is currently suffering from seven ailments namely diabetes mellitus type 2, hypertension and atherosclerotic cardiovascular disease, status mini strokes, moderately severe sensorineural hearing loss, chronic recurrent urinary tract infection, chronic recurrent gastritis and multiple colon polyps, and recurrent respiratory tract infection.
The graft court based their decision on Rule 114, Section 5 which states that admission of bail will not be permitted should the accused "(a) be a recidivist, quasi-recidivist, or habitual delinquent, or has committed the crime aggravated by the circumstance of reiteration; (b) previously escaped from legal confinement, evaded sentence, or violated the conditions of his bail without valid justification; (c) committed the offense while under probation, parole, or conditional pardon; (d) had the circumstances of his case indicate the probability of flight if released on bail; or (e) had an undue risk that he may commit another crime during the pendency of the appeal."
"None of the afore-enumerated circumstances is effectively shown to prohibit Mrs. Marcos' availing of post-conviction bail," the court said as reported by Rappler.
The Marcos matriarch is charged with an additional P300,000 separate from the initial P150,000 that she paid while waiting for the final decision. She was given 15 days from November 28 to settle the amount along with other court requirements. The decision also noted that it is not necessary for the accused to appear personally to pay for the bail.
Imelda Marcos withdraws from gubernatorial race
Following the Sandiganbayan conviction, the former first lady withdrew her candidacy for the Ilocos Norte gubernatorial position. She was then replaced by her grandson and Imee Marcos' son Matthew Marcos Manotoc, the Marcos' camp announced on Thursday, November 29.
"Previously, he had filed his certificate of candidacy (COC) for vice governor of the province, but has since decided to substitute his grandmother, 2nd District Rep. Imelda R. Marcos, in the 2019 gubernatorial race," Manotoc said in his Facebook post.
Imelda Marcos' chief of staff Bebot Diaz confirmed with Rappler that Manotoc's uncle and Board Member Nonong Marcos would replace him for the vice governor candidacy. Nonong is the son of Pacifico Marcos, the late dictator and former president Ferdinand's younger brother.
Manotoc will run against Ilocos Norte First District Representative and Partido Demokratiko Pilipino-Lakas ng Bayan (PDP-Laban) candidate Rodolfo Fariñas.