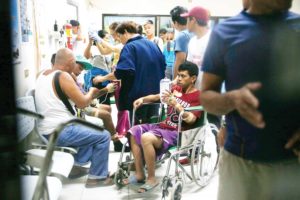 Despite a bombing in Sultan Kudarat that killed three people earlier this week, Malacañang said it could be "too early" to eye a martial law extension in Mindanao.
Palace Spokesperson Harry Roque on Friday, August 31 clarified that President Rodrigo Duterte has yet to make any decisions regarding the current state in the southern region of the country.
"Sa ngayon po tingin ko masyado pang maaga (I think it's too early [to talk about the possible extension of martial law in Mindanao])," Roque told reporters, according to The Manila Times.
As of now, martial law in the region is in effect until December 31, 2018. It was first declared in May last year in order to defeat the Maute group in Marawi City in Lanao del Sur, then it was extended in December 2017 before Duterte asked for another prolongment for the end of 2018.
"The truth is, December is still a long way off…We thank Congress for their cooperation but…the decision whether or not to extend [martial law]will be pursuant to a recommendation to be made by our security forces," Roque added.
On Thursday, August 30, members of the House of Representatives, including Speaker Gloria Macapagal-Arroyo, said they would support extending martial law for the third time.
Executive Secretary Salvador Medialdea said on Wednesday, August 29 that the extension could be an "option."
"It is an option. We are trying to make it as easy as possible, but with what is happening, what are we going to do?" Medialdea posed.
The executive secretary also assured the public that they are focusing on the situation. He also reminded them that the region is still under martial law.
"We will assess the situation. We will look at it. Anyway, we are still under a state of lawless violence and martial law," Medialdea said as reported by The Philippine Star.
The explosion that killed three people and wounded 36 others originated from a bomb that was concealed in a bag. Philippine National Police (PNP) Chief Director General Oscar Albayalde said that eyewitnesses have seen the suspect buying fruits around the area and putting a bag under a motorcycle owned by a member of the Citizen Armed Force Geographical Unit (CAFGU).
The said bomb detonated around 8:30 pm Tuesday night, August 28 in front of J and H Marketing Barangay Kalawag Isulan, Sultan Kudarat.
Regional police spokesman Supt. Aldrin Gonzalez said that the casualties include a 7-year-old girl identified as Devy Shane Alayon and a 51-year-old woman named Leny Dohina Ombrog. Another comatose victim died shortly and was identified as Wel Mark John Lapidez. They were part of the crowd celebrating the Hamungaya festival, the municipality of Isulan's founding anniversary.
No militant group claimed responsibility for the attack. However, local officials and the military tagged the Bangsamoro Islamic Freedom Fighters (BIFF) behind the bombing. The BIFF denied the accusation.
Officials oppose the extension
Vice President Leni Robredo and other government officials expressed their disapproval of another martial law extension in Mindanao.
"There is a martial law there, but we have seen in the past months that it didn't prevent violence. There was bombing in Lamitan, and in Sultan Kudarat," Robredo pointed out.
The vice president also questioned the purpose of the military rule given that the security of the people is still compromised even with its implementation.
"Terrorist activities continue to happen. So what is the assurance that another extension of martial law could prevent these from happening?" she asked.
National Security Adviser Hermogenes Esperon Jr. said that he did not even think of the extension of martial law as the solution. Defense Secretary Delfin Lorenzana, Senate President Vicente Sotto, Bayan Muna Rep. Carlos Zarate all said it would be too early to recommend its extension.