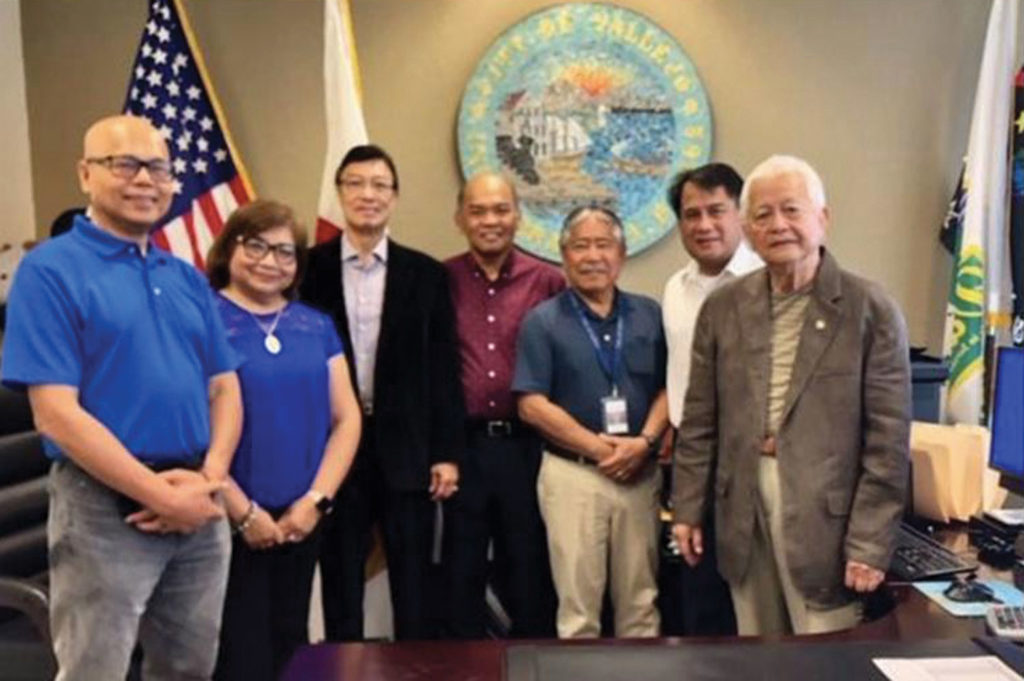 Last September 25, 2019, the officers and members of the Batangas City-Sto.Nino Devotees Association led by President Romel Chozas paid a courtesy call on City of Vallejo Mayor Bob Sampayan.  The association extended to Mayor Sampayan an invitation to be the guest of honor in its 40th Annual Fiesta celebration in homage to the Sto. Nino, patron and protector of Batangas City.  The fiesta will be held on January 11, 2020 from 1:30 p.m. to 11:30 p.m. at the Holy Spirit Church and Parish Center at 37588 Fremont Boulevard in Fremont, California.  The theme for fiesta is "Pista sa Nayon."
The association's Liturgical Committee has scheduled the traditional nine Saturday novenas preceding the January 11 fiesta celebrations:
1st Novena, November 10, Sunday – Hosted by the Garcia families of Oakland/Alameda
2nd Novena, November 16, Saturday – Hosted by the Mendoza families of Daly City/Vallejo
3rd Novena, November 23, Saturday – Hosted by Ronnie and Fe Bueno in Belmont
4th Novena, November 30, Saturday – Hosted by the Friends of the Sto. Nino in Daly City
5th Novena, December 7, Saturday – Hosted by Ed and Ching Calucag in the City of Marina
6th Novena, December 14, Saturday – Hosted by the Romera/Mendoza families in Dublin
7th Novena, December 21, Saturday – Hosted by Dante and Eli Minioza in Vallejo
8th Novena, December 28, Saturday – Hosted by Rey and Mila Evangelista in Pittsburg
9th Novena, January 4, 2020 – Hosted by Romel and Eden Chozas in Hercules
The fiesta celebrations will be ushered in with a thanksgiving mass at 1:30 p.m. followed by a procession and Karakol at the Holy Spirit Parish Center.  The program of activities for the day includes entertainment numbers, award presentations (highlighted with the recognition of members 90 years old and older), followed by the address by the guest of honor, Mayor Bob Sampayan of the City of Vallejo.
Members and guests will be treated to an early buffet dinner catered by Hapag Pilipino of Daly City consisting of six entrees, three lechons, and anchored by the famous Kalderettang Batangan prepared by the association's master chef Bayani Baliwag.
A grand raffle will be held during the fiesta with the following prizes:  1st prize-$500 cash donated by President Romel and Eden Chozas, 2nd prize-$400 cash donated by Genesis and Delia Montano, two 3rd prizes-$300 cash donated by Susan Mercado and Luigi and Mark Cuasay; and 4th prize-$200 cash donated by Rogam and Lea Chozas.  After the program, there will be dancing all night with live band music provided by Jimi Acenas and the Synthesis Band.
For additional info, please contact:  Rosie Agustin-(707) 645-8979, Romel Chozas-(415) 939-4938, Violie Reyes-(510) 791-1425, Malou Atienza Cuasay-(408) 729-8796, and Ching Calucag-(831) 883-2255.