PHILIPPINE President Rodrigo Duterte has responded to new accusations about his deteriorating health and that he has gone into a coma.
This comes after communist leader Jose Maria "Joma" Sison claimed in a social media post that the president slipped into a comatose state.
The president's camp denied Sison's allegations through a Facebook live video on Monday night, August 20. The video posted by Special Assistant to the President (SAP) Bong Go showed Duterte having dinner in Davao City.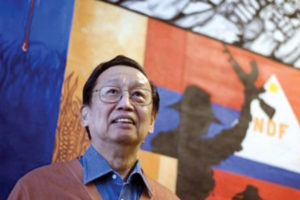 "I'm alive — fairly healthy and I'm having dinner with a beautiful lady from Davao. She's Bernice, she's on leave from Harvard. I invited her to discuss some things along the way," Duterte said.
Duterte also responded to Sison by saying that the latter is the one who is sick after all. In the same video, he insisted that Go show his dinner company live on camera.
"I am still okay. He said I'm comatose? How can you be comatose with a beautiful lady? Kung comatose ako at makita ko si Bernice eh talagang babangon ako (If I were comatose and I see Bernice, I would really rise)," the president said.
Referring to Sison, he added, "That's it. You are the one who is comatose. You are the one who is sick."
Duterte compared Sison to the "Wandering Jew," a fictional character who is destined to walk around the earth until the second coming as a punishment for taunting Jesus Christ.
"I think you are the reincarnation of the guy, it's biblical, I don't know if it's in a book in the Bible. He's a guy who's been around walking around planet Earth. And he's not dying," he added.
The communist leader, who has been in self-exile in the Netherlands since 1987, responded to Duterte's tirade stating that he was happy to find out the nation's top leader is in good condition. He also mentioned that he wishes Duterte well so the president could be held accountable for all his wrongdoings.
"Unlike him, I do not have any death wish for Duterte. In fact, I wish him to live long enough to receive a warrant of arrest, unlike the so many thousands of victims of Oplan Tokhang," Sison added.
Presidential Spokesperson Harry Roque said the president is "fine and well" and would continue his public appearances for the week. The tough-talking leader attended the anniversary of the League of Municipalities (LMP) Visayas Island Cluster on Tuesday, August 21 at the Radisson Blu Hotel in Cebu City, two days after Sison made his claims.
Finish term in 2022
Following speeches suggesting he would step down, Duterte has promised that he will continue his presidential term until the end.
In a speech on Saturday, August 18 during the Lex Talionis Fraternitas Inc. (LTFI) National Convention at the Marco Polo Hotel in Davao City, the president said he will "be out" but not anytime soon.
"If God wills it, it will be in 2022," the leader vowed days after he delivered statements expressing his desire to resign.
In various speeches before the San Beda fraternity celebration, the nation's top-ranking official expressed his resolve to step down from power. He justified this by stating that there is no one to trust.
"I was so exasperated, tired. So I said if that's the situation, why would I sacrifice by being president to serve and I could not even trust anybody?" Duterte added.
He clarified that he only planned to resign because he has had enough of the issues and controversies surrounding his administration.
"I said it is hard and then I said all those things. I am really tired," he said.