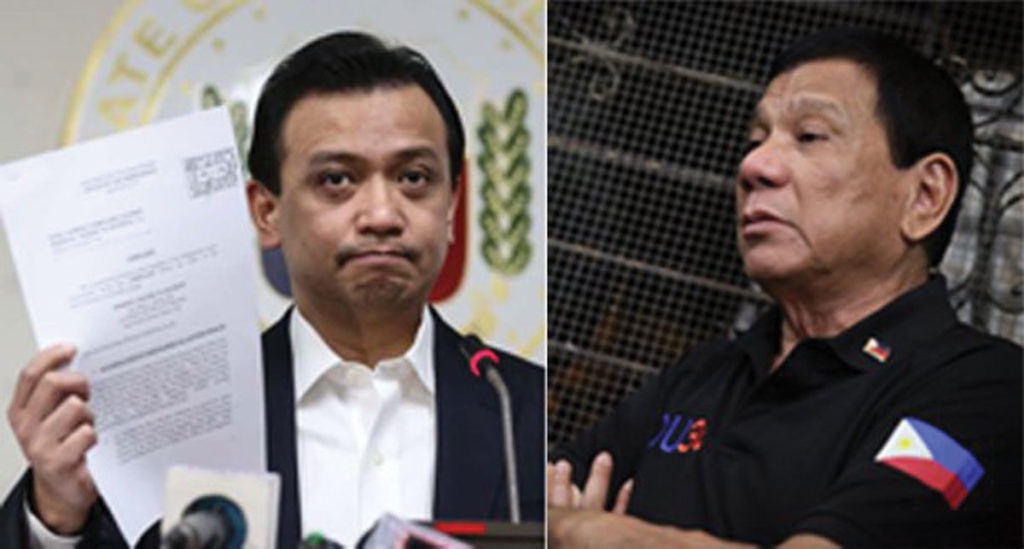 Makati RTC sets hearing, DOJ files hold departure order
The Makati Regional Trial Court (RTC) on Wednesday, September 5, scheduled the hearing on Senator Antonio Trillanes IV's arrest for September 13. 
This follows the motion filed by the Department of Justice (DOJ) requesting for the issuance of an alias warrant of arrest and hold departure order against the senator.
Presiding Judge Andres Bartolome Soriano set the hearing despite the statements of state prosecutors deeming it unnecessary. 
"Recall that there were previous commitment orders issued by this Honorable Court in September 2003 and on November 29, 2007. Thus, this application for an alias warrant of arrest no longer needs a hearing," the motion read.
The court gave Trillanes five days to answer the motion, as reported by The Philippine Star. 
Several uniformed officers flocked the Senate on Tuesday, September 4, after President Rodrigo Duterte ordered the Philippine National Police (PNP) and the Armed Forces of the Philippines (AFP) to arrest Trillanes, thus revoking his amnesty in 2011. 
Duterte claimed in Proclamation No. 572 that the amnesty granted by former President Benigno "Noynoy" Aquino was void from the beginning since there was no application let alone an admission of guilt.
"The grant of amnesty to former LTSG Antonio Trillanes IV under Proclamation No. 75 is declared void ab initio because he did not comply with the minimum requirements to qualify under the Amnesty Program," the proclamation stated.
Trillanes was behind the 2003 Oakwood Mutiny and the 2007 Peninsula Manila siege in Makati City. He was granted the amnesty according to Proclamation No. 50 signed in October 2010, which was then followed by Proclamation No. 75 signed in November 2010.  
Both proclamations granted amnesty to all those involved in the Oakwood mutiny, the marines stand-off and the Peninsula Manila incident.  In January 2011, the former naval officer applied for the amnesty grant and was included among the list of officers who received such in the same month. The amnesty grant also underwent a concurrence with Congress. 
DOJ Secretary Menardo Guevarra said that a concurrence with Congress will not be necessary for this recent revocation to take effect. He emphasized that the amnesty itself is void ab initio (from the beginning), according to a report by Rappler. 
Trillanes vows to face arrest, says he has nothing to fear
The opposition senator responded the same day the proclamation was issued. Trillanes promised to face arrest should the order provide a legal basis to the revocation of his amnesty grant. 
"Hindi ko iiwasan yan. Mr. Duterte, hindi ako takot sa iyo (I won't evade that. Mr. Duterte, I'm not afraid of you)," Trillanes said. 
He also denied all claims that he would escape the charges and run away from all the accusations. 
"Hindi ako magtatago definitely. My lawyers are exhausting legal remedies (I will not go into hiding, definitely)," Trillanes promised. 
He vowed to abide by whatever the decision would result into. He added that despite the challenges he faces as Duterte's critic, he would still continue on his role as a member of the opposition. 
"Kung dadating sa punto na kailangang pumunta, mag-walk in pa ako mismo. I will not resist arrest, I will not escape. Haharapin ko ito, lalo akong gaganahan [tumira]. 'Di ako matatakot, 'di ako aalis (If it would reach that point, I myself would walk in. I will not resist arrest, I will not escape. I will face this, this encourages me [to be more critical]. I won't fear it, I won't go away)," Trillanes stated.
Trillanes also emphasized how the said incident manifested Duterte's dictatorship. He used his impending arrest as an avenue to magnify the flaws in the current administration. 
"Itong pangyayari na ito, it should be clear to everyone na si Mr. Duterte ay isang diktador. Hindi siya rumerespeto sa institusyon kaya ganito tayo. Kung 'yung mga ordinaryong tao pinapatay, 'yung mga kritiko niya ikukulong, so ganyan ang kalakaran sa Pilipinas ngayon (With this incident, it should be clear to everyone that Mr. Duterte is a dictator. He doesn't respect the institution, that's why we're at this point. If ordinary people are being killed, and his critics are being jailed, it shows how things are in the Philippines now)," the opposition senator added. 
Trillanes noted the ludicrosity of the revocation. He questioned the legality of the said proclamation. 
"Di puwedeng bawiin ang amnesty. Ano ba 'yun? Tapos may double jeopardy. I was already subjected to that, nung nag-try ako and na-dismiss. Ano ngayon uulitin 'yun? Ano ba 'yan? Paturo nga sila sa law students? (The amnesty cannot be revoked. How can that be? Then there's double jeopardy. I was already subjected to that when I was tried and [the case was] dismissed. What, now, we're going to do it all over again? What's that? They should let law students teach them)," Trillanes asked. 
"Itong amnesty is an act of Congress. Hindi siya masusupersede ng isang executive order (An amnesty is an act of Congress. It cannot be superseded by an executive order)," he added.
Senate President Vicente "Tito" Sotto III decided not to let the officers arrest Trillanes to which the other senators agreed.  
"Technically, we are not preventing his arrest, we are merely following the Senate tradition of not allowing the arrest of a senator in our premises," he explained.
He said that they are merely following the tradition that no arrest be made on the premises. Other senators also noted that a warrant should also be issued before the arrest, as reported by the Philippine Daily Inquirer. 
"No arrests in the Senate premises unless the senator turns himself in. Outside is no longer our concern," Sotto said.