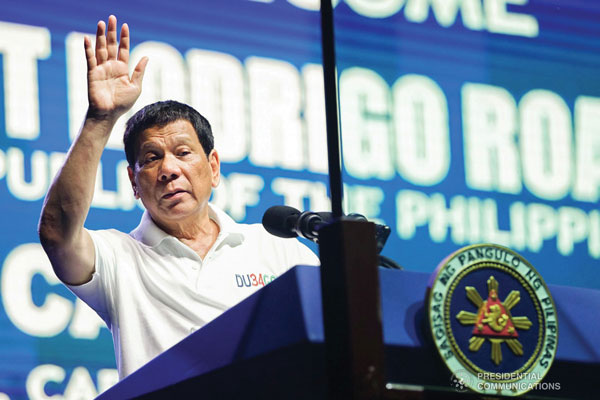 President Rodrigo Duterte on Sunday, April 21, said the United States knows a war against China over the Panatag (Scarborough) Shoal is "not worth it," stressing that the Philippines' longtime ally was unreliable during the country's 2012 standoff with China.
He recalled how the U.S. brokered a deal between the Philippines and China, asking them to withdraw their respective ships from the resource-rich fishing ground. The Philippines pulled out its Navy flagship, BRP Gregorio del Pilar, but China did not.
Duterte continued that the U.S. negotiated the deal because it knew a war in the vital maritime route would be destructive.
"[Albert] del Rosario was Aquino's Foreign Affairs Secretary. He was the only one who negotiated. But America was scared. They knew that a war about something so small is not worth it. Because if they hit us and America decides to help, it could trigger a world war. America knows it. Everybody does," he said in a speech during the campaign sortie of PDP-Laban in Agusan del Norte.
"If those nuclear bombs, atom bombs, and hydrogen bombs will explode, nothing will be left of this world. We would all be destroyed. So America said, both of you should retreat.' Del Rosario ordered our ship to retreat, but China refused to follow. That is why they filed a case," he added.
By not honoring the deal, Beijing got the Scarborough Shoal under its control — which prompted the Aquino administration to take it up with an international tribunal to invalidate China's claims to the sea.
The United Nations-backed arbitral tribunal ruled in favor of the Philippines. Beijing, however, refused to acknowledge its decision.
Duterte maintained that the U.S. 'did not do anything' to stop China from fortifying its claims to the sea.
"Over the years while the case was heard in the arbitral court, they started building. So why did they not go there when China situated their ship there?" he said.
"America did not do anything. Now it's almost complete. It looks like a real camp. They have guns. They want me to visit it. It's fine, it can be done just to show off. But we would all be destroyed. And my soldiers and my policemen will be massacred," Duterte added.
He said he has doubts on whether the U.S. will back up Filipino forces should Manila decide to assert its claim on the sea by force, adding that it has its own problems to resolve. According to him, it's wiser to stick to negotiations with China to resolve disagreements over the contested waters and its territories.
"We can't defeat them. So let's stick to just talking unless you want me to say, 'O sige (Okay) I'll attack China. Who's with me?'" Duterte said.
"Will America join us? They can't even resolve their problem with Iraq and Iran in the Middle East. They've been at war for a long time. But who won it? Nobody. Many lives were lost including those of civilians, children, the elderly, and the women. That's the story," he added.