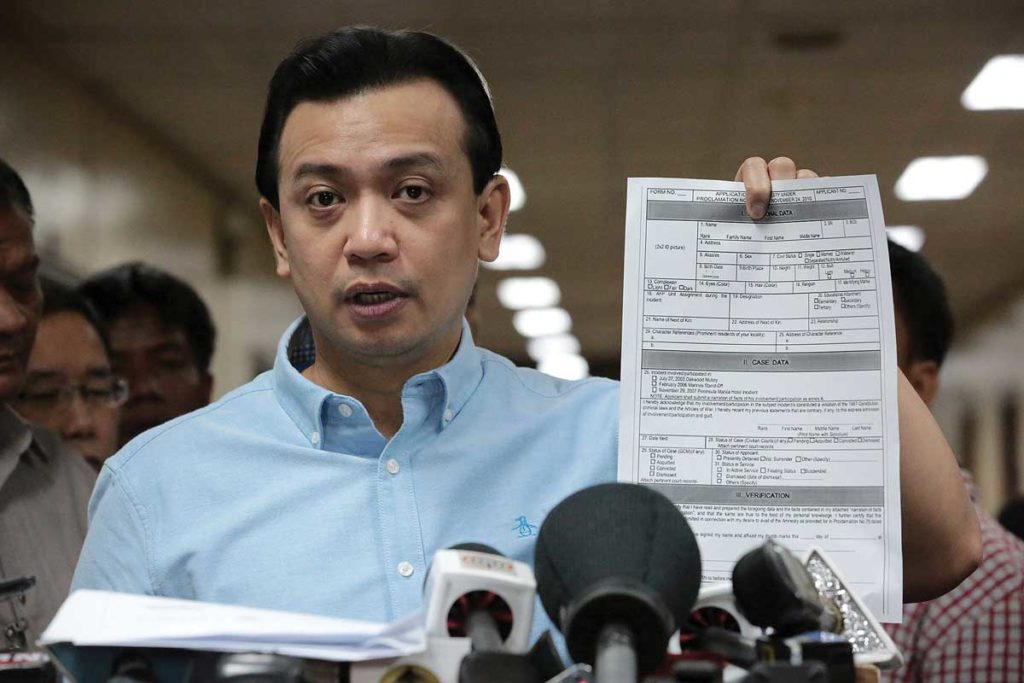 Senator seeks Supreme Court reprieve
Presidential spokesperson Harry Roque Jr. on Thursday, September 6, said that Malacañang still stands by its resolve to imprison Senator Antonio Trillanes IV, following the presidential proclamation that revokes the senator's amnesty grant.
"We are after accountability," Roque stated as reported by The Philippine Star.
Roque explained that Trillanes was at fault since the latter failed to follow the standard requirements for an amnesty grant. The spokesperson said that due to the former naval officer's non-compliance, the grant would no longer take effect.
"Because he (Trillanes) did not comply with the requirements for amnesty, that means there was no amnesty. So we are not revoking anything. What we are saying is it did not take effect so Trillanes has to return to jail," Roque said.
He told the public that everyone should be held accountable for the mistakes they have done, no matter what their rank or position might be.  
"Regardless of who you are, even if you are in power, even if you are well-known, if you committed a wrongdoing, there will be a time that you will be made accountable. I think that is happening to Sen. Trillanes," Roque stated.  
Roque denied all claims that this move was done to silence Duterte's critics. He said that there is no truth to the allegations that the administration is oppressing those who differ in political affiliations.  
"What political oppression are they talking about? He is relentless in criticizing the president and his family. He is proof that democracy is functioning in the  Philippines. That's nonsense," Roque said.
Trillanes revealed two important documents to prove of his amnesty application — one is the list of applicants for amnesty dated January 5, 2011 and the other, a blank application form for amnesty under Proclamation 75 dated November 24, 2010.
He also showed a letter from former Defense Secretary Voltaire Gazmin addressed to former President Benigno Aquino III approving the recommendation of the Department of National Defense (DND) ad hoc committee for amnesty. Gazmin confirmed on Thursday that Trillanes, along with the other amnesty grantees, went through the process.
The Magdalo mutineer said that the military and defense establishment had given him documents to prove his completion of amnesty requirements. Roque then defended that the case would still hold up in court despite those proofs of completion.
"He's gone to court. The government can defend its position in court," the spokesperson ensured.
Trillanes camp seeks SC for help
Trillanes' legal counsel Reynaldo Robles, along with former lawmaker and Magdalo mutineer Ashley Acedillo, filed a certiorari and prohibition. They also sought a temporary restraining order or writ of preliminary injunction before the Supreme Court on Thursday.
The 33-page petition stated that Duterte's camp attempted to arrest "when there is, in fact, no valid warrant, no lawful cause and no pending case against petitioner justifying such arrest."
Those named in the said petition were Executive Secretary Salvador Medialdea, Defense Secretary Delfin Lorenzana, Interior Secretary Eduardo Año, Justice Secretary Guevarra, military chief Carlito Galvez Jr., as reported by The Manila Times.
The senator's camp also attended mass the same day officiated by Fathers Flavie Villanueva, Manuel Gatchalian and Robert Reyes at the Senate. Vice President Leni Robredo showed up in the middle of the mass as she had a speaking engagement nearby.
"This is clear harassment. The reason is clear why it is being done to him. And we strongly oppose this use of power to harass those who do not share their opinion," Robredo said.