Malacañang on Thursday, June 21 said that the Philippines may not be ready yet for same-sex marriage despite the start of oral arguments before the Supreme Court (SC) for a petition to legalize it in the country.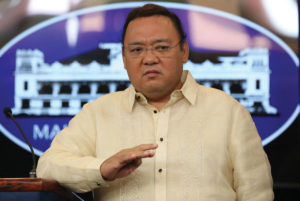 In a Palace briefing, Presidential Spokesperson Harry Roque believed that "there is a right time for these kind[s] of issues."
He also said that the SC and the country "are not yet ready for same-sex marriage" because it may still be "too revolutionary."
On Wednesday, June 20, the New York-based Human Rights Watch (HRW) expressed hope that same-sex marriage would be legalized. According to the group, granting the petition for same-sex marriage would allow the Philippines to have equal marriage laws.
Roque, however, said the HRW was "detached" from the SC's proceedings.
"I think they are detached from what's happening in the Philippines' Supreme Court because based on the declarations of justices, it seems that this case is difficult to win," he said.
The SC, on Tuesday, started holding oral arguments for and against same-sex marriage based on a petition filed by lawyer Jesus Falcis III.
According to Falcis, he filed the petition seeking to legalize same-sex marriage in the country before the Supreme Court because the 1987 Constitution did not specify that marriage should only be between a man and a woman.
The petition was met with criticism by some justices.
Roque said, "That's why the LGBT (lesbian, gay, bisexual, transgender) community is pushing for the SOGI (Sexual Orientation and Gender Identity or Expression) bill. Not just SOGI but (a bill that seeks to) recognize at least the civil partnership between individuals of the same sex because they know it is too revolutionary to accept same-sex marriage."
President Rodrigo Duterte, for his part, has changed his views on same-sex marriage.
"There was a time he (Duterte) says that he was against it. There was a time he said he's for it. So this is fluid," Roque said.