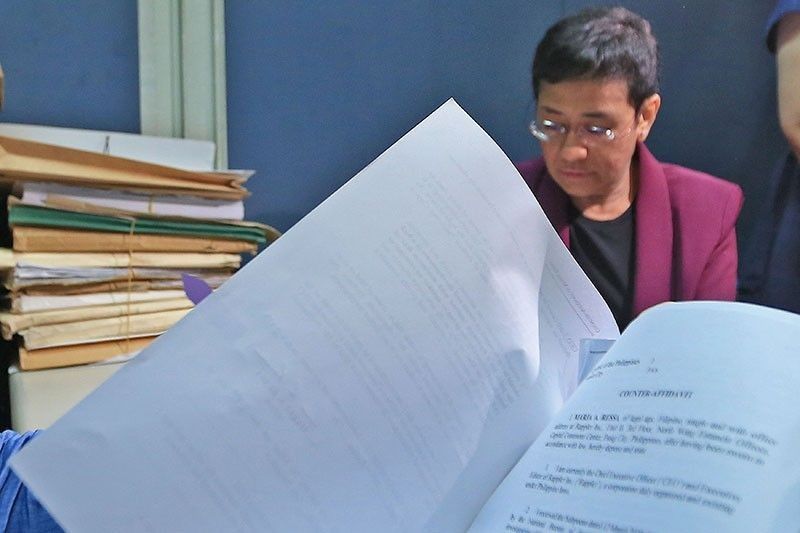 FILIPINA journalist Maria Ressa, founder of Philippine-based news site Rappler, has been hit with a new "cyber libel" lawsuit this week, in what human rights groups say is another move against free press in the country.
The Philippine Department of Justice on Wednesday, February 6 said it approved the indictment of Ressa and former Rappler writer Reynaldo Santos Jr. for cyber libel over a story they published seven years ago.
Philippine prosecutors recommended in a resolution early January that Ressa and Santos be charged in violation of Libel under Republic Act No.10175, which refers to libel "committed through a computer system or any other similar means which may be devised in the future."
But many are seeing the charge as being unfounded and as being an attack on Rappler, which has been vocal about not only the Philippine government's controversial war on drugs, but on the government's usage of social media in a time of disinformation.
Ressa, who was recently one of the journalists collectively named TIME magazine's Person of the Year in 2018, was first indicted last November by the Philippine government on multiple counts of tax evasion—a move critics said was politically motivated.
In response to the latest charge against her and Rappler, numerous human rights groups and digital freedom advocates have condemned the lawsuit and urged for the case to be dismissed.
"The judicial harassment used by President Rodrigo Duterte's administration to persecute Rappler's journalists is becoming grotesque," said Daniel Bastard, head of RSF's Asia-Pacific desk. 
"It would be almost laughable if it weren't for the terrible judicial precedent that this decision would set, if upheld," he added. "We urge the court that handles this case to show independence and wisdom by dismissing it once and for all."
Butch Olano, Amnesty International's Philippines Section Director, said that the latest move on Ress and her team came as no surprise.
"Rappler's fearless journalism has consistently exposed the so-called 'war on drugs' for what it really is: a deadly campaign that has led to thousands of unlawful killings of poor and marginalized people, including children. Critics, activists, and journalists alike have faced President Duterte's wrath for speaking the truth," said Olano.
Olano said that the current charge exemplifies the well criticized anti-cybercrime law as being "weaponized against legitimate dissent and free speech." 
He pointed out that the National Bureau of Investigation, which first reviewed the complaint, dismissed the claim as baseless last year.
"This repressive law, must be repealed by the government and charges dropped against Ressa and Rappler," said Olano. "This government shows no sign of ending its chilling campaign of repression, obstruction and intimidation.  Authorities should end this harassment and let Maria Ressa and all Filipino journalists do their jobs as truth-tellers."
The National Union of Journalists of the Philippines (NUJP) also joined in and said the law was "an institutionalized threat to free expression, especially in the internet age."
The new charge revolves around an article Rappler back in May 2012, less than five months before the controversial Cybercrime Prevention Act was enacted. The Act made the crime of online libel punishable by up to 12 years in jail.
Rappler's counsel, JJ Disini, said, "If the theory is that if a libelous article is published in the past, and continues to be accessible today, and that constitutes libel today, then no one is safe.  Anyone that has a libelous article that continues to be accessible may be charged with libel."
He said the resolution affected everyone, including bloggers.
In the 2012 article by journalist Santos Jr., prominent businessman Wilfredo Keng—who filed the complaint along with the NBI—was reported as being allegedly linked to human trafficking and illegal drugs, as well as to the then-chief justice Renato Corona's impeachment trial.
"I look at it as proxy. It is part of the same government effort to try to make Rappler toe the line, which is, 'You shouldn't be reporting on the drug war.  You should be reporting how wonderful our country is today,' It is just now what we do," Ressa told Time on Friday. "I want to face this—because the more ludicrous the cases are, the clearer it is that these are tools that are being used to try to silence us."